Jabra EASYGO Review – Jabra EASYGO is a compact and affordable Bluetooth headset from Jabra, in a mix of Black matte and glossy finish (make sure to check Craving Tech's Jabra STONE2 review as well). The EASYGO is also a Skype-certified Bluetooth headset, meaning that it's Skype-ready and the audio + usability are backed up by Skype's certification team.
The size of the headset is fairly small and very light to carry. It's easy to be stored in a pocket if you don't want to use it for a while. It's comfortable to wear, with or without the ear hooks. Jabra EASYGO also includes a nice Bluetooth dongle where you can just plug to your PC and sound will then be redirected straight to your ear.
Jabra EASYGO Review – Packaging
The packaging includes:
Jabra EASYGO headset
USB charger
Ear hooks (optional)
Ear gels
A quick start guide
The Bluetooth headset is charged via USB and the design is pretty unique, allowing you to save the hassle having to carry dangling cables all over. Like it.
Jabra EASYGO includes a mini Bluetooth dongle which can be plugged to your desktop PC's USB slot. This allows audio to be passed through from your PC to the Jabra EASYGO headset.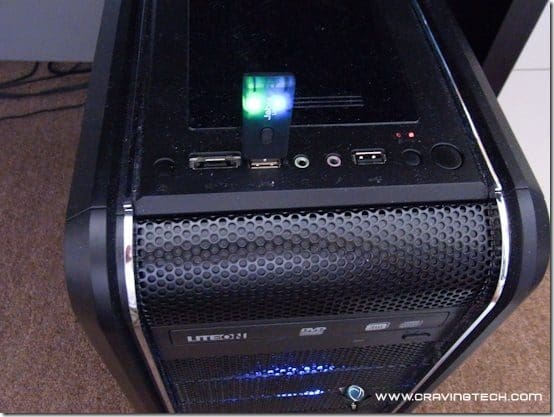 Jabra EASYGO Review – Design
The headset itself is quite simple in design with a plain glossy surface all around. It's not the type that attracts attention though I like the glossy look as the choice for the surface.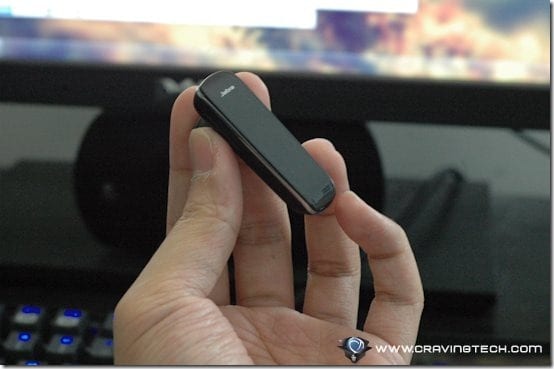 The ear hooks are optional and I find that using the Jabra EASYGO without them is the best way to experience it. Even without the ear hooks, the headset sticks comfortably in my ear at all time (even when I was running). The main button covers a large surface which made me press the button accidentally a few times when I tried to reposition the headset in my ear. After a while, I sort of got used to it and held it differently. The power button is located on a weird place (to me, at least). It's located on the inner surface so you have to take the headset off your ear to switch it off. This is probably to avoid people accidentally turning the headset off and I guess it makes sense anyway to turn it off only after you take the headset off your ear. However, some like to switch a headset off and on to save battery, yet have the headset on ear at all times.
There are also 2 small LEDs to indicate the power level (Green means good and Red means bad, as usual) and the Bluetooth connectivity status. The volume buttons are located on the side and easy to be reached. You'll also know when the volume has reached its maximum.
Jabra EASYGO Review – Experience
I'm totally in love with the fact that it's so easy to connect the headset with my PC. I simply need to plug the included USB Bluetooth adapter to my PC and all of my PC audio is streamed to my headset right away. Windows 7 automatically detects the driver and I didn't even have to install anything (even though it picked a different product driver).
It's really easy and handy to have. Since the Jabra EASYGO can connect to more than just 1 device, it makes life even easier. It's unfortunate though that there is no A2DP, meaning you cannot stream music from your phone into the Jabra EASYGO (well, not with that kind of price, I guess). There is no audible battery status level as well (such as the number of hours remaining) and when someone calls, it does not say who it is, apart from hearing your phone's ringtone. The voice is clear and audio quality is good. The noise cancellation definitely struggles outdoor among windy days, but I haven't found a Bluetooth headset that can handle this as well.
According to Jabra, the EASYGO has 8 days of standby time and 6 hours of talking time in total, though I haven't abused this headset long enough to justify the claim.
Jabra EASYGO Review – Conclusion
Jabra EASYGO is a compact Bluetooth headset with a compact USB Bluetooth dongle included so you can hook your computer up and also your phone to the EASYGO. The Jabra EASYGO is Skype certified, has 6 hours of talk time, 8 days of standby time, and sold at an affordable price. Due to the low cost, however, good features have to be compromised. You cannot stream any music from your phone, not knowing who your caller is, and not knowing your battery level until it's running low.
If you can live without all these, Jabra EASYGO is a great and flexible Bluetooth headset to use whether you are on the go, or in front of your desktop computer Skyping away. Even if you don't Skype, you can plug the dongle if you don't want your computer to make a noise when your roommate is sleeping next to you (assuming you don't have a PC headset, of course).
$59.99 RRP
Note: Jabra EASYGO review unit was provided by Jabra for the review
Jabra EASYGO Review – Pros
+ Very affordable for a Bluetooth headset
+ Compact, easy to carry – including the charger
+ Includes a USB Bluetooth dongle
+ Plug-and-play to your PC, Skype certified
+ Good audio quality
+ Good battery life
+ Comfortable
Jabra EASYGO Review – Cons
– Can't stream music
– Audible voice only if connected or battery is low
– Lack some nice features in expense of a cheaper price