Jabra Evolve2 Buds Review – We've seen a fair share of Jabra wireless earbuds this year like the Elite 5 and Elite 4. However, these earbuds can be connected via Bluetooth only so if you are working on your Windows PC and there is an incoming Zoom or Teams call, you'd have to answer it on the phone.
If you switch between your phone and PC/laptop frequently, this can be a minor annoyance and disrupt your workflow. But thanks to this Jabra Evolve2 Buds, hybrid working is now more efficient than ever before.
Jabra Evolve2 Buds Review – Unboxing and Packaging Contents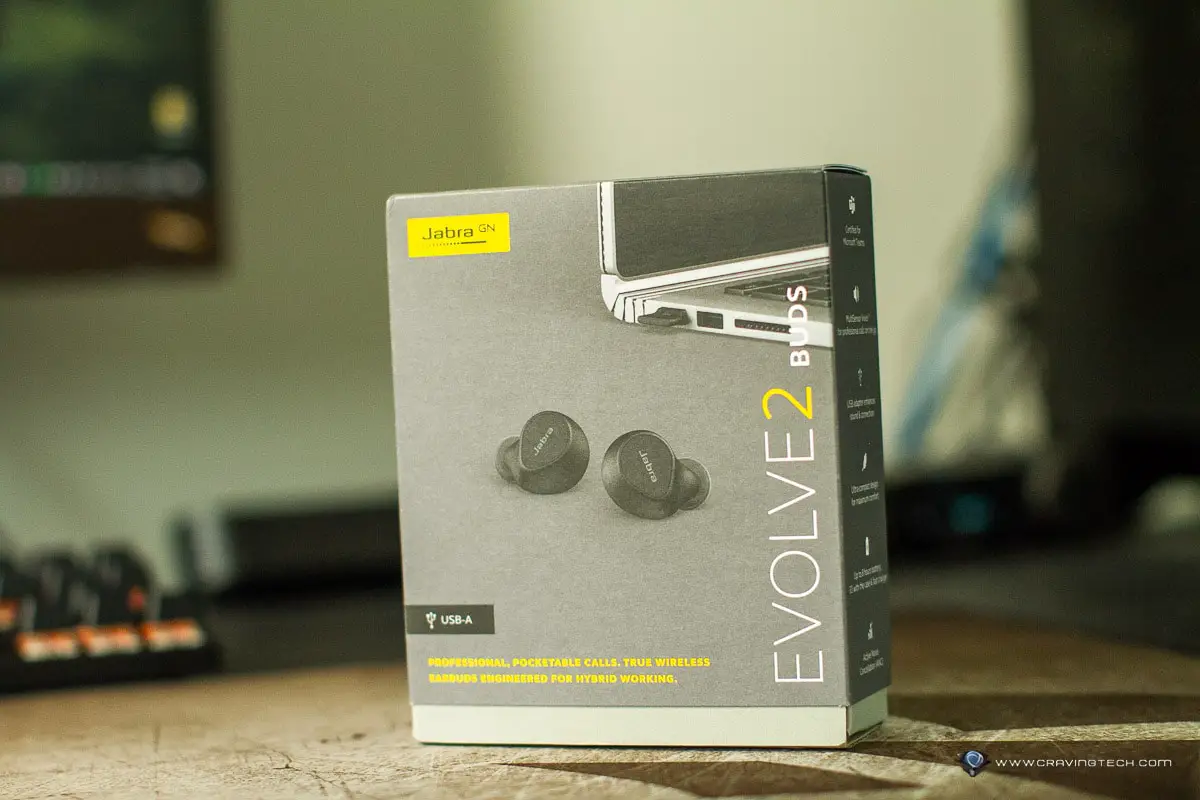 Jabra Evolve2 Buds Review – Design and Features
Jabra Evolve2 Buds look like other Jabra earbuds from the Elite series and that's fine. This design has been tested through many years with different kinds of ears and ears scans (tens of thousands of them), and have gone through iterations to give you the perfect fit.
While results and feel can be varied from one ear to another still, I don't have a complaint about the Evolve2 Buds fit in my ears. They are compact and smaller than my favourite Jabra Elite 85t, and they look professional when you wear them for virtual meeting like Zoom.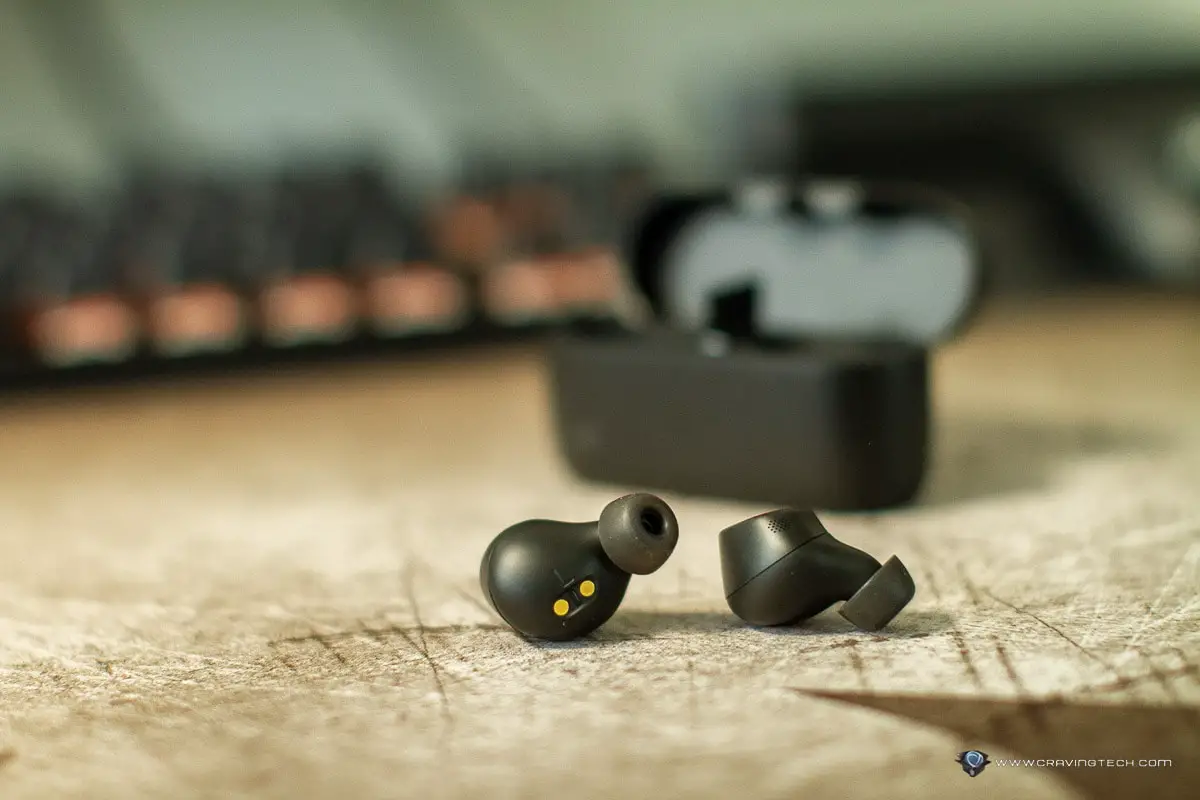 The unique feature of Jabra Evolve2 is that it comes with a Bluetooth adapter that you can plug into your desktop/laptop's USB port. It comes with either USB-A or USB-C adapter (my review unit here is the USB-A which offers maximum compatibility). But if you have a modern laptop that only has USB-C ports, you should grab the model with USB-C support.
It's a plug-and-play adapter with no software or driver needed to be installed. Just plug it to your work or home machine, and you can use it right away as it will appear on your Windows Audio Input and Output. You can keep the adapter in all the time and stay connected to both your desktop/laptop AND phone at the same time. Thanks to Advanced Bluetooth Multipoint, you can then answer incoming calls from both your machine and phone.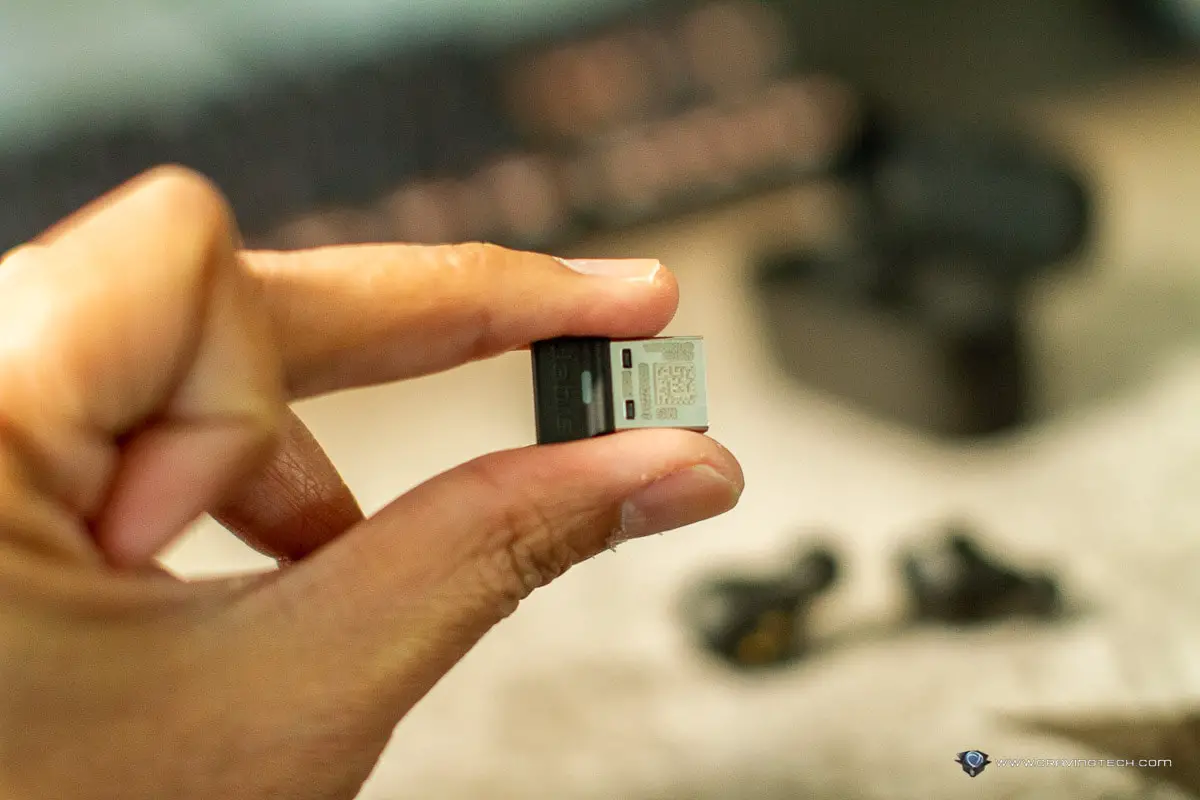 Jabra Evolve2 Buds are certified for apps like Zoom, Microsoft Teams, and Google Meet. I tested these during media briefings and personal catch-ups on both Zoom and Microsoft Teams, and these earbuds worked great in all situations and gave a stable Bluetooth connection.
These earbuds also come with ANC (Active Noise Cancellation) and surprisingly, it works really well. I've even tested these earbuds outside while taking my dog for a walk during windy days. I wasn't expecting the ANC to be as good as the other Jabra Elite line but I was surprised. The noise cancelling engine managed to cut down a lot of noise including winds and many other ambiance sounds. Some can still get through like chirping birds or a distant airplane in the sky, but most disruptive ambiance sound got muffled or silent completely.
Tested at home, I couldn't hear my running washing machine and the gardener's mower on our backyard when I turned the ANC on. Yes, it's good – not as good as Bose QuietComfort Earbuds II (which is more aggressive), but it's still very good.
And yes, there's also Jabra HearThrough if you prefer to be able to listen to your surroundings while wearing these earbuds. This is perfect when you are listening to music and still want to be able to hear if a family member or colleague calls you. Or for safety reasons while you are walking outside and listening to music.
For battery life, according to Jabra, these earbuds can run between 5-10 hours (depending on your activities and whether you have ANC on or off). With the charging case, you'll be able to get up to 33 hours with ANC. Thanks to fast charge, you can get up to 1 hour of usage when the earbuds are charged for just 5 minutes – so that's pretty awesome.
You can use a single earbud in Mono mode while the other stays in the case. This is pretty useful if you still want to be able to hear when someone talks to you in the office, or if you are trying to preserve the battery.
The charging case supports wireless charging but can also be charged through USB-C (cable included). When travelling, you can place the Bluetooth adapter inside the case so you won't lose it.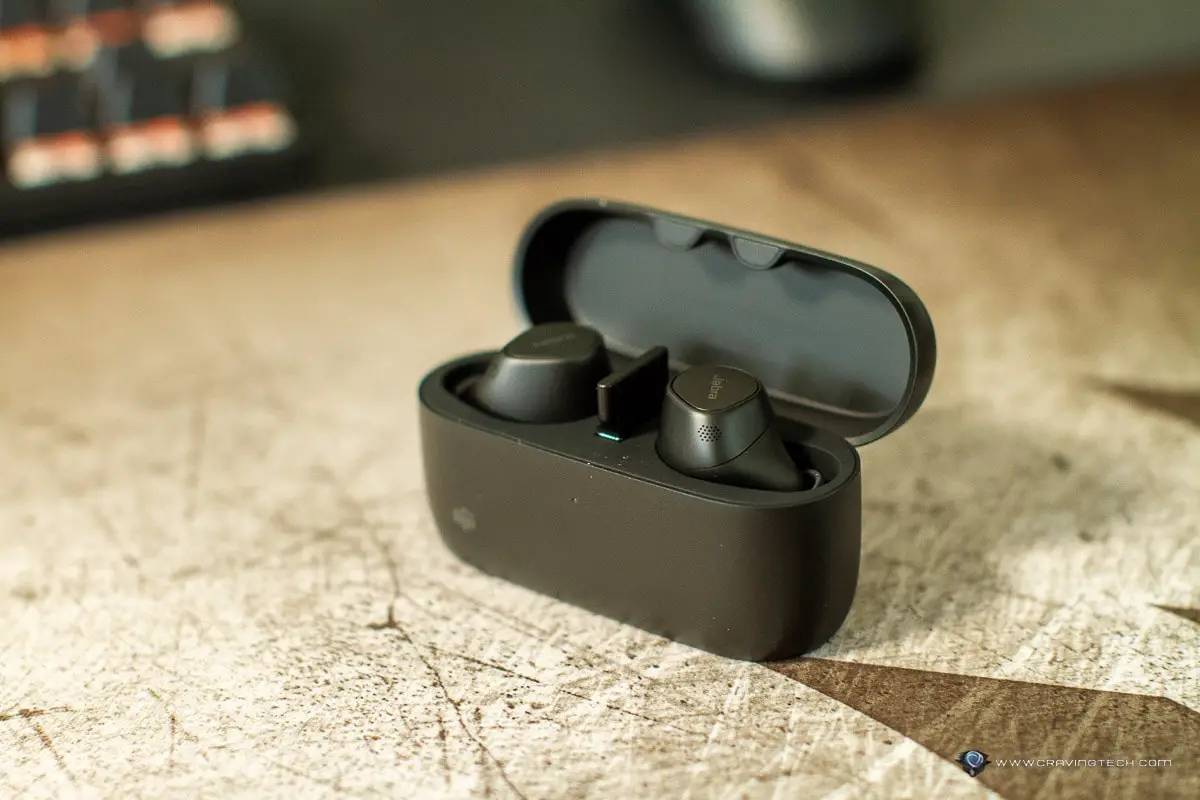 These earbuds are IP57 rated (dust resistant and waterproof for up to 1 metre) so you shouldn't have any problems having to wear them outside in all kinds of weather.
Jabra Evolve2 Buds Review Conclusion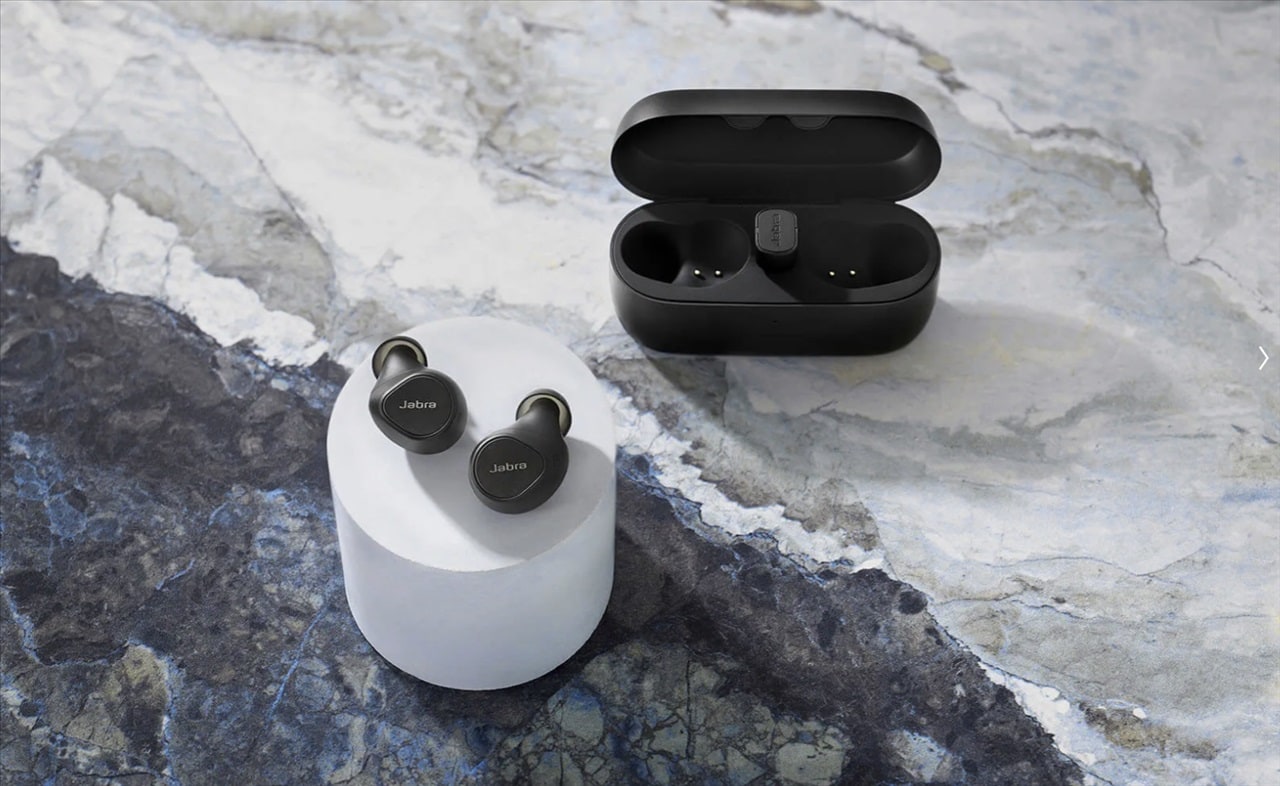 Jabra Evolve2 Buds is a must for hybrid workers. These earbuds can easily take any incoming calls coming from both your phone and laptop/desktop, comfortable to wear (so you can listen to music while not in a call), and have great Active Noise Cancellation.
These earbuds are also certified to be used on Zoom, Microsoft Teams, and Google Meet. Getting an audio product certified is apparently not easy and when it does get one, that usually means the product has met the high quality standards to deliver rich audio, user experience, and connection stability.
Jabra Evolve2 Buds retails for A$399 and is available now at Jabra's website and Australian retailers.
Disclosure: Jabra Evolve2 Buds review sample was supplied for reviewing
Jabra Evolve2 Buds Review
Summary
The perfect wireless earbuds for a hybrid work life and music listening in-between
Pros
Perfect earbuds if you frequently juggle between your phone and computer (laptop or desktop)
Comes with Bluetooth adapter (with USB-A and USB-C option upon purchase)
Bluetooth Multipoint (connect to two devices simultaneously/at the same time)
Charging case supports wireless charging, and can store the Bluetooth adapter safely for travelling
Great ANC and HearThrough performance
Very good audio quality
Cons
You'll need to memorise controls (taps, etc), e.g you don't want to end the call when you actually want to mute the microphone for a bit