Jabra Elite 4 Review – These Jabra Elite series just keep getting cheaper and cheaper. Starting from the most premium of them all, the Jabra Elite 85, which has every bell and whistle if you want the best of the best out of the series.. Jabra then released a few more affordable ones like the Jabra Elite 7 Pro, Elite 5, and Elite 3. The Elite 4 Active was designed for those who are always on the move or going for regular work-outs with its IP57 rating (sweat resistant).
If you don't always go for rigorous activities like myself and just want good, affordable earbuds for working or taking a walk outside, there is the Jabra Elite 4. With Bluetooth Multipoint that allows you to switch between devices smoothly and ANC, the Elite 4 is great for those with a busy lifestyle.
Jabra Elite 4 Review – Unboxing and Packaging Contents
Jabra Elite 4 Review – Design and Features
Unlike its "Active" version, Jabra Elite 4 is IP55 rated, and it is more than good for casual use both indoor and outdoor, even if it's raining.
Jabra Elite 4 has the same familiar design as the others in the series. The earbuds fit great inside the ear canals, and they do stay there.
The controls are located on each earbud with a series of presses and taps (single, double, and triple) to execute different functions like playing or pausing your music, answering calls, rejecting calls, etc. You can also lower and raise the volume directly on the earbuds, which is nice.
With Bluetooth Multipoint, you can connect the earbuds to two devices, such as your laptop and smartphone. This allows you to seamlessly switch between them as needed, so you might be listening to music while working and switch to phone calls the next. Thanks to Bluetooth 5.2, the connection is always solid.
To my surprise, Jabra also includes Active Noise Cancelling (ANC) on the Elite 4. It has a decent noise cancelling feature that will eliminate regular ambiance around you such as the humming from your PC, and even background noise. However, if you are planning to use this on an airplane or somewhere with a lot of noise, you might want to opt for better earbuds with a focus on ANC. Bose Quiet Comfort Earbuds II, for example, ticks all the boxes in the noise cancelling area but, they are much more expensive than these Elite 4 earbuds.
It also has Jabra's HearThrough mode so you can hear your surroundings which can be pretty handy if you want to hear announcements or order a coffee from your local cafe.
According to Jabra, the Elite 4 has up to 5.5 hours of battery life, but technically you can just wear a single earbud to stretch that battery life further. With the included compact charging case, you'll get a total of 22 hours with ANC or 28 hours with ANC turned off.
Jabra Elite 4 Review Conclusion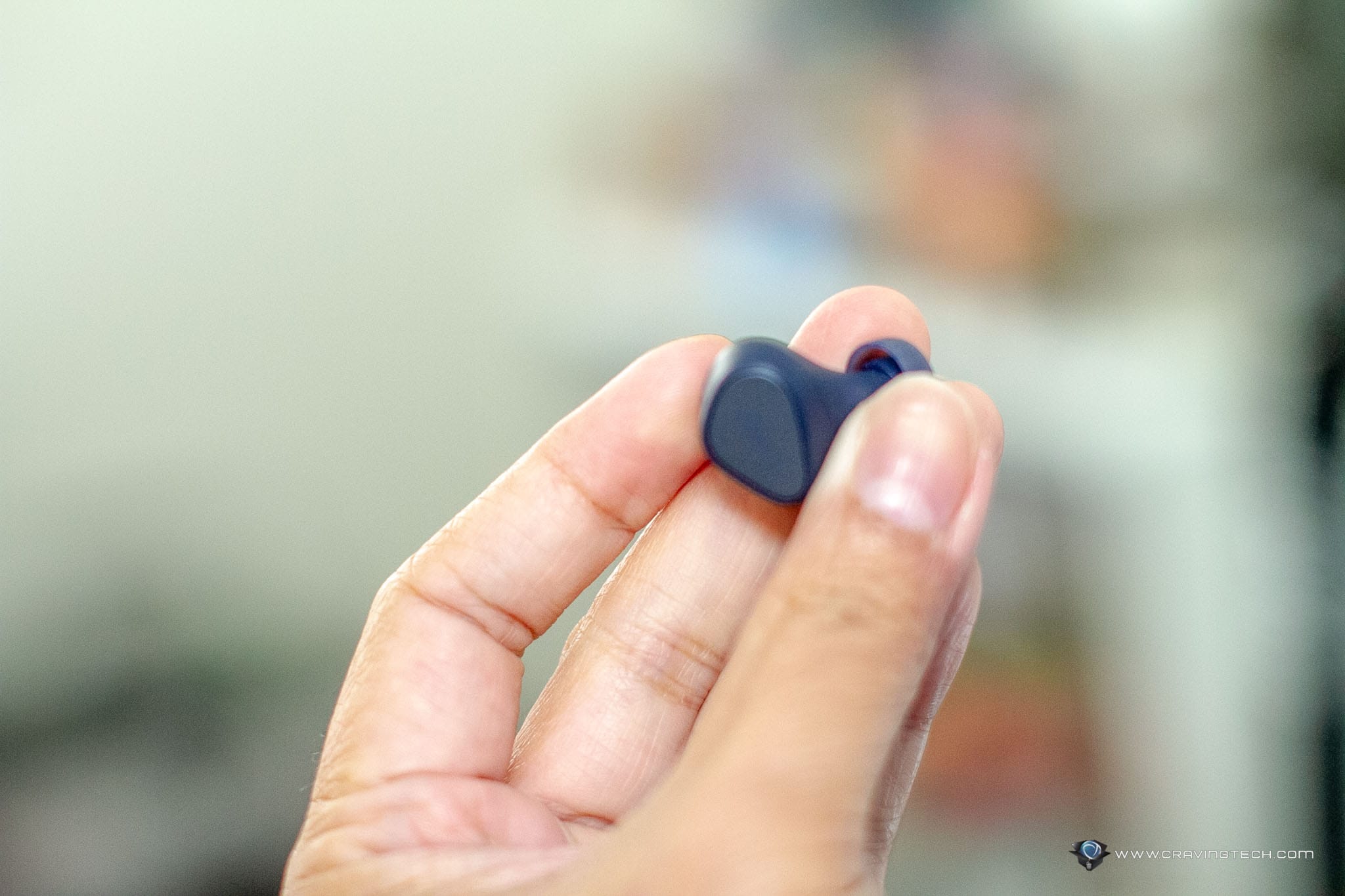 Jabra Elite 4 is a decent, wireless earbuds with a great, stable fit in the ears so you can wear them for hours comfortably. At its price, you also get Active Noise Cancelling and HearThrough from Jabra, though you can't really adjust how aggressive you want the noise cancelling to be. If you are always on a call with either your laptop (through Zoom or Microsoft Team meetings) or phone, the fact that you can switch between two devices seamlessly is definitely a strong point of the Elite 4.
Jabra Elite 4 is available in Dark Gray, Navy, Lilac, and Light Beige. It retails for A$139 and available at retailers around Australia.
Disclosure: Jabra Elite 4 review sample was supplied for reviewing
Jabra Elite 4 Review
Summary
These earbuds provide a decent listening experience with a great, comfortable fit. The ability to seamlessly switch between two connected devices makes them ideal for those with busy lifestyles or who work from home and enjoy listening to music in between tasks
Pros
Comfy earbuds
Has ANC and HearThrough
Bluetooth Multipoint allows seamless switching
Quick access to Siri and Google Assistant (double press on the Left earbud)
Can use a single earbud
USB-C
Cons
No wireless charging
Only supports Qualcomm aptX, SBC audio codecs