Note: This is a guest post written by Janice Browning – Here's how to fix iPhone Black Screen of Death! If you are also facing iPhone black screen of death for no reason, pressing multiple buttons and trying different swiping operations, the screen still does not respond, then you are in the right place. In this article, we will explain what causes iPhone black screen of death and how to fix it. These methods are not only works for iPhone 14/13/12/11 black screen of death, but also works for other iPhone models and iPad, iPod touch as well. Let's keep reading.
Why is my iPhone screen black? First of all, we need to understand what causes iPhone black screen of death. In general, there may 2 reasons, which are software issues and hardware issues. The common software reasons are iOS update failure, you are using an app which is not compatible with iOS system, a failed iOS jailbreak, iOS has bugs, and the iPhone does not have enough storage space to start the iPhone, etc. Common hardware causes include damage to components between the main board caused by a phone drop, components not connected properly, hardware being soaked when the phone is dropped into water, and the battery is exhausted.
After we understand the reasons, then we can use the following 4 effective methods of how to fix iPhone black screen of death.
Solution 1: Force Restart iPhone
Make sure that the iPhone has enough power, or after charging the iPhone for a few minutes, you can use the method of force restarting the iPhone to solve iPhone stuck on black screen. This method will cause all application software to restart, which can fix bugs and malware issues that cause iPhone black screen of death. This method also won't cause any data loss on your iPhone and it is your best choice.
Solution 2: Use Joyoshare UltFix iOS System Recovery
The second way to fix black screen of death iPhone is using Joyoshare UltFix iOS system repair tool. Joyoshare UltFix is designed to solve a variety of up to 150 kinds of iOS issues, which including iPhone stuck on black screen, iPhone stuck on white screen, lines on iPhone screen, etc. It is a one-stop repair tool for all iPhone/iPad/iPod touch issues, and the software has a very simple UI interface that is very easy to use.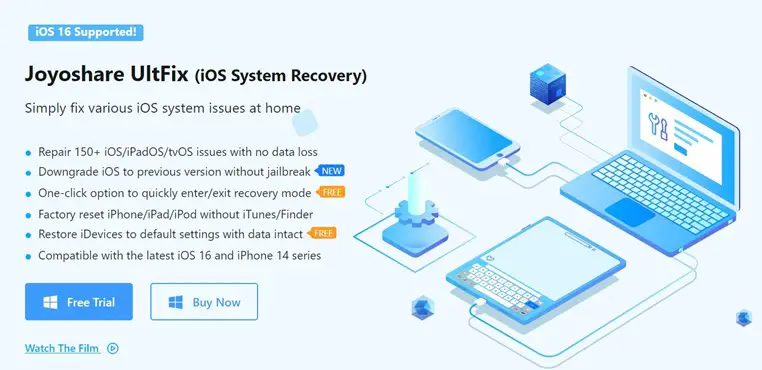 Following are the main functions of Joyoshare UltFix software:
It has standard and advanced two modes, which can fix up to 150 kinds of iOS system issues without data loss.
It also helps factory reset iPhone without any passcode
The software has a one-click option to get iPhone in and out of Recovery Mode.
Help you downgrade iOS to previous version without jailbreak.
It supports all iPhone models and iOS versions, including the latest one.
Here are the specific steps to fix black screen of death iPhone with Joyoshare UltFix iOS System Recovery:
Step 1: Download and install the Joyoshare UltFix software program on your Windows PC or Mac. After opening the software, select iOS System Repair option.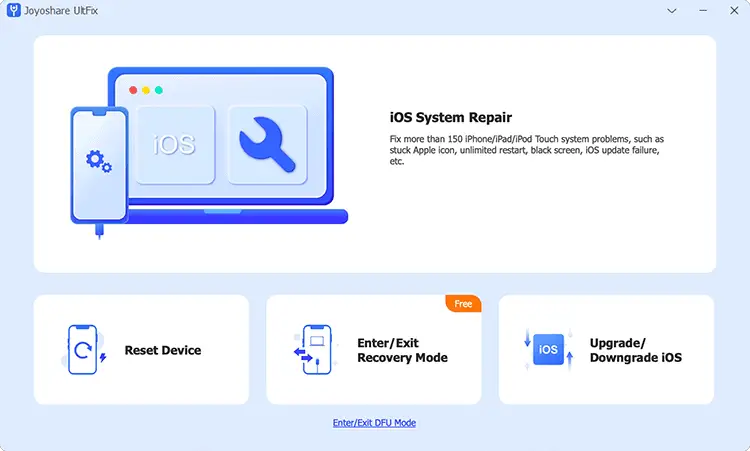 Step 2: Put the iPhone in DFU or Recovery mode, and connect it to Windows PC or Mac. Click the Start button and select Standard Mode.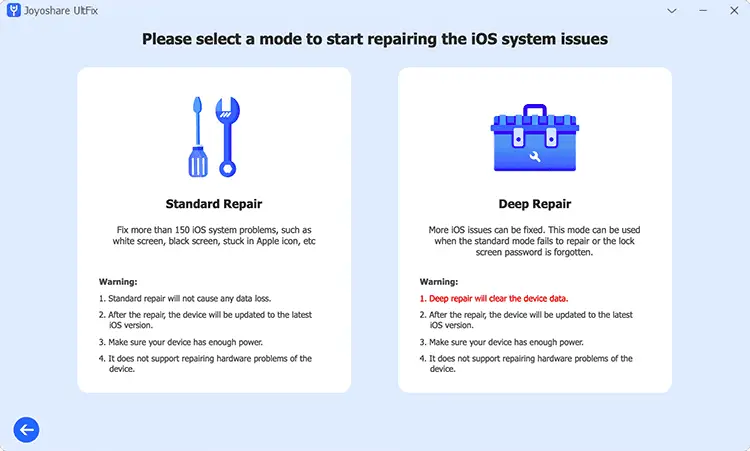 Step 3: The Joyoshare software will automatically identify your iPhone model and provide the corresponding firmware package to fix iPhone stuck black screen for you to download.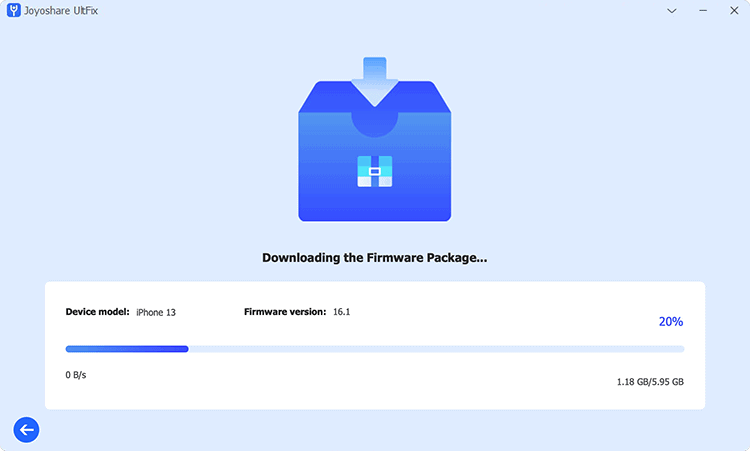 Step 4: Click the Start Standard Repair button, and the Joyoshare UltFix software will start to repair your iPhone. When the interface pops up a new window showing that the repair has been completed, then you will be pleasantly surprised to find that your iPhone is no longer stuck in a black screen state.
Please note: If the standard mode of Joyoshare UltFix cannot solve the problem, use the advanced mode, but the advanced mode will cause data loss, please make sure your iPhone has been backed up before performing the advanced mode repair operation.
Solution 3: Use iTunes to Restore iPhone
iTunes is the official way to fix iOS issues by restoring iPhone to factory settings, after restoring iPhone with iTunes, all your data on iOS devices will be erased, please take this measure with caution.
Step 1: Open the latest version of iTunes on Windows, then connect the iPhone to the computer with a USB cable.
Step 2: iTunes will automatically recognize your iPhone. When detecting iPhone black screen of death, iTunes will pop up a window showing that there is a problem with the iPhone, click the restore button to restore iPhone to factory settings. If you have an iTunes backup, iTunes will prompt you to restore the backup to get your data back.
Step 3: If iTunes doesn't automatically recognize your phone, you can put your iPhone into recovery mode and wait for iTunes to recognize it. When the repair is complete, the iPhone will come back to the normal.
Solution 4: Seek an Official Repair Service
iPhone black screen of death is also very likely to be caused by hardware damage, especially when the iPhone turns on but screen is black. If your iPhone is still under warranty or covered by an AppleCare plan, take your phone to a local Apple store for assistance. Or take the phone to a local iPhone repair shop.
---
These are some solutions to fix iPhone Black Screen of Death.