Jabra Elite 7 Pro Review – Jabra's newest premium earbuds is here. Though not exactly a successor of the Jabra Elite 85t (which still is one of the best sounding ANC earphones out there), it has a good place in the high-end audio market.
One of the things I really like about the Jabra Elite 7 Pro is how it fits better inside my small ears compared to the Elite 85t. The somewhat smaller form factor comes with a sacrifice to the active noise cancelling feature, though. But to be honest, if you are not going to wear these earbuds in an airplane, you'll have more than enough noise isolation while listening to your favourite tunes or podcasts.
Jabra Elite 7 Pro Review – Unboxing & Packaging Contents
Jabra Elite 7 Pro Review – Design & Features
The design definitely has the same resemblance to their other wireless earbuds, and that's okay. Why change the design if they fit and do well in the market? Designing earbuds that fit into everyone's ear canal is really hard and almost impossible (from what I've heard when I had a meeting with one of the sound engineers from another brand). While the Elite 85t sits securely in my ears, you have this weird feeling that they would come off at some point (though they never did in my experience). Jabra was using data from 62,000 ear scans in designing the Elite 7 Pro ear buds and they seem to hit the jackpot this time.
But before we dive into the nitty-gritty bits, most of you would want to know the other differences between the Jabra Elite 7 Pro and Jabra Elite 85t. After all, the Elite 7 Pro came after the 85t, so does it mean that the Elite 7 Pro is an upgrade? Well, yes and no.
In summary:
Jabra Elite 7 Pro earbuds are smaller, better fit for those with smaller ears like mine
Jabra Elite 7 Pro has slightly better battery life
Jabra Elite 7 Pro has better resistance (IP57 compared to Elite 85t's IPX4). So if you are planning to use it to exercise, the Elite 7 Pro is better
Jabra Elite 7 Pro has Bluetooth 5.2 vs Elite 85t's 5.1. How much better is the technology? I'll let you Google around for that one
Jabra Elite 85t has better, adjustable ANC (it's using 6-microphone-technology to cancel noise)
Jabra Elite 85t sounds better (12mm drivers vs 6mm), but you may or may not notice this unless you are on the audiophile/audio-sensitive side. But I do find that I have no trouble hearing the low-channel/Bass with the Elite 7 Pro as it fits better inside my ear canals.
Jabra Elite 85t also has better microphones when compared to the Elite 7 Pro through some voice recording tests.
Also, upon release, the Elite 7 Pro couldn't do multipoint (i.e it can only connect to a single device via Bluetooth) but there is now a firmware upgrade that allows the Elite 7 Pro to connect to two devices at once/simultaneously. Bluetooth Multipoint technology allows you to watch videos or listen to music on one device and quickly answer an important call on another device.
In my opinion, I'd probably recommend the Elite 7 Pro over the Elite 85t, unless you make/receive calls a lot and want to wear these on the plane.
Like the Elite 85t, Jabra Elite 7 Pro also has HearThrough feature so you can hear your surroundings, making sure that you don't miss that important announcement on the airport, trains, or buses. Or even on the road while you listen to music. The active noise cancelling can also be adjusted through the Jabra Sound+ app.
While the Elite 7 Pro only has 6mm speaker drivers, it can still output excellent audio quality: rich and detailed sound. Upon using it for the first time, the app can also optimise the sound profile tailored specifically to your hearing (through series of low and high pitch tones). And if you still aren't happy with that, there is a customisable equaliser accessible on the app.
According to Jabra, the Elite 7 Pro has up to 8 hours of battery life, with up to 30 hours total with the charging case. You can even use just one bud to further save battery life and switch between the two, but I usually just wear them both at the same time.
There was a microphone issue upon release where you sounded like you are underwater (or in a windy outdoor setting) but it has been fixed through the recent firmware release. The firmware update has definitely increased the quality of the microphone and fixed the annoying issue if you use the Elite 7 Pro for audio and video calls.
Before:
Updated firmware:
Jabra Elite 7 Pro Review Conclusion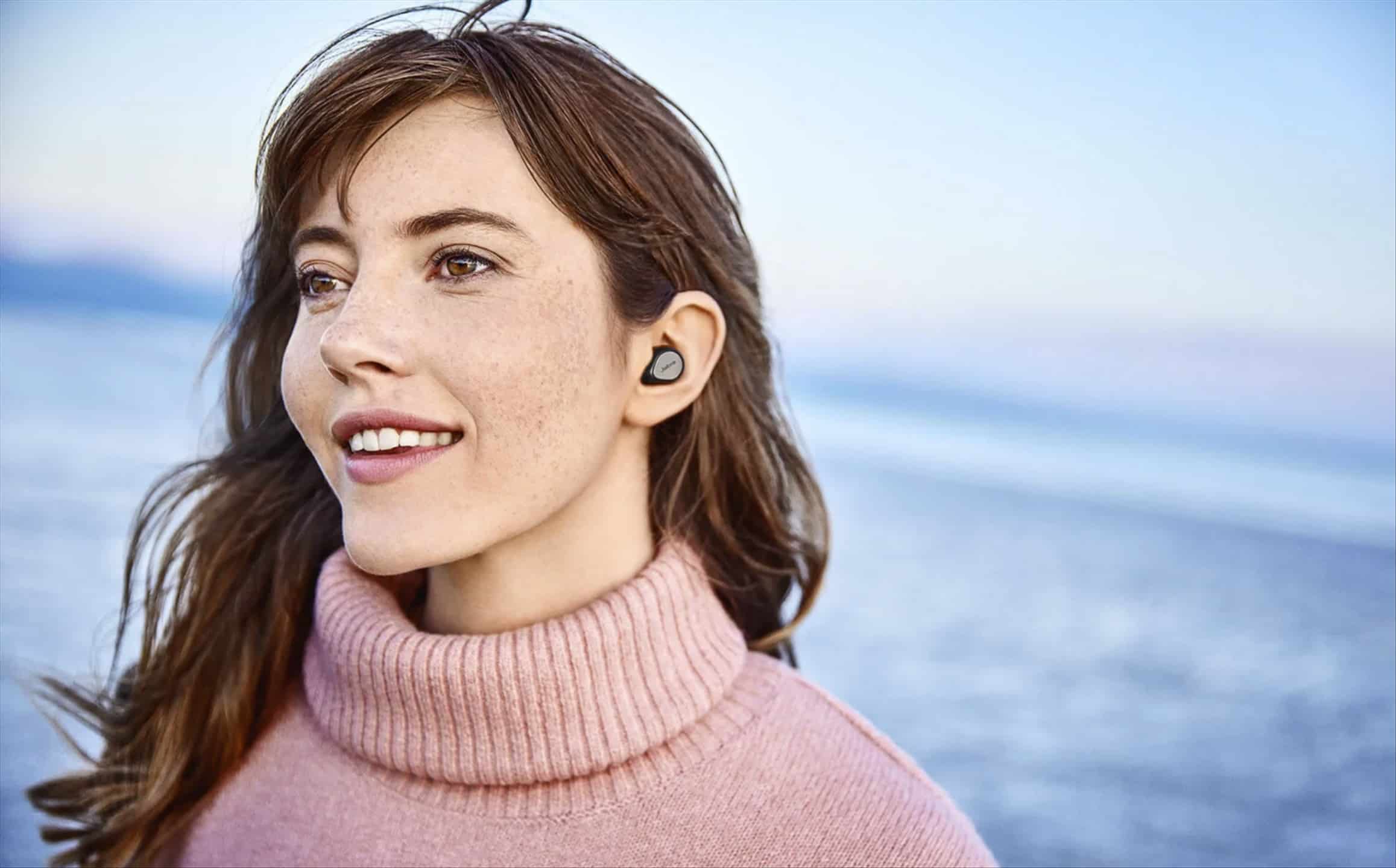 Jabra Elite 7 Pro offers excellent audio quality, a great fit in my small ears, and still provides the ANC & HearThrough technology that I love on Jabra earphones. With the latest and greatest Bluetooth 5.2 and Multipoint, switching between music listening and calls is easy as you can even connect two devices at the same time.
Jabra Elite 7 Pro retails for AU199 at the moment and available in different colours: Black, Gold Beige, and Titanium Black at Australian retailers. Also available at Amazon.com
Disclosure: Jabra Elite 7 Pro review sample was supplied for reviewing
Jabra Elite 7 Pro Review
Summary
This Jabra's latest earphones is a great fit to small ears and a good alternative to the Elite 85 Pro if you don't want to spend such a premium price
Pros
Great fit on the ears
Good sound quality overall
ANC & HearThrough
Cons
Elite 85t is a better option with better sound, tech, and microphone quality, though at  A$100 more