SwiftKey X for Android
Michael Aulia
SwiftKey X for Android Review – SwiftKey X for Android is an Android app (available for phones and tablets) that does auto prediction of texts you type accurately, even in your own language! I've seen and heard of so many great prediction tools and apps on our smartphones for English speaking users. But honestly, I haven't found the need to use one, simply because I mostly chat with my friends in a language other than English. All the apps I knew in the past couldn't do text predictions in Indonesian (which was where I originally came from), so I ended up uninstalling them after a few days.
SwiftKey X for Android breaks that barrier by supporting so many non-English languages AND it also learns your words, so you'll get more and more accurate predictions each passing day!
SwiftKey X for Android learns your typing experience with data from your Facebook, Twitter, Gmail (email messages), and SMS messages as well. This adds accuracy into the mix, because often we are talking in slang or our own favorite words most of auto prediction apps rely too much on formal dictionary words). After you install SwiftKey X, you can ask it to start grabbing and learning your words from these services. I could vouch that the app is even learning from Twitter correctly because I noticed a few of the suggested words that I only said at Twitter before.
SwiftKey X learnt my Indonesian words that I used a lot on the phone (informal ones) and it currently supports 22 languages in total (Romanian, Dutch, Russian, Italian, Spanish, French, and many more), by the time this review was written. Oh, and the best thing is, you can enable up to three languages at once!! Isn't that great? Since I live in Australia now, I occasionally have to type in English (okay, maybe more than occasionally) so at the moment I have 2 languages being enabled on my SwiftKey X. The app works great in predicting the texts and it predicts automatically, so you don't have to switch from one language to another. It is really seamless!
SwiftKey X's prediction in Indonesian:
SwiftKey X has its own keyboard which comes in 3 themes at the moment: Dark, Light, and Neon. My favorite is Light, of course, but it depends on your preferences and style.
Overall, SwiftKey X makes typing on my Samsung Galaxy S II so much easier. I really feel comfortable in having to use one hand to hold my phone and type at the same time, simply because I only need to type the first few letters and the prediction tool does the rest for me. Sometimes I don't even need to type in the second word as SwiftKey X also predicts the next word!
If you look at my photo below, you can see that after I typed in "Hi", SwiftKey X predicted the next word with "guys", "," (a comma), and "everyone". Smart, eh? Hold a predictive text with your finger and you can delete the entry for good, to keep the dictionary clean.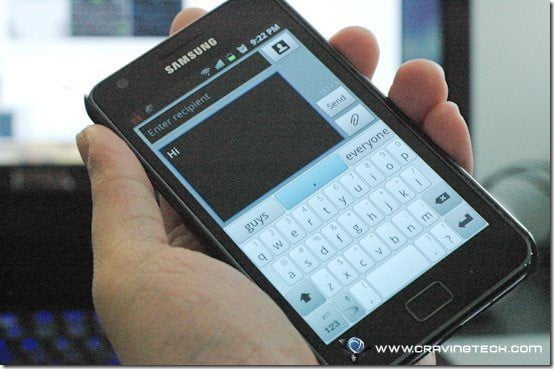 I love how the team looks at small things and make them a better experience. For example, after picking a predictive text, SwiftKey X adds an extra space after that so you can continue typing. If you put a "," or "?", SwiftKey X automatically goes backward 1 character and places the letter next to the last word. Smart.
There are 2 types of typing styles that you need to pick: Precise (for careful typists, who often choose predictions) or Rapid (for fast typists, who rely on auto-correction). I tried both but in the end, I stayed with Precise. Sometimes it could get quite annoying with Rapid when it inserted the next word that I didn't really want when I meant to type a single letter with the space bar key. But I guess this depends on which one works best for you – just try both and stick to one after :)
According to SwiftKey X stats (yes, there's a stat), I'm 19% more efficient in typing with SwiftKey X, because in total I have typed in 41581 characters and SwiftKey X predicted/saved me 7903 keystrokes. So there you go, it's not much for me at the moment but 7903 character presses are still a lot! I'm getting better at picking the predictive texts so the efficiency will definitely go higher in no time! SwiftKey X works in WhatsApp and basically anywhere when you need to enter texts with the on-screen keyboard.
You can see SwiftKey X in action on my Samsung Galaxy S II video I made for Samsung (towards the end of the video):
Note: SwiftKey X License was provided for the review
SwiftKey X for Android Review – Pros
+ Insanely accurate
+ Feels easier to type than the default keyboard
+ Three keyboard themes to choose from
+ Supports at least 22 languages
+ Three predictive words to choose from, more options!
+ Work with 3 active different languages at the same time!
SwiftKey X for Android Review – Cons
– Not on iOS devices :(