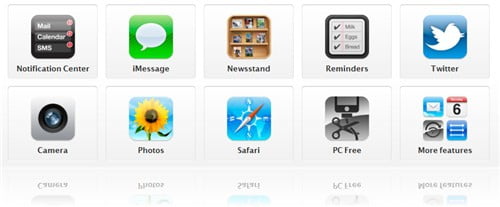 On today's Apple WWDC (Worldwide Developers Conference) 2011, three major points were being presented: iOS 5 (the next iPhone/iPod/iPad's operating system update), Mac OS Lion (the next Mac OS update), and iCloud (Apple's new cloud service). It will be too much to talk about every single thing of them in this post so feel free to search for them on the net or go to Apple's official site. However, I'm going to write about the upcoming features mentioned for iOS 5 (which should be released in a couple of month's time hopefully).
The upcoming iOS 5 includes 200 new features but only the main ones are mentioned on Apple's official iOS 5 news page. Most of them made me excited, especially the new notification system.
iOS 5 new notification system
When we receive notifications on our iPhone (or any iOS devices), they are normally in the form of a single pop-up notification in the middle of the screen. It's intrusive, not to mention that it makes your current app paused while you have to decide what to do with the notification. When you are playing games or writing a message, this pop-up are really annoying. Thankfully, Apple hears you and introduces a new notification system. This time, the notification will pop-up from the top of the screen (only a few pixels wide) and does not stop you from what you are doing. Swipe your finger from the top of the screen to see all notifications when you want to. The lock screen also displays all the notifications in multiple lines now, instead of just displaying the last notification.
iOS 5 iMessage (something like BBM/BlackBerry Messenger on an iPhone)
A feature that is far too late (in my opinion) as I and my friends have bought and used the WhatsApp messenger to exchange messages. Almost every iPhone user I know has a WhatsApp installed but it would be great to see this happening as WhatsApp can be flaky at times. The iMessage allows you to send messages to other iOS 5 users for free through the internet connection.
iOS 5 Reminders
We haven't got any good free reminder/to-do app yet and many have to get a commercial third party app that do the job. The Reminders app that comes with iOS 5 looks pretty sleek and it also can push a notification/reminder when you are on a certain location. Depends on how good this app is, it sounds like trouble for some developers who have been developing to-do apps for a few years.
iOS 5 Twitter integration
Twitter is now fully integrated with the operating system so you can tweet a photo straight from the Photo Library or interact from other applications. Looks like a nifty feature to have if you are using Twitter!
iOS 5 better Camera interaction + Photo editing app
Sometimes I want to take a quick snap of something but the moment had passed before I could even press that shutter button. Why? Because I had to unlock my phone first (slide + enter my 4 digit password), opened my Camera app, and pressed the shutter button. No more. In iOS 5, the camera button can be accessed straight away on the lock screen! You can also use the Up volume button as a shutter button (so you can now take Landscape photo with just a single hand). iOS 5 also includes a simple photo editing app. Nice!
iOS 5 Wireless sync + activation
Yes, finally! You don't need to plug your cable into your computer anymore to sync with your iTunes. All can be done wirelessly! This also means that when you purchase a new iPhone, iPod, or an iPad, you don't need to activate it with a computer. Everything can be done wirelessly now.
Read the other features (or even better, watch the video!) on Apple's iOS 5 page. Most of these I guess, already exist on other OS like the Android or Windows Phone 7. Nevertheless, because I'm an iPhone 4 user, these updates still make me excited! Grrrrr now, the pain of waiting….