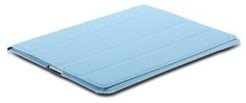 Ever wish that Apple sells an alternate version its iPad 2's Smart Cover with a back protection? Acase hears and answers you with the Acase Ultra Slim Polyurethane Case. It's like having a Smart Case (sleep and wake your iPad 2 up when you open or close the cover) plus an extra back protection on your iPad 2.
The case is ideal to be used at home or when you need to carry your iPad 2 inside another bag as it provides a minimal protection to keep the case as slim as possible.
The Acase Ultra Slim Polyurethane case uses the same material as the Apple's official Smart Cover but I don't own an Apple's Smart Cover so I cannot compare the difference in quality (if there is any). You can choose from a different range of colors just like the Apple ones. I'm used to reviewing cases in leather so the polyurethane material feels a bit "alien" to me. I find it pretty stiff (like a carton) and not soft to the touch.
Due to the material, the case looks a bit rough around the edges, not giving that perfect "smooth and elegant" look.
The case is, however, light-weight and very slim, making it perfect to travel or if you like reading news on your iPad 2 when you are doing "the thing" in the toilet. Or if you like to lie down on the bed while holding your iPad 2 up in the air. Due to the slimness though, the case only provides a minimal degree of protection. It does not have any significant padding to absorb the shock from a free fall. You may want to grab a different case with more padding if you drop your iPad often.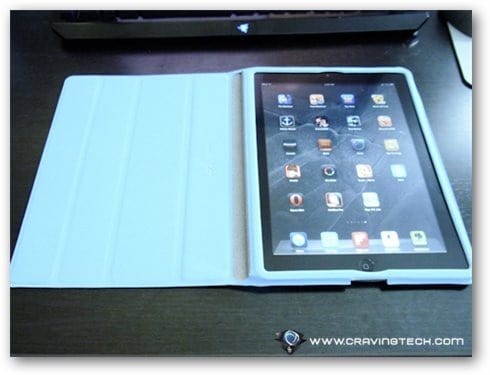 The cover is a hit and miss. Its magnet is quite weak so I often find that the iPad 2 did not go to sleep when I close the cover (and as such, the iPad 2 would not wake up as well). This is probably because the cover is too light and sometimes it does not go flat on the iPad 2 screen.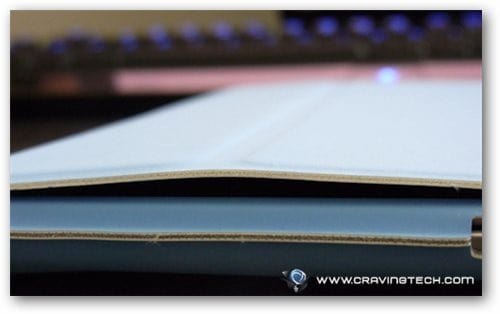 This is definitely quite a major problem on the case, when you assume that your iPad 2 has been put to sleep when in fact, it hasn't.
The case has cut-outs specifically designed for iPad 2 (for all ports, jacks, and buttons).
I find that the charging port cut-out needs to be larger though, because I need to wiggle the case a little bit to fit the charging cable in.
The Acase Ultra Slim Polyurethane case has 2 different view angles, perfect for typing and also for watching movies (similar to Apple's official SmartCover).
Overall, the Acase Ultra Slim Polyutherane case feels stiff and the cover's design does not always do the job well to sleep/wake the iPad 2 up. It, however, gives the slimmest and most light-weight solution as an iPad 2 case, making it perfect to be carried around or when you want a case to be as slim as possible. Unfortunately, there are a few faults here and there that really need to be tweaked or updated in the next batch.
Acase Ultra Slim Polyurethane Case Pros
+ Can wake/sleep the iPad 2 using the magnetic cover
+ Slim
+ Lightweight
+ Cut-out for ports, jacks, and buttons
+ Feels like an Apple SmartCover with a back protection
Acase Ultra Slim Polyurethane Case Cons
– Magnetic cover does not always work
– Feels stiff, due to the polyurethane material
– Charging dock's cut-out needs to be larger
– Rough around the edges