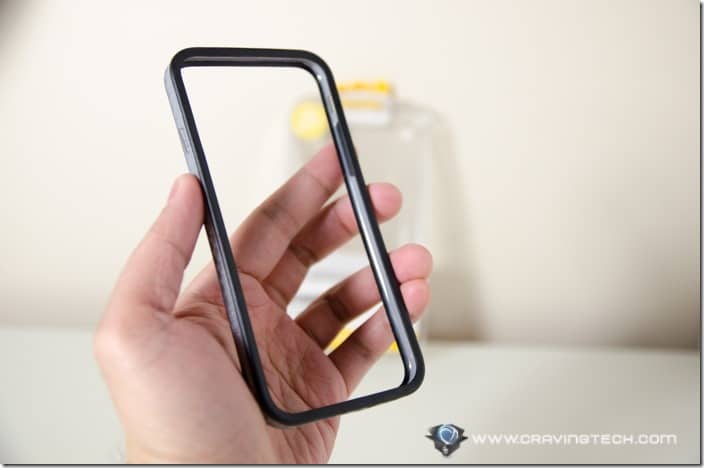 Apple's iPhone 6 is a slippery beast. Its design is beautiful and seamless, but feels as if you can drop the phone anytime while holding it with one hand. This bumper case from Proporta gives enough protection to the iPhone 6 while making it "grippier", without making the iPhone look ugly.
Another plus side, the case doesn't cost a fortune, too.
Proporta's iPhone 6 bumper case is a mix of polycarbonate and TPU that offers a solid grip on the outer layer but with soft cushioning inside. It's a good combination and unlike the other bumper case I've reviewed before, the case is not broken down into 2 separate pieces.
Available in White and Black (no Gold at the moment unfortunately), you should be able to mix and match the right case for your iPhone 6 Space Grey or Silver. The slim profile means it doesn't add too much bulk to your iPhone 6 and you can still carry it around with ease. In my experience, my iPhone 6 with the bumper can still go into my pants' pocket comfortably and I never encountered any problems trying to slide it in and out.
The case has openings so that you can still access all the ports without having to take the case off. The volume and power buttons are covered with the bumper case and I really like how tactile the buttons feel with the covers. Some cases prefer to use silicone covers but I'm glad Proporta opted for a better material.
However, unless you use Apple's standard Lightning cable, you'll find that most third party Lightning cable will not fit into the charging port (unless if you take the case off). It's a common problem with most cases I've reviewed, so this is not the first time. Still, I wish this bumper case has a wider opening around the charging port. In my experience, 2 of my third-party Lightning cables from different companies won't fit in unless if I take the bumper case off first.
Thanks to the bumper case, I can now comfortably place my iPhone 6 on any table – knowing that the back of my iPhone 6 is not touching the surface.  I also don't see any issues with the wireless, Bluetooth, or phone's signal with the case, which is good.
Overall, I'm really happy with Proporta Bumper Case for iPhone 6's quality. It offers quite a good amount of protection but most importantly, it gives the iPhone 6 a sturdier grip. Its slim profile also means that the case will not add too much bulk to your slim iPhone 6. Recommended to grab if you don't want a full case that covers your iPhone 6's beautiful body unit.
Proporta Bumper Case for iPhone 6 Pros
+ Adds decent amount of protection
+ Adds grip to the slippery iPhone 6
+ Doesn't add bulk to the iPhone 6
+ Not a case that turns your iPhone 6 into an ugly looking phone
+ Great tactile feel on the button covers
Proporta Bumper Case for iPhone 6 Cons
– Your third-party Lightning cable may not fit into the opening
– No matching case for the Gold iPhone 6 yet. Wish there are other colors too
Disclosure: Sample was sponsored for the review but all opinions are 100% mine