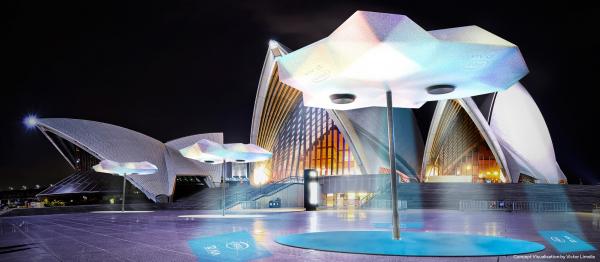 Vivid Sydney is on, and I'm heading to it tomorrow night, thanks to Intel Australia. One of the things I'm looking forward to see is the Sound Cells, with speakers optically linked to the Sydney's Opera House recording and broadcast studio (Intel Broadcast Studios).
Connected by an advanced optical fibre-based digital audio-video network, Intel Broadcast Studios is bringing the Opera House's inside experience to the outside with superb audio and video quality. This Intel technology captures what's happening inside the Sydney Opera House and bringing it to the audience outside, giving you the best experience possible.
The speakers are hidden inside semi-translucent, 3D printed canopies with a unique design made from recycled water bottles. Joe Crossley is the artist responsible for the Vivid Sydney's Sound Cells installation.
Grids of LEDs will dynamically interact with the music which will give you amazing dynamic light shots. Thanks to these Intel-powered Sound Cells, you will be able to experience the live audio from Sydney Opera House, and also an exclusive music and visuals by Australian music producer Ta­-ku and visual artist Sam Price.
It's something that wouldn't be deemed possible a few years back to stream this much live data and even process them to create an astounding dynamic lighting show.
As technology becomes more powerful and accessible, it's exciting how we can see artists design something that is truly unique with an artist's creativity and power from the Intel processors.
Now when the live concert is on inside the Sydney Opera House, you can simply stand, sit, or dance underneath these tree-like installations and enjoy the show as if you are inside.
Here is an interview with Joe Crossley, the artist behind it all:
Sound Cells is a collaboration between Intel and Sydney Opera House. Intel is a Major Partner of the Sydney Opera House and Major Event Partner of Vivid LIVE.
The Intel-powered Sound Cells at Vivid Sydney will be up on Friday May 27 – Saturday June 18 2016, from 6:00pm – 11:00pm. Make sure to check it out if you are coming to Vivid Sydney!