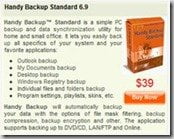 Alright guys, here are the 20 winners to the Handy Backup Standard License giveaway. Some were actually given incorrect answers, so only those that gave the correct answers got picked.
The winners are:
1. Pradeep Singha
2. Vaibhav Srivastava
3. Acadia
4. Vhick
5. Terieron
6. Togor
7. Alex
8. EverArale
9. TomGer
10. Evan Chan
11. Pan Piku
12. Luker Love
13. Raymond Chan
14. Brian
15. Naits
16. Paul Salmon
17. George
18. Bionic
19. Abdulqader Kapadia
20. Bessamy
Congrats, guys. I'll send the license key tomorrow to you guys. Check out your inbox :) Thanks for participating and also many thanks to Novosoft for sponsoring this great giveaway!
Subscribe to our newsletter as you will be notified when there is another giveaway (I have 2 more exciting software licenses for giveaway soon).