FUJIFILM X-T3 Review – I remember my childhood days like it was yesterday. My parent had a FUJIFILM camera (you know, the kind that used a film roll) and they entrusted me with it. I was still in primary school and remember having a blast taking photos, then going to this FUJIFILM store to get the film processed and printed.
Well, those days are now gone as digital cameras quickly change the world of photography (though film cameras are now resurfacing again).
In 2019, mirrorless cameras are getting more and more popular in the consumer market and I couldn't be happier to see a brand that has grown up together with me to make a comeback.
I'm constantly following FUJIFILM ever since they launched the X-T2 and X-T20. The cameras get a lot of mentions and positive reviews on the internet. Curious, I took their latest FUJIFILM X-T3 to find out what it's all about. So, after spending three straight weeks with the camera, here are my findings.
FUJIFILM X-T3 Review – Camera Handling and Operation
At a glance, FUJIFILM X-T3 boasts an all-metal body construction. The camera feels very sturdy on my hand and according to specs, the body is also weather sealed. I brought the FUJIFILM X-T3 review unit to a holiday trip in Sydney during the Easter break. The camera sustained a harsh treatment from sandy beach to drizzling wet weather without any problem. However, I did have an emergency protection just in case the weather turned wild.
Holding the camera with my hand is comfortable. However, people with a bigger hand will find this camera's grip too small and uncomfortable. The camera body (with battery and storage card) weighs only 540 grams and has a smaller footprint than most regular DSLRs, making it easier to carry around.
What makes the FUJIFILM X-T3 or FUJIFILM X-series unique compared to the other cameras on the market? Well, it's definitely the analog dials and image sensor. Each dial controls basic exposure settings: shutter speed, ISO, and exposure compensation whereas the aperture dial is controlled through the lens. These dials do give a retro look on the overall camera and they're subjectively offering a fun way to capture a scene.
These analog dials are the only way to modify exposure settings and it does take me some time to get used to them, especially coming from a Canon and Nikon ecosystem. The FUJIFILM X-T3 still gives access to Aperture priority mode (Av mode), Shutter speed priority mode (Tv mode), or P mode when the combination of analog dials are positioned to 'A' (Auto mode).
Like the dials, it also takes time to learn where things are within the menus. Thankfully, I can create a customised menu tab to suit my needs. FUJIFILM X-T3 also lets me customise all physical buttons to suit my shooting style.
My first impression when starting up the FUJIFILM X-T3 is how lightning fast the startup time is and how the camera is ready to shoot under one second! The shutter button also gives a satisfying feel (and click sound) when pressed, and the button is thankfully light and easy to press.
The FUJIFILM X-T3 EVF and LCD screen are sharp. Touch screen on the LCD is disabled by default but once I enabled it, I could use touch to adjust the autofocus point. However, you can't seem to navigate the menu using touch. The LCD screen is articulated and can be flipped – which is useful for portrait shooting orientation but not for selfie.
What about battery life? Well, the FUJIFILM X-T3 can't survive an all-day shooting unfortunately. I'd advise to buy at least 3 spare batteries or a FUJIFILM X-T3 battery grip (available to purchase separately) which can hold two batteries at the same time if you plan to shoot all day.
FUJIFILM X-T3 Review – The Brain
FUJIFILM X-T3 sensor design is more unique than what the market offers. The sensor is called X-Trans and can scientifically capture more details and minimise the moiré pattern.
FUJIFILM X-T3's out-of-camera JPEG is rich in color and beautiful, but the camera also comes with various FUJIFILM's own picture styles and film simulation such as Provia for standard general shot, Velvia for vivid look, Astia for soft look, Acros for FUJIFILM's black and white look, and Eterna for the latest FUJIFILM's film simulation (for cinematography).
FUJIFILM X-T3 comes with quite a decent autofocus for today's standard. It's quick and snappy. Autofocus comes with face + eye detection and framing is much easier. Yet, FUJIFILM X-T3 allows an 11fps burst capture with mechanical shutter, enough for capturing fast actions. Electronic shutter is an option which expands up to 30fps for capturing even faster actions such as sport. Electronic shutter comes with the benefit of having no shutter sound – perfect for taking pictures inside a church or museum.
Stills' advanced functions are available such as timelapse, panorama and various bracketing modes like focus bracketing, exposure bracketing, or film simulation bracketing that allows capturing a scene with three different film simulations.
Many people complain about the camera not having IBIS or a built-in sensor stabilisation. Sure, IBIS can help when taking pictures at slower shutter speed while handheld, but it doesn't help if the subject is moving anyway. So, I don't find this as a deal breaker at all.
FUJIFILM X-T3 Review – Editing
The good news is that many popular photo editing software are starting to support FUJIFILM's RAW file support. I use Skylum Luminar 3 for photo editing and it works great. However, I assumed I could get access to all FUJIFILM's film simulation (Provia, Velvia, Eterna, etc) and easily applied those film simulations through my photo editing software. Sadly, FUIFILM does not share them to third party software.
What I (and you) can do, is to open the FUJIFILM RAW file and edit the picture from that RAW data. If you want to access the FUJIFILM's film simulation, you have to do the processing inside the camera directly or install their FUJIFILM X RAW Studio on the PC/Mac and then have the FUJIFILM X-T3 connected to your PC/Mac. It's a bit of a bummer.
FUJIFILM X-T3 Review – Video
FUJIFILMX-T3 is capable to record 4K resolution in 60fps and 10-bit format, or 1080p resolution at 120 fps – which is quite an impressive spec. It offers a flexible choice of video bitrate from 400, 200, 100, and 50Mbps which affects image details recorded in the video files.
SD card is the supported memory card in FUJIFILM X-T3. The camera comes with a dual slot SD card and supports the latest UHS-II speed. Dual slot is flexible either to maintain a backup for peace of mind or to expand the storage.
Various autofocus works under video mode. Face detection, eye detection, and area focus are all supported here. Subject Manual focus is also supported with assisting tools like focus peaking. The firmware v3.00 that I use, comes with an improved speed and accuracy on both face and eye detection.
A flat video recording format, called F-Log, allows post processing and colour grading. I use Davinci Resolve Studio for colour grading and I'm glad that FUJIFILM supplies a lookup table (e.g. Fujifilm LUT) on their website to speed up the process. I'm not an expert colorist but working with F-Log format from scratch is a challenge for me.
External recorder support is available on this camera. The external recorder is handy to bypass the camera's 30 minutes video recording limit and an external recorder such as Atomos Ninja V gives access to a greater 10 bit 4:2:2 color information.  
Controlling exposures in video recording can be adjusted independently through a silent control feature than using the dials. This is handy to avoid the dial's clicking sound from being present in the recorded clips.
FUJIFILM X-T3 Review – Lenses
I was given the XF 16-55mm fast zoom lens with constant 2.8 aperture to allow more light to get into the lens. It's one of FUJIFILM's big lenses. It's sharp, weather resistant, and still comfortable to carry daily.
FUJIFILM has a vast selection of prime lenses and zoom lens. Since FUJIFILM X cameras are all APS-C crop sensors, the lens are smaller and very useful for portability.
Currently, there are limited third-party vendors for FUJIFILM lenses but there is an option to adapt your existing Canon lens through third party adapters like the Fringer EF-FX adapter. I assume the autofocus speed will get a hit but this is another topic for another day.
FUJIFILM X-T3 Review – Summary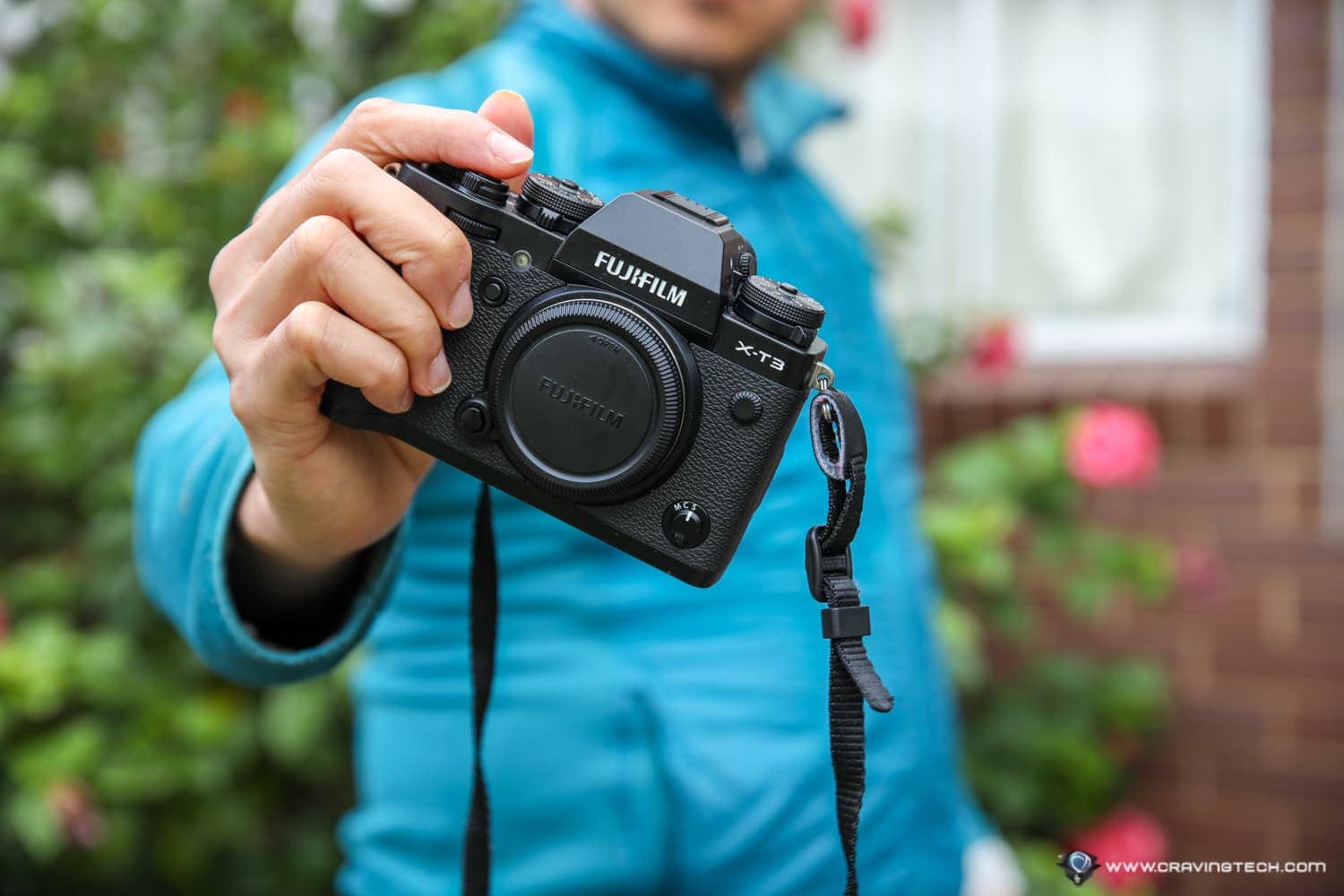 Overall, FUJIFILM X-T3 is packed with lots of features and the amount of controls that FUJIFILM let me do is insane.
It has easily become one of the cameras I really like, especially after seeing how good the shots are coming straight out of the camera without any post-processing applied. Some camera operations require a learning curve if you are coming from Canon and Nikon, so keep those manuals handy for a while. Compared to other companies, FUJIFILM regularly releases firmware updates to their cameras with both bug fixes and new features.
FUJIFILM X-T3 is suitable for wider range of users. With a full auto or semi auto mode, I can see the FUJIFILM X-T3 being used by beginners in photography. I can also see the camera being used by photo enthusiasts or experts due to the excellent manual dials' layout and functionalities. The FUJIFILM X-T3 is also a great camera for cinematographer, thanks to its video specs.
FUJIFILM X-T3 is available at Digidirect Australia and currently priced at AU$2,000 RRP. It's also available at Amazon U.S.