STM Myth Backpack 18L Review – STM Haven had been my most favourite backpack for travelling. Each time I went overseas, STM Haven was my best buddy to carry my ASUS ROG Gaming Laptop, along with travelling essentials like the Bose QuietComfort 35 headphones, Logitech G Pro Gaming Mouse, and of course – passports, etc alike.
The STM Myth Backpack (18L) is STM's latest backpack and it looks more stylish than the Haven that I just want to show it off to other commuters and passers by at all times.
Sure, I've reviewed an even more stylish bag like the Moshi Helios, but it's not really my style. Friends would be surprised seeing me with it because it looks out of character. However, the STM Myth is just perfect. It's a combination of a traditional-look-and-feel backpack with a bit of style thrown in.
The 18L (18-litre) is good enough for daily commuters (I carried it daily to work by train), or for overseas travelling – assuming your laptop is 15″ or less AND it's a slim one.
The laptop compartment is designed specifically to protect your most valuable possession in the backpack and STM doesn't go shy. The STM Myth features extra padding and gapless corners to ensure protection from all fronts and corners. Whether you are placing the backpack flat on the floor, or lean it to a wall, you'll get protection from all sides.
However, note that the 18L Myth can only fit a slim 15″ laptop/MacBook in its laptop compartment. If you have a bigger, heavier laptop like my ASUS ROG GL502VT, it will not fit. You can place it in the big, empty space in the middle but it's not really meant for the laptop.
My wife's 13″ MacBook fits nicely in the laptop compartment but 15″ should fit too.
Talking about padding, the back and shoulder strap offer plenty of padding which makes it a breeze to carry the backpack with all the heavy stuffs thrown within. The shoulder straps are thick, wide, and soft – offering comfort and a balanced weight distribution. Plus, the air channel back panel system promotes good air flow to keep you from sweating profusely in hot, tropical countries – but I still need to test this one day in Indonesia.
You also don't need to worry if it rains, because the backpack has C6DWR coating applied to the fabric, and even the zipper lines should prevent moisture and water from getting into the inner compartment (similar to the Samsonite Firelite Spinner luggage I bought).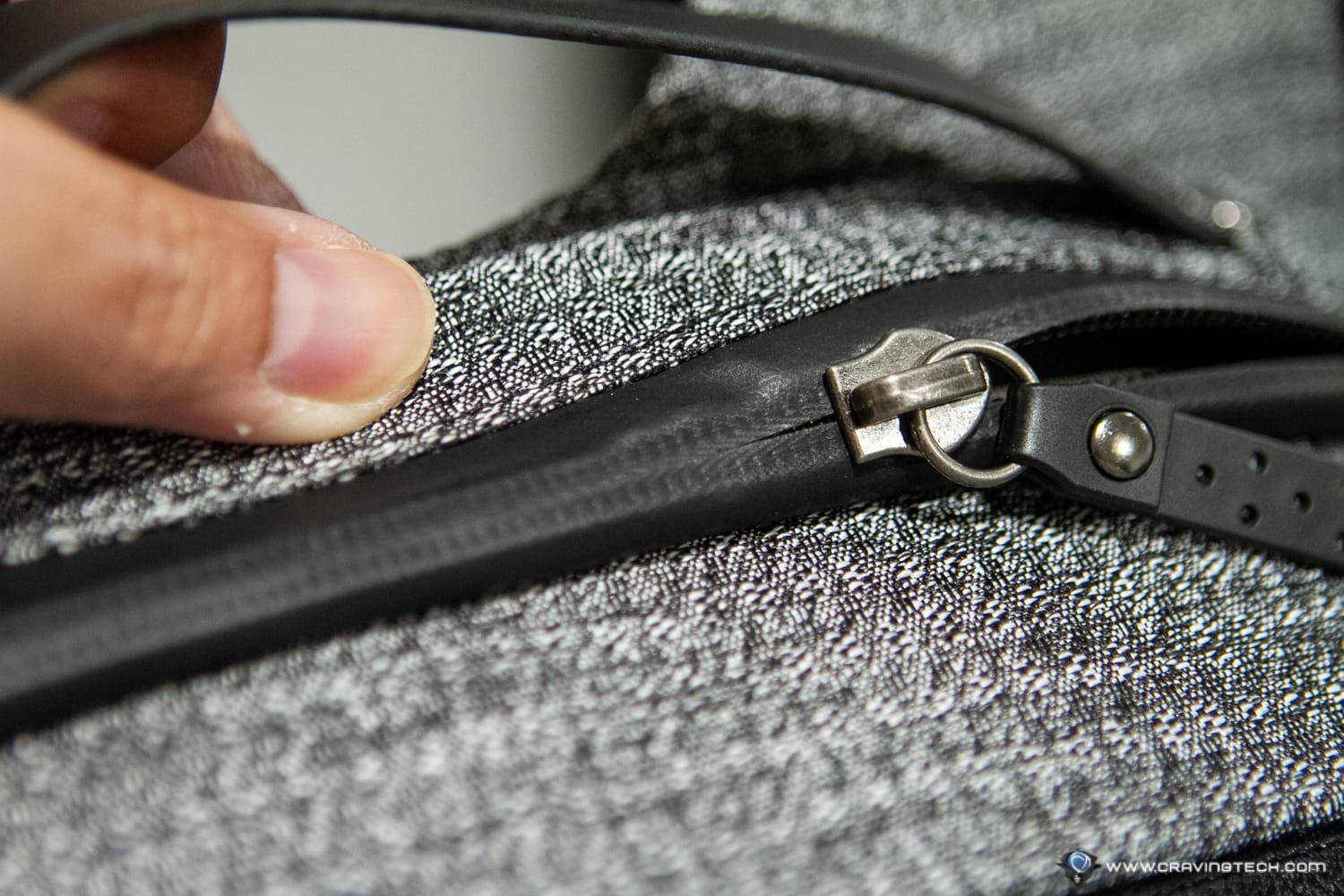 Apart from the main laptop compartment, there are also many other smaller compartments and pockets to store many things including a tablet like iPad, Kindle, portable charger, books, pen, earbuds, etc.
On the outside, there are 2 quick pockets – very useful to store your passport and boarding pass, along with a zippered pocket. This is where I'd place my smartphone while going through the airport screening.
Unlike the STM Haven however, there is no side pocket to store a bottle of water. But eh, I can live with that. The backpack also has cable's pass through for cable management inside, handy for charging your phone or laptop. I think it's unnecessary but if you like to keep things tidy inside the backpack from cables all over, you'll love it.
If you are travelling with a luggage, you can also place the STM Myth backpack on your luggage's lumbar. This puts stress off your shoulder and lower back, making it easier to carry both the luggage and backpack.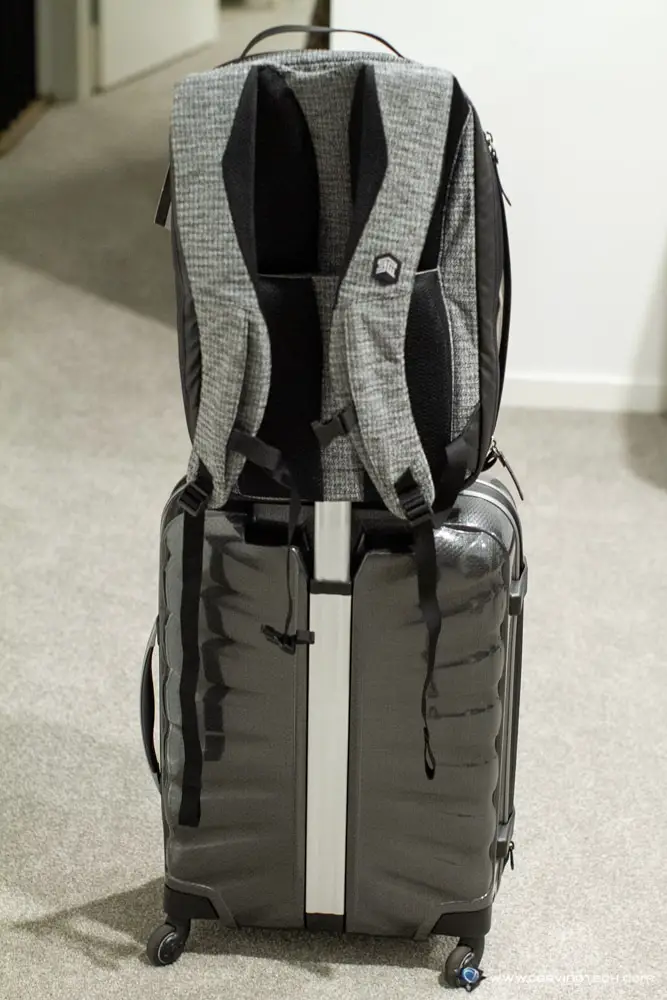 STM Myth Backpack 18L Review Conclusion
STM Myth Backpack (18L version) is a stylish backpack that can hold many of your essential items for travelling or commuting, including a 15″ laptop. With extra padding for protection from impact and a balanced weight distribution, the STM Myth Backpack is comfortable and very friendly for your shoulders and lower back.
The 18L version is more suitable for urban commuting because of the compactness. It can only fit a slim laptop or MacBook, and things can get really squishy inside if you are carrying lots of items. I have a thick gaming laptop and I'd still prefer my STM Haven as my main backpack for overseas travel. But for daily commuting to work or if you are a student going to lecture or uni, the STM Myth Backpack 18L might be for you.
If you want the bigger version, the STM Myth Backpack 28L is available for only $20 more. STM Myth Backpack 18L is available for purchase at A$139.95.
Disclosure: Myth Backpack 18L review sample was supplied for reviewing but all opinions are mine and not paid
STM Myth 18L Backpack Review