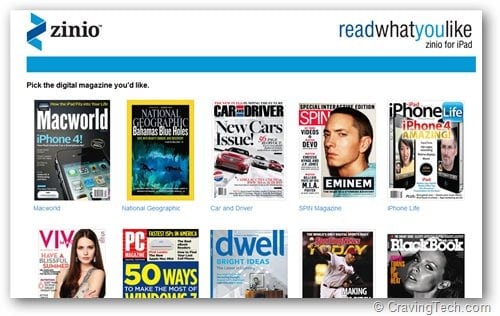 Thanks to a post from Gear Diary, I found out that you can download quite a few magazines on your iPad through the Zinio app (or actually, you can also read these magazines on the web using your web browser, if you don't own an iPad!). At the moment you have to pay a subscription for your magazine on Zinio but there's a promotion going on at the moment where you can download quite a few good magazines for free! The promotion won't last forever, though!
How to get the free magazine subscriptions at Zinio
Simply go to the Zinio promotion link
Enter the promo code: 13623
Follow the instructions and of course you have to register an account and all that
Afterwards, you can start choosing your magazine and download them to your Zinio application on the iPad!
Available free magazines for the promotion:
MacWorld
PC World
PC Magazine
Popular Mechanics
ELLE
and many more!
I can confirm that this works because I'm in the process of downloading all the magazines at the moment in my iPad :) It's only 1 edition per magazine but a freebie is still a freebie right? Besides, it's a cool thing to be able to show iPad's true power to your friends!