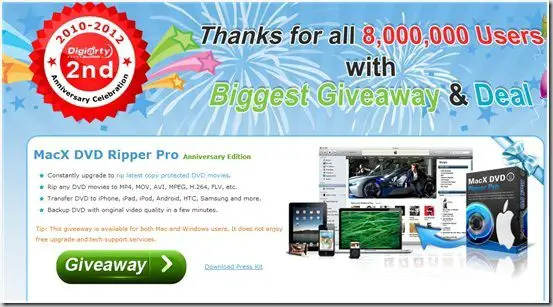 To celebrate 2 years anniversary this May, Digiarty Software, Inc. is giving away two of their best products, the DVD Ripper Pro and Video Converter Pro, for free!
No strings attached, no email to subscribe to, no random winners – simply download the products through the links on their website.
MacX DVD Ripper Pro (for Windows and Mac) let you rip the latest copy protected DVD movies and then convert them to MP4, MOV, AVI, MPEG, and other video formats. You can then transfer the movie to your smartphone or tablet.
Just click on the big Giveaway button to download your DVD Ripper Pro copy.
As for the Video Converter Pro, all you have to do is to guess the name of the movie shown on the screen. Guess correctly and you can then download the MacX Video Converter Pro. It's not hard and you can even change the movie screenshot if you aren't sure.
These free products giveaway is valid until 23rd of May so make sure you download them before then. I've downloaded my copies even when I don't need them (yet). Who knows?
Digiarty Software, Inc 2 years anniversary giveaway