Shadowgun Review – Shadowgun is a third person shooter iOS game by MADFINGER Games (the same company who makes the Samurai: Way of the Warrior and Samurai II: Vengeance games that I reviewed a couple of years back).
Shadowgun is designed for both the iPhone and iPad (universal app) so if you purchase the game once, it will be available in both devices.
One thing for sure, Shadowgun looks stunning on my new iPad – its 3D graphics definitely push the limit of the new iPad (and iPhone 4S), producing an "XBOX like" gorgeous looking game on the mobile device. The environments are beautifully rendered along with lighting effects and also anti-aliasing.
The controls are quite intuitive too. To be honest, I'm not a fan of playing first person or third person shooting games without a mouse. However, playing the Shadowgun does not frustrate me as much as I think it would be. Use your left thumb on any left side of the screen and a virtual joystick will appear (not being fixed to a position, which is great). Use your right thumb on any right side of the screen to aim the reticule.
There are a few buttons to shoot, reload, and dodge but that's about it. You can also go behind cover just by running towards the obstacle and releasing the movement stick.
Shadowgun is not just a run and gun game (though it pretty much is). It has a storyline (with voice-acting) being mixed in though do not expect a state-of-the-art story here. The story is quite linear and predictable, with a few dry jokes being thrown around here and there. Nevertheless, it's a good break from the traditional shooting games on a smartphone or tablet.
It also includes hacking mini-games such as this one where you have to memorise a pattern of numbers being demonstrated quickly to hack.
There are also bosses to fight which involve dodging and memorising their attack patterns (you know the drill). Enemies' AI includes going behind cover or coming to rush at you while you are in cover.
There are also a few different weapons in the game which you can collect (and also collectibles if you are into that sort of thing).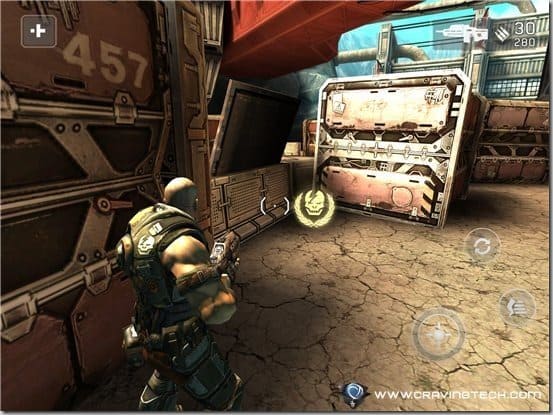 If you are looking for a Gears of War style of game for your iPhone or iPad, then the Shadowgun is definitely worth to play. There is no multiplayer element though, so you may find that it has limited replayability once you've finished the game.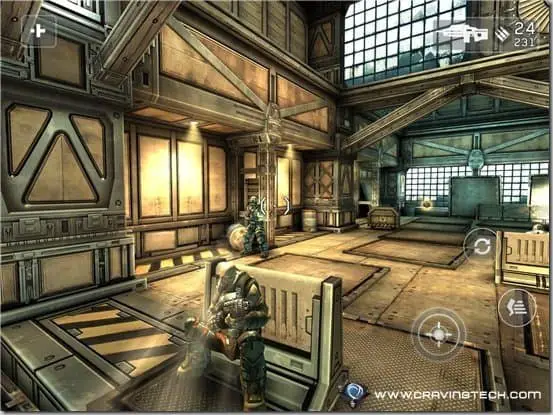 Note: Shadowgun review promo code was provided for the review
SHADOWGUN – MADFINGER Games, a.s.