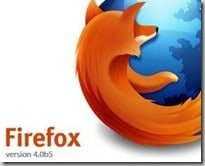 Just updated my Firefox 4.0 Beta 4 to 5 – it includes Direct2D Hardware Acceleration by default. If you don't know what this is, it just means that the display in Firefox will be rendered by your video card, reducing the load from your CPU – so it should increase the performance.
Firefox 4 Beta 5 changelogs:
Firefox 4 Beta 5 is available in 39 languages.
Support for the new proposed Audio Data API
Direct2D Hardware Acceleration is now on by default for Windows 7 users
Firefox button has a new look for Windows Vista and Windows 7 users
Support for HSTS security protocol allowing sites to insist that they only be loaded over SSL.
I'm still switching between Chrome and Firefox. I love Chrome because it's faster to start and seems snappier to use. I love Firefox because of the extensions but so far I've proven that I can live without them.
The easiest way to update is to go to "About->Check for updates" on your Firefox 4 Beta.