Facebook Top Story and Ticker – Facebook is at it again and make changes to the interface. When I went to Facebook today, I was being greeted with a notification about the new "Top Story" feature. Of course, we already had this before (where you can switch between the Top News and Recent Posts). However, it seems that Facebook team has decided to merge this together – by "guessing" a few Top Stories to appear on top and the most recent ones below them.
Facebook Top Story Update
How does the new  Facebook Top Story work? According to the Facebook's blog post:
If you haven't visited Facebook for a while, the first things you'll see are top photos and statuses posted while you've been away. They're marked with an easy-to-spot blue corner. If you check Facebook more frequently, you'll see the most recent stories first. Photos will also be bigger and easier to enjoy while you're scrolling through.
The Top Stories are the ones marked with a blue corner thingie on the top left of a wall post:

You can mark a wall post to be considered (or not) as a Top Story by clicking on it. Facebook will then try to learn (though not too sure how it works) and stop marking similar stories as Top Stories.

I don't really like this change so far (may need some time to adjust) as it can only highlight a few Top Stories as a result, compared to the previous design. It's also unclear when you mark a wall post as a Top Story or not to be considered as a Top Story – is it based on the type of status? (such as Places, new photo uploaded, etc?).
Though it appears that if you are on Facebook quite often, you will not even see the Facebook Top Story as you already see the whole news feed from your friends anyway.
Facebook Ticker
See what your friends are up to right now – in real time. This way, you can quickly respond with a like or comment. You'll love it and you'll hate it.

I personally think this is quite cool, assuming you don't have hundreds of friends who keep on updating their status non-stop as the ticker will scroll pretty haphazardly. To some, this will be an annoying feature and to some, this will be heaven. Bored and have nothing to do? Keep your eyes on this area and start interacting more with your friends.
I used to apply to get email notifications whenever my friends comment or tag me on their posts or photos. I've turned them off now which will help a lot when my friends start abusing this new Facebook Ticker feature. The Ticker definitely encourages interactions as if you are chatting with them in real time. At the same time, though, you'll certainly get more notifications as more friends interact more with the Ticker.
The Ticker seems to be pinned on top even when you scroll the page down, which is great – this way, you can keep on monitoring whenever something new comes up. The Ticker is pretty similar with Google+'s: when you click on an item, you can see the details and interact with it right away.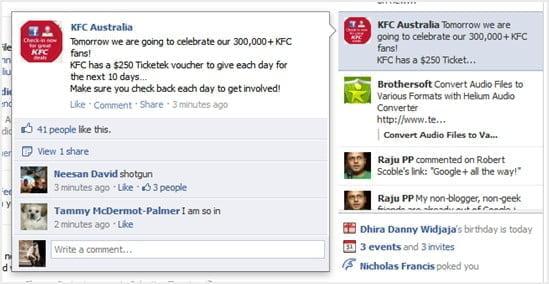 Looks like the team has been working really hard to bring Facebook up to speed with the other social networks, like Google+. This is great as I use Facebook to keep in touch with my personal friends in life. Don't forget to utilize the new List feature as well (Smart Lists and easy custom lists like Close Friends, etc) a la Google+ Circles.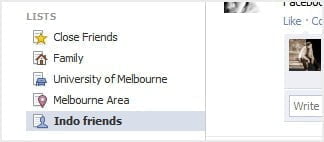 Do you like the new changes? What do you think? I know it's confusing but give it ago for a few days and we'll all be alright. Remember the previous layout change? We all got used to it already, right? (at least before they change it again :))