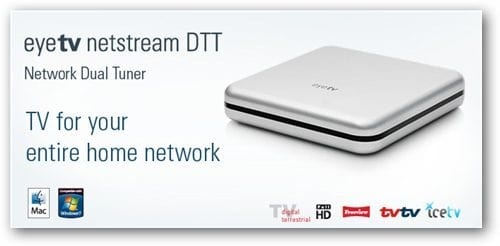 Fighting for a TV channel at home with your kids or your partner? Maybe you want to watch your favorite NBA team playing live on TV while your wife wants to watch Sex and the City? Stop arguing and get the Elgato EyeTV Netstream DTT, a dual network tuner for digital TV from Elgato. The Elgato EyeTV Netstream DTT can stream digital TV to your home network wirelessly (through your Wi-Fi network) so you can watch TV on any portable computer in the house or you can even watch TV on your iPhone/iPad (app sold separately from the iTunes App store).
The packaging contains:
The EyeTV Netstream DTT Network Tuner for DVB-T
DVB-T rod aerial with tilt/swivel magnetic base and detachable suction cup
Ethernet cable
Quick Start Guide
EyeTV 3 Software for Mac
TerraTec Home Cinema TV software
Product Manual
Power supply
The network tuner box looks really nice although once you set the whole thing up, you may not need to see the box ever again.
To be able to start watching TV on your computer or notebook/MacBook, you simply have to plug the EyeTV Netstream DTT Network Tuner to your router, install the software, and you can then start watching the free-to-air channels (after you scan for the channels first). It cannot get any easier than that. There is no initial set-up necessary and you don't even have to install any USB device on your computers (like those USB TV Tuners).

Of course, you still have to install something, i.e the software (I installed the included TerraTec Home Cinema TV software on my Windows 7 machine at home) to watch the free-to-air channels. Now, this is not just some software. It's pretty powerful as you get lots of features such as displaying the teletext, changing channels in an instant while looking at what's currently playing on the other channels, and even a recording functionality. I'm not a fond of the software though – it's powerful but the interface is not too user-friendly and I've been trying to set-up scheduled recordings without any success yet.
Channels can easily be scanned automatically and they will be auto-saved so you can just flick through different channels using your remote mouse.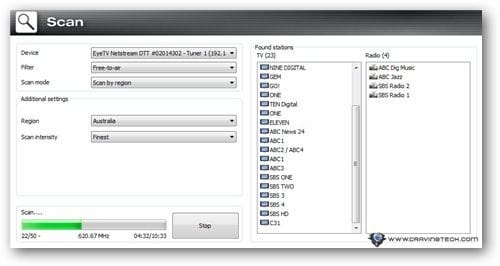 The Australia's Channel 9 and 10 can barely be watched using the included antenna so depending on your location, you may have to connect the box to a wired antenna outlet through your house's wall. Since my wireless router is metres away from the wired antenna outlet on the wall, I cannot test this unfortunately.
Overall, The Elgato EyeTV Netstream DTT is easy to set-up and you can start watching TV in minutes away.
The quality is exceptional and you can experience a stunning 720p and 1080i HDTV (assuming the HTDV channel is broadcast via DVB-T). I tried SBS HD the other day and it worked great. Didn't even experience any stuttering but this depends on a channel's signal strength and on your wireless connection + router.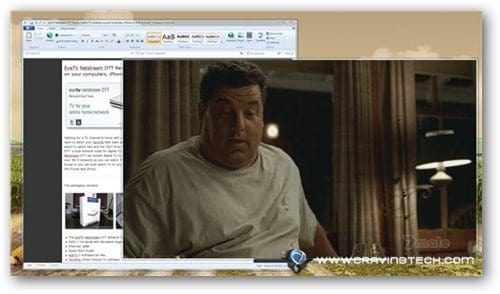 The EyeTV Netstream DTT is a dual network tuner, meaning you can watch the TV from 2 different computers watching 2 different channels. This way, your kids can watch their cartoon movies on your TV set, you can watch the Australian Idol show on your PC, and your partner can watch Master Chef on the notebook. Although this does not really encourage family togetherness, you've got the idea!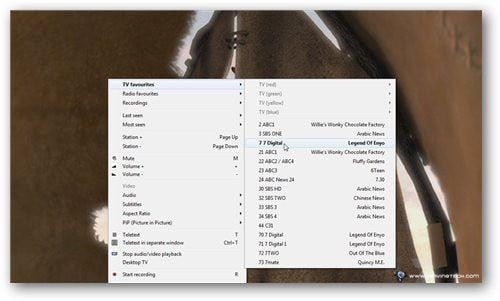 Overall, I'm very pleased with the performance of EyeTV Netstream DTT. This nifty gadget makes it really easy to watch TV from anywhere inside your home – without cables and without having to plug separate USB devices on each computer. Elgato allows us to watch and record 2 different TV channels at the same time with this product and it also delivers lossless quality (assuming your network can support it) – perfect to watch on a bigger monitor (like my Dell U2311 in 2560×1440 resolution).
Elgato EyeTV Netstream DTT makes it possible to watch TV in my desktop computer so I can do other things at the same time (such as writing blog posts, replying my emails, and millions of other things). Now I can watch my favorite TV shows whenever I want to and even record them if I don't have the time to watch!
Note: Sample provided for the review
Elgato EyeTV Netstream DTT Pros
+ Easy to set-up
+ Include an antenna although signal strength is limited
+ Include a powerful software, TerraTec Home Cinema for Windows (I haven't tried the one on the Mac)
+ Supports HD quality
+ Lossless superb quality
+ Supports up to 2 computers, watching/recording different TV channels
+ The tuner box looks sexy
+ Can use an iPhone or an iPad to connect through this (must buy a separate app)
Elgato EyeTV Netstream DTT Cons
– Not a fond of the included software for Windows, might look for an alternative if there is any
– Need to enter a 4 digit PIN all the time for security but quite annoying
– Most people don't have the antenna outlet and router next to each other (if you want a signal boost or to get most of the TV channels)