Dyson Purifier Hot+Cool Formaldehyde Review – I've had a few of the Dyson Air Purifier review units around the house like the Pure Hot+Cool Link and love the fact that they don't just purify air but can also heat and cool the room. Thanks the built-in thermostat, we turn it on every night to keep the Nursery room comfortable for our little one.
But as usual, Dyson does not stop innovating. Their latest air purifier machine can now detect formaldehyde but more interestingly, also destroys it completely at the molecular level.
Dyson Purifier Hot+Cool Formaldehyde Review – Packaging
Dyson Purifier Hot+Cool Formaldehyde Review – Design & Features
Before we go further, what is formaldehyde? Formaldehyde is a potentially harmful VOC or gaseous pollutant found mostly inside your home and can come from manufactured wood products like furniture (couch, bed, laminate flooring, etc), fabrics, and household products. It's even worse if you just have new furniture inside your home or did a renovation work as you'll get even more formaldehyde around the house.
I tried moving the machine from our Master Bedroom to the Nursery where we just assembled a wooden toddler's bed. Dyson Purifier Hot+Cool Formaldehyde, as expected, detected Formaldehyde (HCHO) and quickly purified the room for us.
The formaldehyde solid state sensor inside this machine is definitely a sophisticated sensor and the team at Dyson had made sure that it can detect formaldehyde accurately (the machine can also detect other particles like PM2.5 and PM10 from pollen, pet dander, VOCs, NO2, etc).
Dyson Air Purifier machines have two layers of filter protection within: the first or outer layer is HEPA filtration to capture ultrafine dust+allergens and the second layer is an activated carbon to capture gases and removes odour. Dyson Purifier Hot+Cool Formaldehyde however, has an extra third layer which Dyson called "Selective Catalytic Oxidation" filter that specifically targets formaldehyde and destroys it at molecular level.
There is a scientific explanation about this process but basically Dyson uses oxygen to turn each molecule of formaldehyde into a molecule of CO2 (carbondioxide) and H2O (water) in tiny quantities so it's not harmful to you. And since there are lots of oxygen in the air, you'll never need to replace this filter, ever.
You still have to replace the air filter part, though. But it's quite quick and easy to change. You'll also get a notification on both the machine's LCD and Dyson app when it's time to change your filter.
The sealing of the machine has also been improved from the previous models which makes it a HEPA-sealed machine (with H13 HEPA Rating not just at the filter, but the whole machine!).
Design wise, compared to the Dyson Purifier Hot+Cool Link I have, it is definitely larger in size. Bigger is better for sure, especially if you have a large house or have this machine running in a large room. Our Master Bedroom is about 5m x 4m and I find that the machine can heat the room up pretty quick.
What I like most about Dyson Air Purifier machines is how fast and powerful that cool & hot air coming from the machine, thanks to Dyson's Air Multiplier technology. This also means the machine can draw even distant pollutants from around the room into the machine better than most air purifiers out there and purifies the air more efficiently as a result.
This is really important because you don't want to get an air purifier machine that only cleans the air around itself and is not capable of actually cleaning the whole room.
You can either use the included remote or use a Dyson app on your phone to control the machine. The remote control can be placed magnetically on top of the machine but I find the app is easy to use and has more stuff too. For example, you can check the current room temperature reading from the built-in thermostat, the room's air quality, type of harmful particles lingering in your room, and more.
Interestingly, the machine can be set into "Diffused mode" where the airflow is diverted through the back of the machine. This allows the machine to keep purifying air but without cooling or heating the room (i.e purely as an air purifier). You can also turn continuous monitoring and see the air quality history within the Dyson app.
There are other modes and settings you can change too such as the airflow speed, night mode, oscillation, etc.
You can quickly see the background colour of the app changed to Yellow or Red if the air quality is bad. The machine records all the particles it detects and the air quality of the room throughout the day so you can check it all too in the app. To see more details on different types of particles detected by the machine and how the machine purified the air afterwards, you can scroll down and swipe through the screen left and right.
Dyson Purifier Hot+Cool Formaldehyde Review Conclusion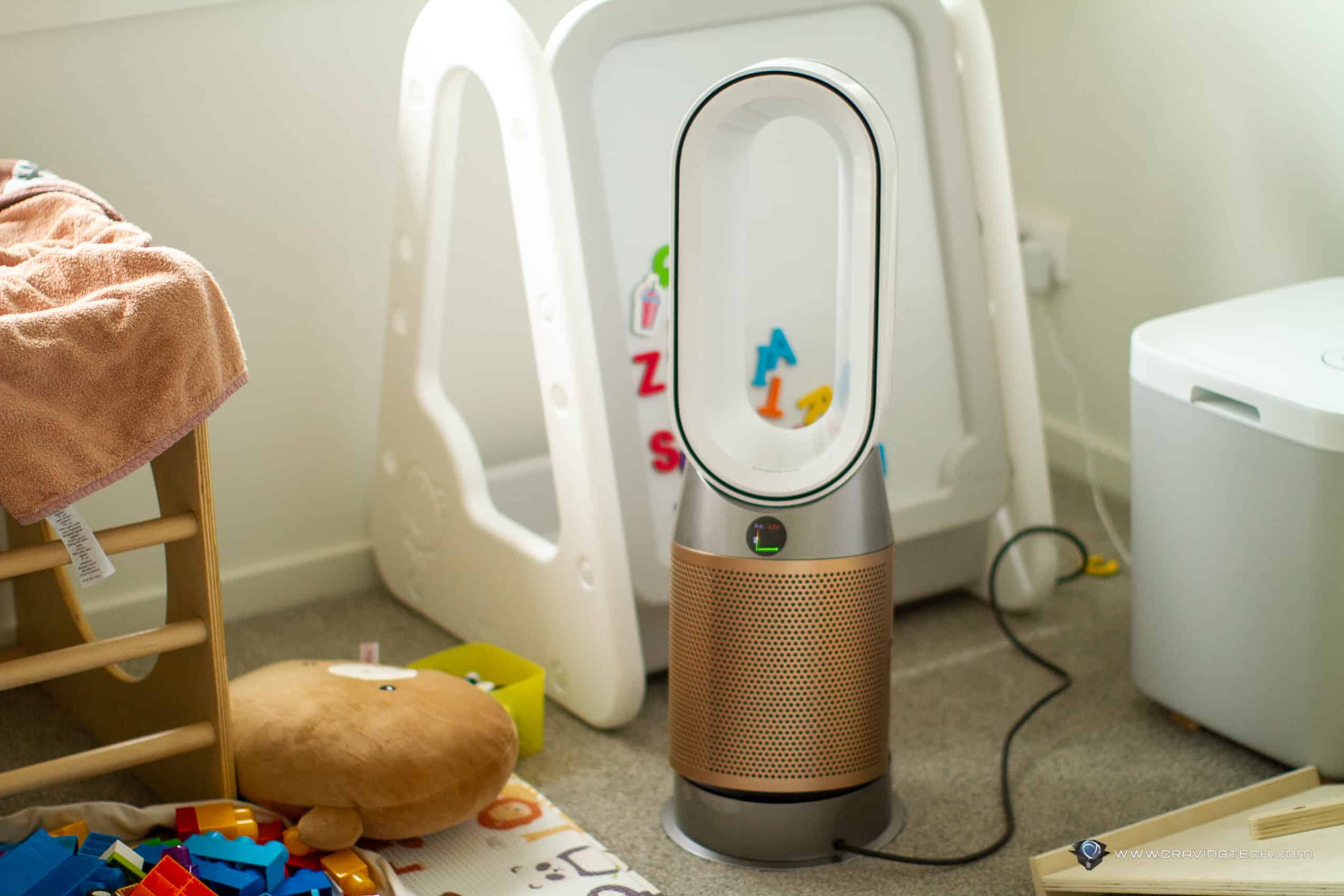 Is it worth getting the Dyson Purifier Hot+Cool Formaldehyde? Look. Sure, you can get a cheaper heater & fan combo but you won't get that quick, burst of hot/cool air that can reach the whole room with ease. Plus, the machine has a built-in thermostat that constantly checks the room temperature and adjusts itself accordingly.
And sure, you can get a cheaper air purifier (and we've reviewed quite a few air purifiers here at Craving Tech). But thanks to Dyson Air Multiplier technology (with concept taken from an aircraft wing), Dyson's machine can suck air from all around the room, clean, and expel cleaner air faster and more efficiently.
And with the latest bells and whistles, even formaldehyde (HCHO) can also be captured and destroyed with the machine.
With Dyson Purifier Hot+Cool Formaldehyde, you get a really good & efficient heater, fan, and air purifier in one. Plus, it's the only machine that can totally destroy formaldehyde inside your apartment and house – and I'm sure you'll have plenty of it around.
Is Formaldehyde that bad? It can cause cancer if you are exposed to high levels of formaldehyde but I'd suggest you to do more research before making a purchase decision.
The machine also has an excellent design, premium materials, intuitive app, and again – has top performance in purifying air in the room compared to most other air purifiers out there.
Ever since I know what formaldehyde actually is (how bad it is, where it comes from, etc), I've been recommending this machine whenever a friend asks for an advice in getting an air purifier.
The machine retails for A$999 and available for purchase at Dyson website and many retailers around Australia.
Disclosure: Dyson Purifier Hot+Cool Formaldehyde review unit was supplied for reviewing
Dyson Purifier Hot+Cool Formaldehyde Review
Summary
Dyson's best heater+fan+air purifier machine gets a premium design, efficiency, and a premium sensor to not only detect formaldehyde but also destroy it completely
Pros
Premium design build quality
HEPA-sealed
Excellent performance in moving air around the room
Excellent heating performance – quick burst of heat & efficient in heating the room up
Can detect and destroy formaldehyde
Very useful app that can be used to control the machine and see the air quality history
Support for Alexa and Google Assistant (though I find it easier to just use the app)