Note: This is a guest post written by Keanna Morrington
Are you worried that you can't play online games because you find that your favorite game is banned because of politics or Internet censorship? Are you upset that you can't fully enjoy your favorite game because of high ping?
You can use iTop VPN to ensure that you bypass regional restrictions and reduce game ping.
What is a VPN?
Surfing on the World Wide Web (WWW) via an insecure Internet connection can easily expose your private data and browsing activities. A Virtual Private Network(VPN) is a tool that helps you maintain a safe and private Internet connection and access blocked content.
Simply put, VPNs ensure online anonymity and confidentiality by generating private Internet connections from public network connections. VPNs establish a safe data tunnel between the local network and the other location the user tries to connect. And this will give IPSs the feeling that you are in another place to access the content that is not available in your real location.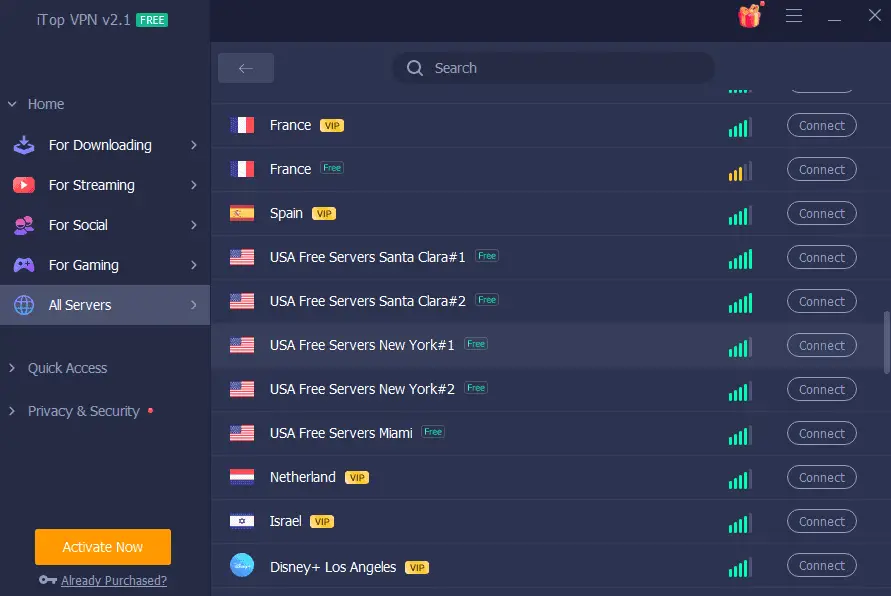 Why do you need a VPN for gaming?
In addition to data protection of your browsing activities, you can bypass regional restrictions to play your favorite games and be closer to the gaming server to greatly reduce game ping.
Use iTop VPN to better play online games
1. Access all popular games in the world
You cannot access certain games because they are not available in certain regions. iTop VPN is one of the best gaming VPNs to allow you to access all games with strong encryption and dedicated gaming servers. You can play PUBG Mobile, Mobile Legends, Garena Free Fire, Call of Duty, Roblox, and so on from anywhere and compete with worldwide game players. iTop VPN works for Android, iOS, Windows, and macOS users.
2. Reduce the ping of the game
In multiplayer games, high ping is really annoying due to your bandwidth, network devices, and your locations to the servers. iTop VPN significantly reduces game ping by hiding your real IP and connecting you to its dedicated gaming proxy servers with a fast connection speed. It automatically connects to the fastest servers and you don't have to test the speed manually. You are much closer to the gaming servers and can play any games with no bandwidth limitation in this way.
A step-by-step guide to use iTop VPN
Step 1: Download iTop VPN from Google Play, App Store, or its official website and install it. It has a standard installation procedure and starts and complete quickly. Launch the program and enter the Email and password if you have purchased a license key. You can also use iTop VPN for free as it provides free VPN severs with data limitations a day.
Step 2: Click on For Gaming tab and find the game you want to unblock. The signal bar will show the connection speed and click on the Connect button to unblock the specific game. Click on Disconnect and Connect again to switch the connection to unblock another game.
Step 3: You can also click on Settings and choose Auto/TCP/UDP/HTTPS protocols based on your speed and privacy needs.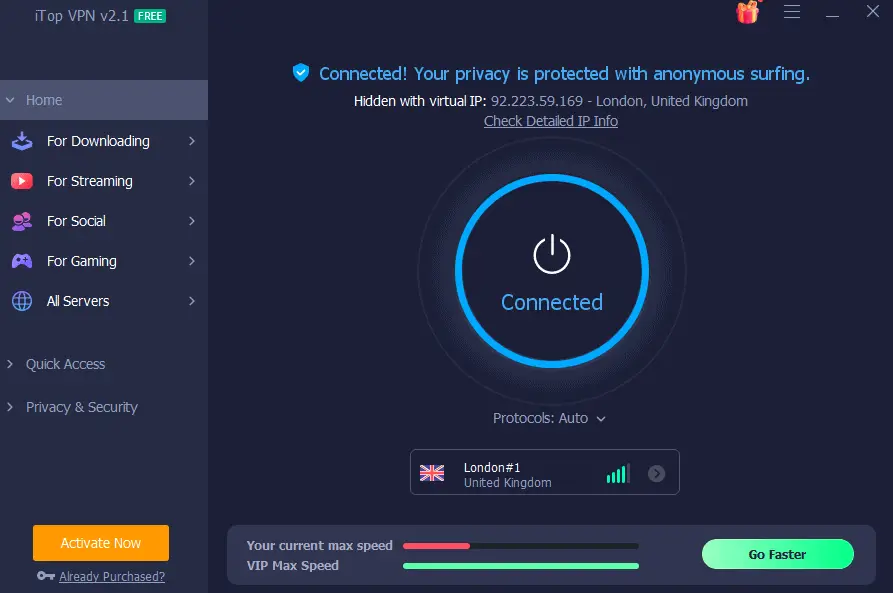 Conclusion
iTop VPN is a fast and secure VPN to keep gamers private online, access popular online games from anywhere, and reduce game ping. It provides 1800 proxy servers in 100 locations with strong encryption and unblock games with dedicated gaming servers. Make sure you download it to have a best online gaming experience.