Note: This is a guest post written by Malcolm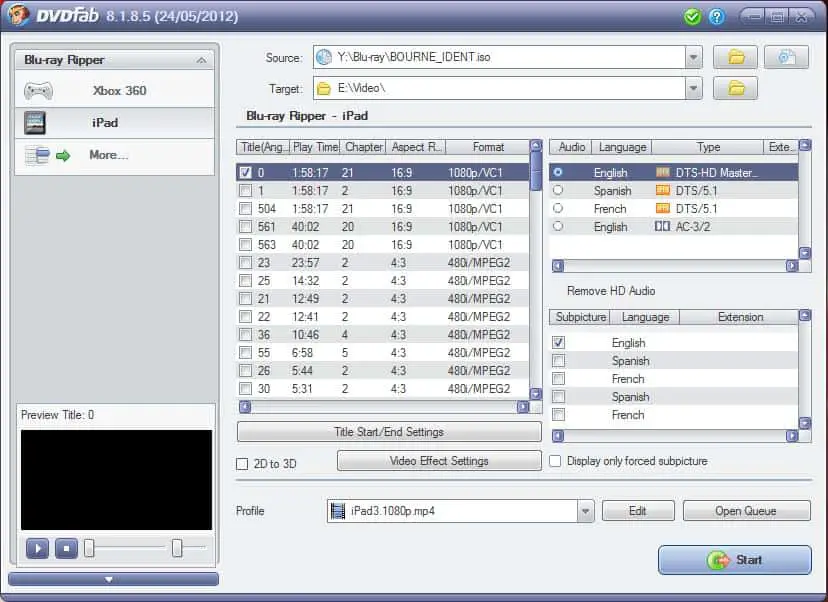 DVDFab Blu-ray Ripper Review – DVDFab Blu-ray Ripper is a shareware application from DVDFab family, which is designed to convert Blu-ray movies to all sorts of on-demand video files, like MKV, MP4, AVI, M2TS, VOB and so on.
The converted video files are compatible on many portable & mobile devices, such as iPod Touch, iPhone 4S, the New iPad, Amazon KindleFire etc. DVDFab Blu-ray Ripper has two versions, one for Windows operating system, the other Mac OS X.
This Blu-ray converter software will surely make your digital life more attractive.
Firstly, let's focus on its output options.
As we can see clearly from its navigation panel on the left (from the screenshot above), this Blu-ray converter software has a very long queue of output options which can be divided into two categories. One group are based on video format, like MP4, AVI etc, and the other are device based, like iPod, iPad etc. The great advantage of such classification is that, on one hand, if you want to take more control of the converting process, you can choose to output a specific video format. Then you can further reset many parameters at the Conversion Settings page and Video Effect Settings page; such as bitrate, file size, frame resolution, aspect ratio, frame rate of the video, bitrate, channel and volume of the audio, and even the encoding method can be modified.
This method applies to insiders who have a good knowledge on video editing. On the other hand, if you do not want such complex settings, you can directly output to a named device, and then click the "Start" button to begin the converting job, after loading a Blu-ray movie you want to convert. This way is usually taken by the general mess who are not so savvy about video editing. In both cases, they get what they want.
Secondly, let's talk about the source.
DVDFab Blu-ray Ripper can convert from the real Blu-ray discs, which it is designed in the first place. You just need to tray in the commercial Blu-ray video discs, and then the program will start to read them instantly. Alternatively, this great Blu-ray ripper software also supports to convert Blu-ray movie folders and ISO image files located on your local HDD or any other external storage devices.
To load Blu-ray movie folders, you have to click the yellow folder icon at the source selecting section. To add the Blu-ray ISO file, you can click the disc icon right behind the yellow folder icon. Or, there is another simple way of doing so, just simply drag the Blu-ray movie folders or ISO image files and then drop them onto the DVDFab main window.
Thirdly, let's move onto the topic of output quality and how quick this program can do its converting job.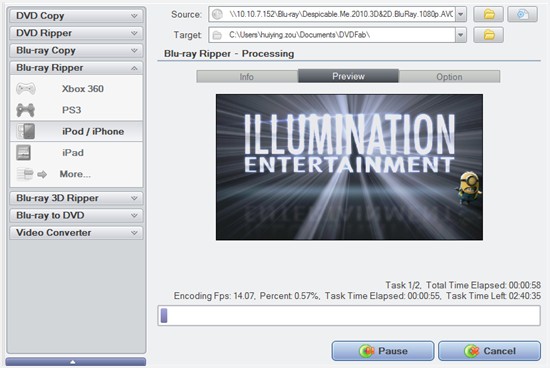 As far as quality is concerned, people usually regard this point as the critical factor when judging on a piece of converter software. Don't worry! The resulting video file plays very smoothly on computer, mobile devices and many other video players, with next-to-original image quality. When it comes to the speed, this amazing Blu-ray converter does a very good job, too. It not only supports batch conversion, so that you can convert more than one title to different video formats at a time, but also introduces the multi-core CUP processing, CUDA and AMD hardware acceleration technologies, which greatly improves the converting speed in an impressive amount.
Last but not least, if you cannot find the device at the navigation panel, you can add it by setting up the correct parameters in DVDFab Profile Editor, which comes bundled with DVDFab Blu-ray Ripper installer. Or, wait for the developers to add for you, as they will constantly add new devices to enlarge the supporting devices.
To summarize, DVDFab Blu-ray Ripper is very professional at converting Blu-ray movies for your portable devices. It is both for professional users and amateurs. It offers 30-day free experimental period so that you can try it out to see if it can really meet your demands. If you really like it and want to purchase a full version, you can go to DVDFab website where it sells at $60 for one year.
Note: This guest post was written by Malcolm