Appigo, the company behind the nice to-do app, Todo, released an update to Notebook, a simple and clean app to write notes and sync them automatically to your Dropbox and Toodledo. This means your notes are always available anywhere – on your PC, Mac, or mobile devices.
You can then share the notes easily to your friends or other people.
Appigo Notebook features a simple and clean interface.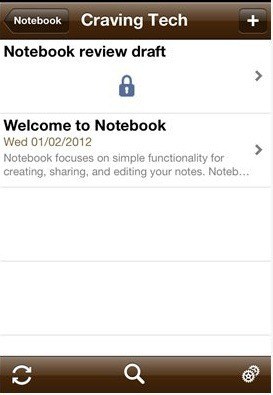 The notes are also stored as standard plain text files (in .txt extension) so of course, this means you cannot add images, sound, or other fancy stuffs on your notes. If you are after an app to just write simple notes, Notebook is a great app as it doesn't overwhelm you with options and over-the-top features.
You can organise your notes into folders (or "Notebooks"), and even choose to save them locally on your iPhone/iPad, rather than on your Dropbox account.
If you choose to sync to your Dropbox account, a folder will be created (you pick the name of the folder). All files will be synced to that folder and accessible anywhere. You can even create your text files on your PC and the files will be auto-synced to your devices. It just works!
Of course, you can do more than just creating or editing notes. You can protect your notes with a 4-digit passcode but this only works in the device (you can still view the file in your computer without the password). You can also email the notebook straight from the device.
Appigo Notebook supports simple bulleted lists and automatically links phone numbers, website URLs, email addresses, and calendar events. For example if you type in formatted numbers, you can use your finger to call, send a text message, or add it to your contacts from the pop-up.
There is also a support for TextExpander (check my review on that one if you haven't) so you can utilise your TextExpander libraries to write notes quicker.
Appigo Notebook brings simplicity to writing notes, yet still offers a powerful synchronisation option with Dropbox and also Toodledo. This means you can access your notes anywhere and everywhere, with minimal learning curve.
Note: Appigo Notebook review promo code was provided for the review