Logitech has been enjoying the glory for quite some time on the wireless peripherals market. Their Logitech G POWERPLAY brings innovation to the table by having a mouse pad that charges your wireless gaming mouse while you use it, removing the need to plug your charging cable, ever. They also have a wireless, mechanical gaming keyboard which is one of the first.
But now, Corsair has brought in some competition into the table. Corsair calls the technology CORSAIR UNPLUG and PLAY – featuring the K63 Wireless Mechanical Gaming Keyboard, K63 Wireless Gaming Lapboard, DARK CORE RGB Wireless Gaming Mouse, and MM1000 Qi Wireless Charging Mouse Pad.
Corsair K63 Wireless Mechanical Gaming Keyboard

The Corsair K63 is a CES 2018 Innovation Award Honoree and equipped with CHERRY MX Red mechanical switches. You have options to connect through 2.4GHZ wireless channel, Bluetooth, or wired USB connection.
Unlike Logitech G G613 which uses 2x AA batteries, Corsair K63 uses a rechargeable battery that has up to 75 hours of battery life (charged through USB). It also has customisable blue LED backlighting per key though you may want to switch if off if you want to prolong the battery life before having to recharge. Or, you can just plug it to the USB and use it wired.
K63 also features 128-bit AES encryption that will protect your wireless keystrokes from wireless eavesdropping, something that many wireless peripheral users are not aware of. This should prevent hackers to get what you type when you are typing your login credentials online.
Corsair DARK CORE RGB SE + MM1000 Qi Wireless Charging Mousepad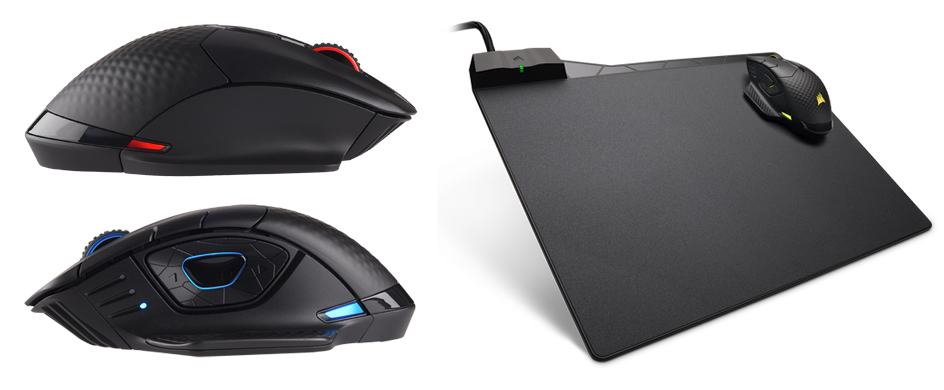 These 2 combinations of wireless gaming mouse and a mousepad with wireless charging mean you can game wireless without ever having to plug a charging cable to your mouse.
Unlike Logitech G POWERPLAY solution that charges your mouse all the time (i.e the whole mousepad surface is a charging surface), you have to rest the DARK CORE RGB SE on the top right section of the Corsair MM1000.
Corsair DARK CORE RGB SE has a 16,000 DPI optical sensor, 1ms wireless connection, and multi-colour (RGB) lighting on 3 different zones.
Corsair has decided to use Qi wireless charging technology, which means any Qi-compatible wireless devices can be charged on the MM1000! This way, ou can also use the mousepad to charge your new iPhone X, Samsung Galaxy Note8, or any other Qi-compatible devices!
To add more spices to the mix, the MM1000 includes USB Micro-B, Type-C, and Lightning Qi charging adapters that can add Qi wireless charging capability to those devices who don't come with Qi wireless charging support. Double awesomeness!
They all come with a two-year warranty and available to purchase now through retailers worldwide and on Corsair website.