Dear all participants to BitDefender's iPad, iPod Nanos, and 20 BitDefender licenses giveaway, I hereby would like to update you regrettably that the contest has been changed and pulled out early. The prizes have been changed to just 1 iPod Nano and 10 BitDefender licenses, due to the surprisingly low participant number of participants in the contest. The sponsor (BitDefender) has decided that it is for their best interest not to continue with the contest as it should be.
As a result, the winners have been announced early (to win 1 iPod Nano valued at AUD 200 and 10 BitDefender licenses for 1 user valued at AUD 590.93 in total). So here they are!
The winners: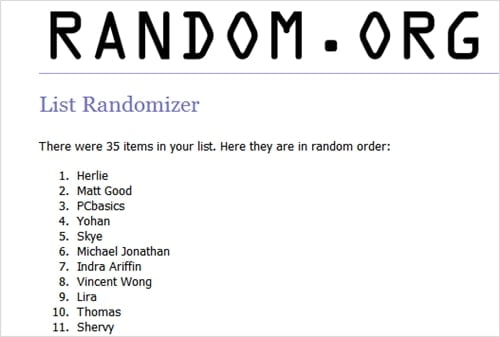 Congratulations to Herlie who came up first and won the iPod Nano! I'll be in touch with you to get the shipping address. As for the rest of the other winners, I'll send the BitDefender licenses to your email addresses later on (I still need to grab the licenses from the sponsor first).
Again, I truly apologise that this must happen and I'm sure you must be angry and upset. As you can see, we expected hundreds of participants to the contest but we only have 35 participants so far (even though we've had hundreds of Australian visitors to the contest post as shown for the past couple of weeks in Google Analytics). Due to the lack of participants and declining interests, this decision needed to be made by the sponsor. I'm sure they do not want this to happen too but at this stage, I can understand fully why they had to make this hard decision.
Please stay calm and try not to post any harsh words to the sponsor as it is difficult for them and myself, as to all of you. It still is a great giveaway though with great prizes (even without the iPad) and I hope that you still want to participate in future giveaways at Craving Tech.
If you have any feedback about the contest, please do so. I think the reasons we had so little participants were because it was iPad 1 (not iPad 2) and the difficulty of the contest (I'm aware there was a warning window when you tried to install the extension too? That might put some people off).