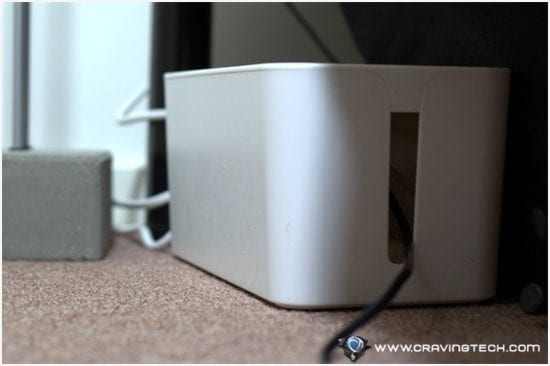 Cable management is an important aspect to keep your room or office organised. Though I understand that this is not for everyone – as I know a few friends who can't be bothered having messy cables (or even underwear) lying around in their house.
But to most people, keeping your area clean, tidy, and organised can somewhat boost productivity while improving the aesthetic area of your workspace.
Cable Box from 4cabling.com.au is a simple, yet stylish box to eliminate clutter by covering your power plugs, along with all of its messy long cables that come with it.
The Cable Box design is clean and the box is also quite sturdy. It has rubber feet at the bottom of the box to prevent it from slipping when you place it on a tile or floor boards.
The material is made of fire retardant plastic which is resistant to fire (and heat, apparently). So far the box is still cool to the touch even when I have heaps of power cables connected to a power board inside.
The Cable Box itself can be opened from either side. The one that I have is the Mini version (240 x 120 x 130mm). They also have a Large version (389 x 150 x 134 mm) and a Black color alternative.
How does Cable Box help with my Cable Management?
Isn't that the most important question? Of course. Well, if the photos from the official product page does not move you yet, maybe you can at least appreciate my own experience with the Cable Box.
Being a gadget reviewer, my powerboard is full with all the gadgets, speakers, and who-knows-what-devices needed to be charged at all times.
This is how it looks before: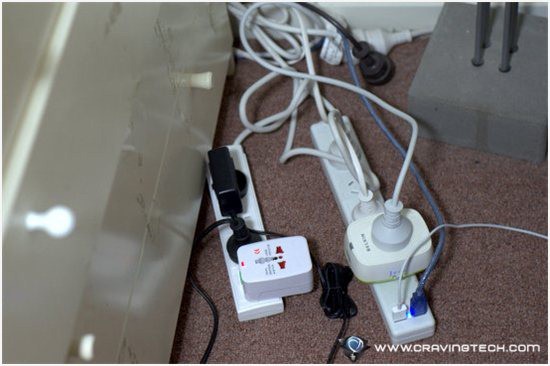 So with the help of Cable Box, I manage to place one of the powerboards inside: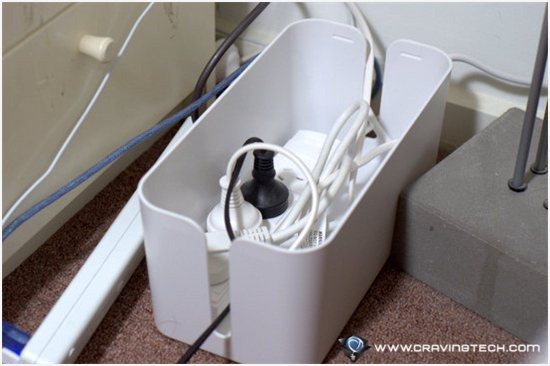 The gaps at the sides of the box helps for the cables to go out from inside the box (and it's good for air flow as well). In the end, all the cable mess can be concealed well inside the Cable Box:
I was trying to fix an even messier cable management underneath my computer table (I'm sure everyone has this problem), but since I'm using a longer powerboard, it couldn't fit in the Mini size. If you plan to tackle this problem as well, I'd recommend getting the Large one instead.
If you want your area to be less cluttered and organised, I'd recommend looking at some cable management from 4cabling.com.au, especially the Cable Box here.
4Cabling Cable Box
The 4Cabling Cable Box makes your working area tidy and more elegant, thanks to the stylish material that is also resistant to fire and sits sturdily on carpets, floor boards, and tiles.
Note: Cable Box review sample was provided for the review
4Cabling Cable Box Review