EPOS|SENNHEISER GSP 602 Review – EPOS|SENNHEISER GSP 602 adds a unique colour variant to the 600 Series gaming headsets with gloss navy exteriors set against bold brandy-coloured around-ear coupling pads. It certainly has a different colour signature to the traditional black/dark-gray colour palette like the EPOS|SENNHEISER GSP 670, for example.
The GSP 602 is a wired, "performance-oriented" gaming headset offering great acoustics, durability, and sound quality.
Packaging
Design & Features
EPOS|SENNHEISER GSP 602 is a closed acoustic gaming headset which offers excellent, passive noise isolation. It is dangerously so good that if you crank the volume high enough, you can barely hear anything else from the outside world (and yes, I could barely hear my 4-month-old son cried while gaming with it, oops).
The unique colour palette offers refreshing touch and even my wife liked it when she saw me wearing the GSP 602. The navy blue is dark enough that it blends well with the black frame, and the brandy-coloured ear pads kind of elevates a luxurious feel – like those classic cars with brandy leather seats.
There is no USB sound card – the 602 must be plugged to your PC (or console)'s 3.5mm audio jack, unless if you have an audio amplifier like GSX 300. I plugged mine to the GIGABYTE AORUS X570 Elite Wi-Fi's onboard audio (Realtek ALC1200 codec) and the sound quality is amazing.
I haven't used a gaming headset plugged to an onboard audio for a long while and I was usually scared of hearing static, but there was none this time. The sound is clear, full, and crisp.
The microphone has a flexible boom arm which auto-mute when you lift the arm up. There is a 2-year warranty period with free microphone replacement if it breaks, which is a good guarantee. There is a volume dial on the right ear cup to adjust the volume in-game.
The EPOS|SENNHEISER GSP 602 feels really durable and while it's definitely not the slimmest and lightest headset, wearing it is comfortable as I usually game for a few hours every night. I haven't had the time to game for 5-6 hours like I used to, but I don't think it's going to be a problem. The headset has a good weight balance and the ear cups cover my all ears nice and tight (without pressurising my head).
I like that the 3.5mm cable for the PC is long enough that I can plug it all the way to the back of my PC comfortably, which is located on the floor.
EPOS|SENNHEISER GSP 602 – Sound & Gaming Experience
What about gaming experience with the GSP 602? It's nothing short of amazing. I play Modern Warfare and Overwatch on the PC, both which require headsets with good audio positioning. And I can say, the GSP 602 has both excellent audio positioning and quality.
Testing this on Modern Warfare's Free for All mode, it felt like cheating as I could hear the enemies' footsteps even before I could see them. On smaller maps, I could totally hear when someone was coming while I was camping reloading in a corner and got the first shot at him. With the GSP 602, I can hear every sound in the battlefield – enemies coughing from the sand, different kinds of sound a surface makes from enemies' footsteps, etc.
In Overwatch, audio positioning is also key to winning every match to identify flankers and when enemies are unleashing their ultimate abilities. With the EPOS|SENNHEISER GSP 602, I can hear different kinds of sounds in the battlefield and react quickly to the threat. There was once where I could hear the enemy's Reinhardt doing some sneaky charging behind our team a few times. As I could hear him coming early, I managed to dodge him a few times – but our main support must have had a crappy headset that he got killed 2-3 times with the same method over and over…
For music listening, GSP 602 doesn't disappoint either. It has a really nice sound balance and a wide soundstage. I can hear different sounds of instruments playing all around my head as if I'm actually in a studio listening to the recordings live.
EPOS|SENNHEISER GSP 602 Review Conclusion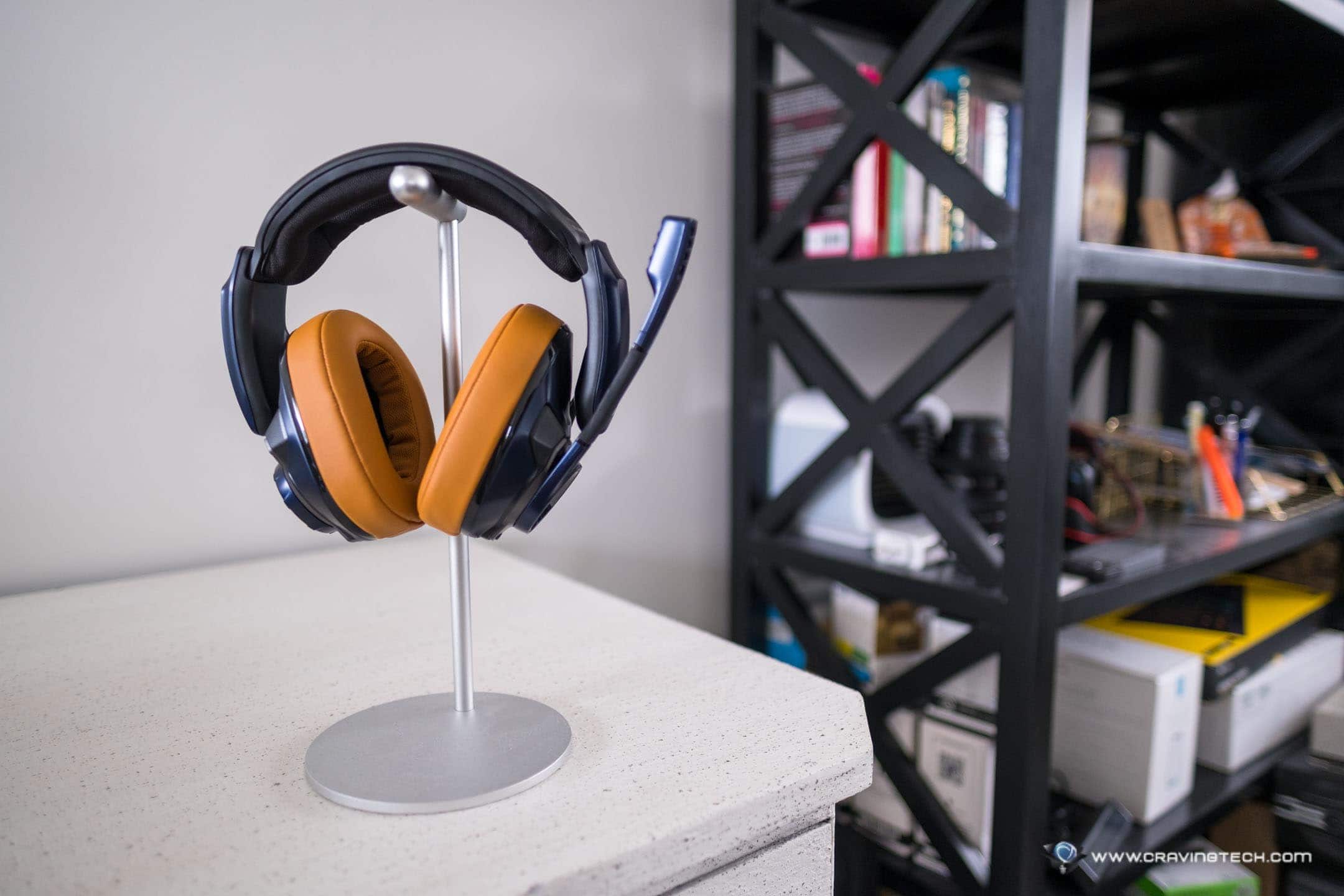 EPOS|SENNHEISER GSP 602 is a really good, wired, gaming headset that offers nice-looking theme that sets apart from the traditional, bland colour palette.
It has a really good passive noise isolation and great sound quality that I jumped a few times from my seat while playing Modern Warfare on certain occasions. I can also vouch for its excellent audio positioning as I can hear different sounds during a frantic batttle and able to pinpoint the source immediately.
The headset is compatible with PC, Mac OSX, PS4, Xbox One, Switch, and consoles with 3.5 mm jack input. EPOS|SENNHEISER GSP 602 retails for AU$319 and is available now in Australia. Also available at Amazon.com
Disclosure: EPOS|SENNHEISER 602 review sample was supplied for reviewing
EPOS GSP 602 Review
Summary
An excellent, wired gaming headset with a nice touch of refreshing colour theme
Pros
Great looking, unique colour theme
Excellent audio quality
Sturdy and durable
Comfy, even when the headset is not lightweight
Really good, passive noise isolation
Multiple platform compatibility
Cons
Might be tight if you are wearing glasses
Leather ear pads might not be that friendly in Summer heat