EPOS|SENNHEISER GSP 670 Review – EPOS|SENNHEISER GSP 670 is a premium, wireless gaming headset with one of the best audio coming from gaming headsets. Comfort and audio are definitely the ones gamers look for in a gaming headset, with occasional extras like RGB lighting (which is missing on this headset).
But while you may not be able to sync your motherboard's lighting with this headset, you are paying for the audio quality and premium feel.
Packaging & Unboxing
Design & Features
There are soft padding everywhere and they are all well-padded, from where the headset touches my head to my ears (the ear pads are replaceable, by the way). While gaming for hours, I never felt tired wearing the EPOS|SENNHEISER GSP 670 – even though the headset may look bulky at a glance. It does weigh 522 grams according to Amazon.com.au but it has a good weight distribution so it never feels that heavy.
The headset design itself doesn't look cheap and plastic-y, but with more modern, sturdy looks. The frames look durable and even the microphone boom is strong and doesn't feel flimsy. EPOS are so confident that if your microphone breaks before the expiration of the 2-year warranty period, they will send you a new replacement headset free of charge (depends on the cause of the damage).
There are quite a good amount of controls on this headset, such as a button to check on the remaining battery life, volume control, and chat volume control.
To be honest, I'm not a fan of the volume control as the rotary dial is heavy and requires a good amount of force to use. It is also apparently the power on and off "button". Rotate the dial to a minimum and the headset will turn itself off, and vice versa. It's actually fine but because it requires a good force to turn the dial, so it's not quite practical. Thankfully as I found out later, the headset itself has an auto on and off when it doesn't detect any audio signal after 10 seconds. So in a way, I can now just set it and forget it. Wear the headset if I want to use, and just place it on my cradle if I don't. This is great.
EPOS|SENNHEISER GSP 670 itself has around 20 hours of battery life and you may be wondering why their GSP 370 (check our review out) can achieve 100 hours of battery life. It's simple, really. It all goes down to the better audio quality as the headset needs to draw more power. Logitech G935 for example, only lasts for 8-12 hours but it has an amazing, fuller sound quality. It's all about compromise. You can, thankfully, charge and use the GSP 670 at the same time.
Low latency wireless connection means lag free experience when gaming, but I do find that the wireless signal is not that strong. As soon as I walk down the stairs from my Study area to grab something from the fridge, I can hear the struggling wireless connectivity right away. Note that it's not going to cut off if you are just walking meters apart or walking to the next room, but I've seen stronger signals in other wireless headsets.
Sound Experience
Speaking of sound, the GSP 670 does have a great audio quality for a wireless gaming headset and an accurate audio positioning in game with expansive audio separation. It feels as if you have this 3D audio space around you and you can hear all sorts of sounds coming from any direction, even faintly. This was tested playing Overwatch every night with the GSP 670 (on 2.1 audio setting, with Dolby Atmos enabled on Overwatch).
Here is a clip where I heard a quick, faint sound on my rear left as I'm reloading. I turned around to check what it was and found an enemy's McCree trying to flank our healers. Our Ana and Mercy could have died if I didn't hear it and reacted within seconds:
There's also another case where I heard the enemy's Sombra putting her translocator below our hold on Horizon's Lunar Colony. I headed to the stairs as I guessed she would have come right at us and made a random Roadhog shot. The guess was correct and the shot broke her stealth. I then hooked and killed her. I wish I could record this and the "WTF" chat reaction afterwards.
Listening to acoustic songs with the GSP 670 is also heavenly. The treble is bright, and the audio sounds full and crisp. The bass sounds warm, but deep without overpowering. Fans of boomy explosions may be disappointed though with the sound signature.
With EPOS Gaming Suite, you can customise your audio even further with full equalizer, noise control settings, microphone tuning, surround sound settings and more. In a quiet environment however, it looks like an overkill to turn noise cancellation on. I do however, appreciate the Gain option because I don't really like to talk too loud while I game (plus, I don't want to wake our newborn up). I even had that at maximum because when I tested, it doesn't seem to introduce noticeable distortions.
I also find that the sound presets are good enough and I usually good with either the Movie or Music presets as my all-around sound signature with the GSP 670.
EPOS|SENNHEISER GSP 670 Review Conclusion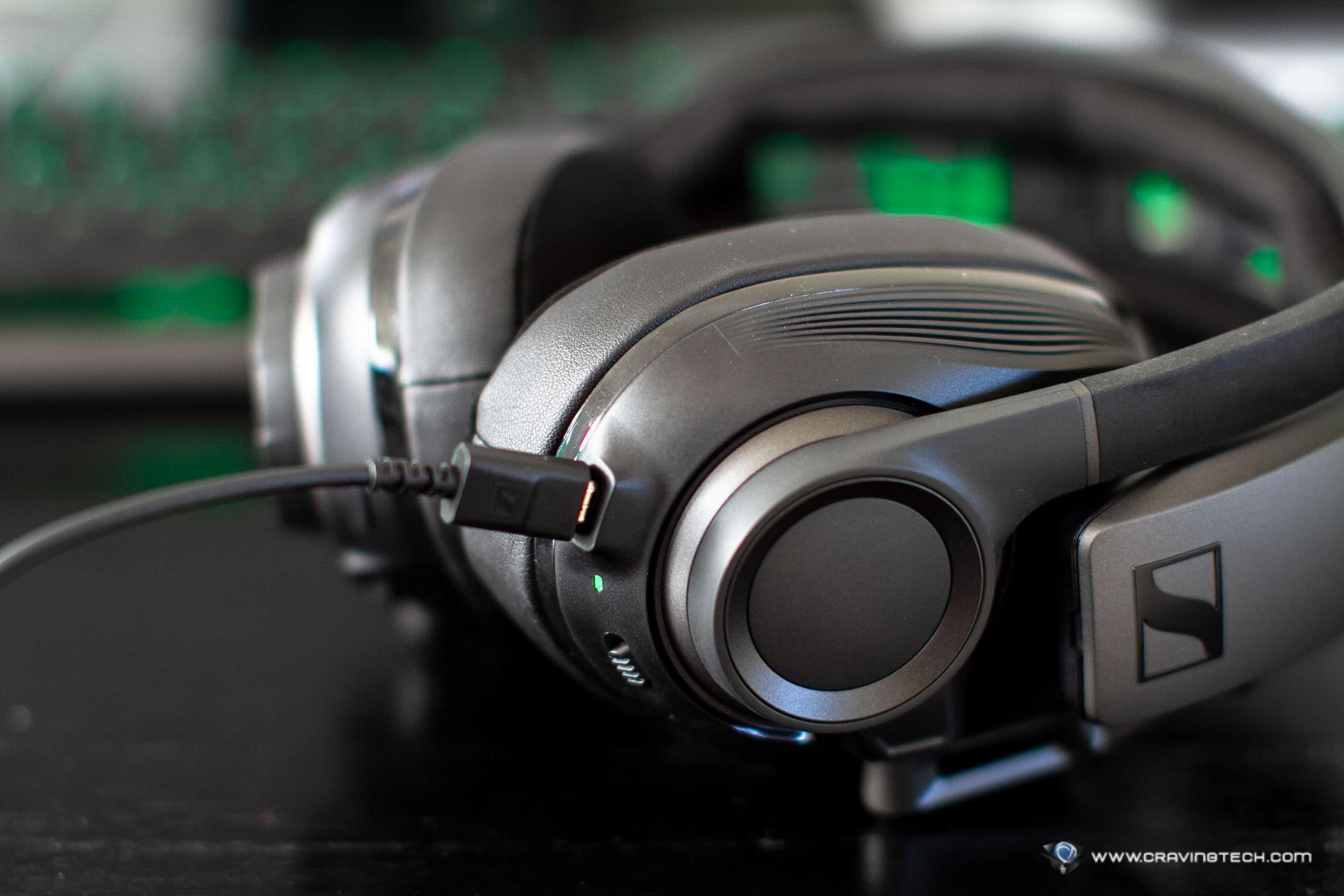 EPOS|SENNHEISER GSP 670 is clearly a premium, low-latency, wireless gaming headset that focuses on sound quality and there's nothing wrong with that. Of course, comfort is the second factor and these also don't mean that the headset is weak everywhere else. But you'll love the audio and how many little things you can actually hear now in game.
The headset is comfortable to be worn for hours, has decent battery life, good but not exceptional microphone, and a good software to tweak your audio personalisation further. It also has Bluetooth connection so you can connect the headset to your phone and receive calls, which is great if you like the option.
Great gaming headset doesn't make you win games, but it sure does help if you can pinpoint the what and where in the nick of time.
EPOS GSP 670 is compatible with PC, Mac, and PS4 (and I guess if you are also gaming on mobile devices through Bluetooth). It is a bit pricey compared to other wireless gaming headsets in the market but if you are also using your headset to listen to music, watch movies, play games on your phone/tablet (plus calls), then you wouldn't regret having this versatile headset. It's available at major retailers around Australia and retails for A$469.
Disclosure: EPOS GSP 670 review unit was supplied for reviewing but all opinions are mine and not paid
EPOS GSP 670 Review
Summary
Premium, wireless 7.1 gaming headset with high quality materials and awesome sound
Pros
Awesome audio quality
Awesome audio positioning and separation
Low latency, lag free wireless connectivity
Bluetooth 5.0 for mobile/tablet
Auto on and off
Comfortable, sturdy
Cons
Non-detachable microphone
Doesn't have the strongest wireless signal
Not a fan of the stiff, rotary dial controls
microUSB
Price