OPPO A91 Review – OPPO has always been trying to offer premium looking phone with premium features, but at a fraction of a price. Their OPPO A5 (check our review out) for example, only costs A$299 and surprisingly even has premium features like Dolby Atmos. Sure, they also have mid-range line ups like the OPPO Reno2 Z (also check our review out) with nicer finish and even better camera, and flagship lineups with the Xs.
But don't be fooled with the "A" tag that is normally reserved for low-end OPPO phones because the OPPO A91 is far from being a cheap, budget looking phone.
OPPO A91 Review – Unboxing & Packaging Contents
OPPO A91 Review – Design & Features
OPPO A91 has a thin, ultra-light design with 7.9mm thickness and weighs only 172 grams. Upon moving from using my iPhone 11 Pro Max to the OPPO A91, the difference in weight feels like night and day. The glossy rear panel also looks nice and the Blazing Blue colour I think looks better than the review unit I have here, which is the Lightning Black. But if you are not fancy with the Blue, the Black still feels premium and elegant (more professional looking).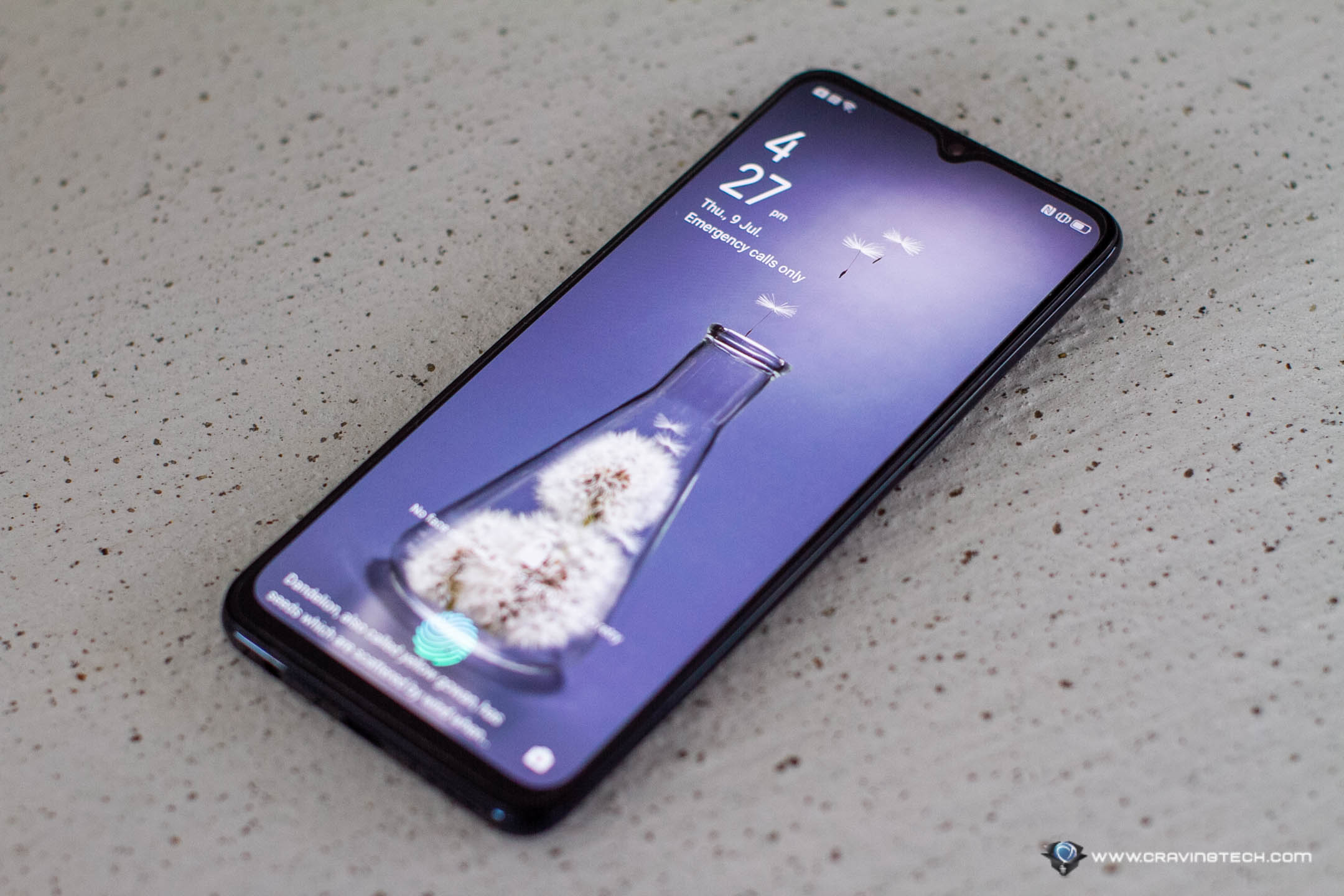 But the surprising factor is the AMOLED 6.4″, 2400×1080 Full HD resolution screen. AMOLED display is normally reserved to high-end, premium smartphones due to the cost so we are more than surprised to be able to see it on a $500 phone. The display is sharp with slim bezel (90.7% screen ratio), and protected by Gorilla Glass 5.0. The phone comes protected with an already applied screen protector, though it's quite easy to get some scuffed marks after having it for 2 weeks in and out of my jeans' pocket constantly.
Performance wise, OPPO A91 is not bad for a day to day basis. Opening apps may take half to a second slower compared to high-end smartphones like the $1,600 Huawei P40 Pro I just reviewed, but if you are already using a high-end phone, you probably won't be reading this review right now.
I was a bit worried that the performance might not be great for playing games, but thankfully it's not. While loading the game may take longer compared to a higher-end phone, the game experience is quite smooth. OPPO's Game Boost 2.0 is more likely the cause for the smoothness, analysing and tweaking to make sure you get the best performance when playing games.
If I'm not mistaken, OPPO's ColorOS also likes to optimise battery life quite aggressively sometimes, so I assume it may throttle the phone down a bit for general use to ensure you get the maximum battery life. I do find a "Turn on Performance mode" option on the Settings if you really want to, but I don't find it necessary as the Game Boost 2.0 will take care of everything behind the scene. If you don't play games, even better as you don't have to worry about anything.
OPPO includes their VOOC Flash Charge 3 technology that can charge OPPO A91 by 11% in just 5 minutes and 52% in 30 minutes (the phone has a 4,025 mAh battery). While it doesn't have OPPO's latest 125W flash charge that can charge from 0 to 100% in 20 minutes, this is still amazing.
Speedtest result on 100/40 Mbps nbn plan from Aussie Broadband (referral code: 1495704), tested on Synology MR2200ac Mesh Router):
Fingerprint unlocking is fast, has face unlocking option with eyes closed protection, USB-C charging port (woohoo), and a 3.5mm audio jack. Unfortunately, no wireless charging and IP rating are found so we are not sure how waterproof the phone is.
How about the camera, because we all know that it's probably the most asked question. It has 4 rear cameras: Main lens with f/1.79, Wide Angle lens with f/2.25, Portrait, and Mono f/2.4. The camera system is quite capable taking wide-angle shots, Portrait (bokeh shots), and good HDR. The AI can auto detect whether you are shooting a scenery, food, or other objects and adjust the processing to match.
There's also OPPO's beautification if you are into that and surprisingly has made it to video recording as well.
The bokeh effect is unfortunately quite aggressive and sometimes can be a hit and a miss (i.e looks unnatural or off). Here are a couple of examples:
But other times, they aren't bad.
OPPO A91 Review – Photos taken by OPPO A91
Most of the time, the cameras take quite decent shots and the HDR isn't bad either:
OPPO A91 Review Conclusion
AMOLED screen, a feature that you can usually only find on high-end smartphones, offers the best viewing experience on a phone and the A$500 OPPO A91 delivers that. The screen is sharp, vivid, and has a good contrast.
The phone also has a great camera to be used as your daily driver for social media shares and memory snaps. Its camera system is capable of doing wide angle, macro, selfie, Portrait, and HDR shots comfortably. You can also take low light shots but expect less detailed shots with noise being smoothened out. The bokeh effect on Portrait shots can be a hit and miss, but if you want to get the almost-perfect bokeh shots, you'll have to grab a $1,500 phone or more.
OPPO A91 retails for A$500 and available at retailers around Australia like JB Hi-Fi, Officeworks, Kogan, and many more. However, for just A$99 more, you can get the Reno2 Z (though it doesn't have an AMOLED screen) so do your research to find the right phone to grab.
Disclosure: OPPO A91 review sample was supplied for reviewing but all opinions are mine and not paid
OPPO A91 Review
Summary
For just A$500, you'll get a good performing phone with AMOLED screen, and a decent camera lens system for social media shares
Pros
AMOLED screen
Premium looking
Slim and lightweight
Good battery life, great charging times
Fingerprint & Facial unlocking
Good camera
Cons
No wireless charging
Unknown IP rating for waterproofing
Portrait shots can be a hit and miss