Bose Portable Smart Speaker Review – Bose Portable Smart Speaker is certainly not Bose's first portable speaker. My wife has the SoundLink Revolve and I've also reviewed their other portable, Bluetooth speakers like the SoundLink Flex or the tinier SoundLink Micro a few years back.
But as the name suggests, this is their first portable, smart speaker. It has Wi-Fi connectivity, voice commands (through Amazon Alexa & Google Assistant), able to stream music directly from the cloud (like Spotify), AirPlay 2, and of course, the traditional Bluetooth connection should you need it.
And on top of all these, you will still be greeted with that awesome sound that Bose normally delivers.
Bose Portable Smart Speaker Review – Unboxing and Packaging Contents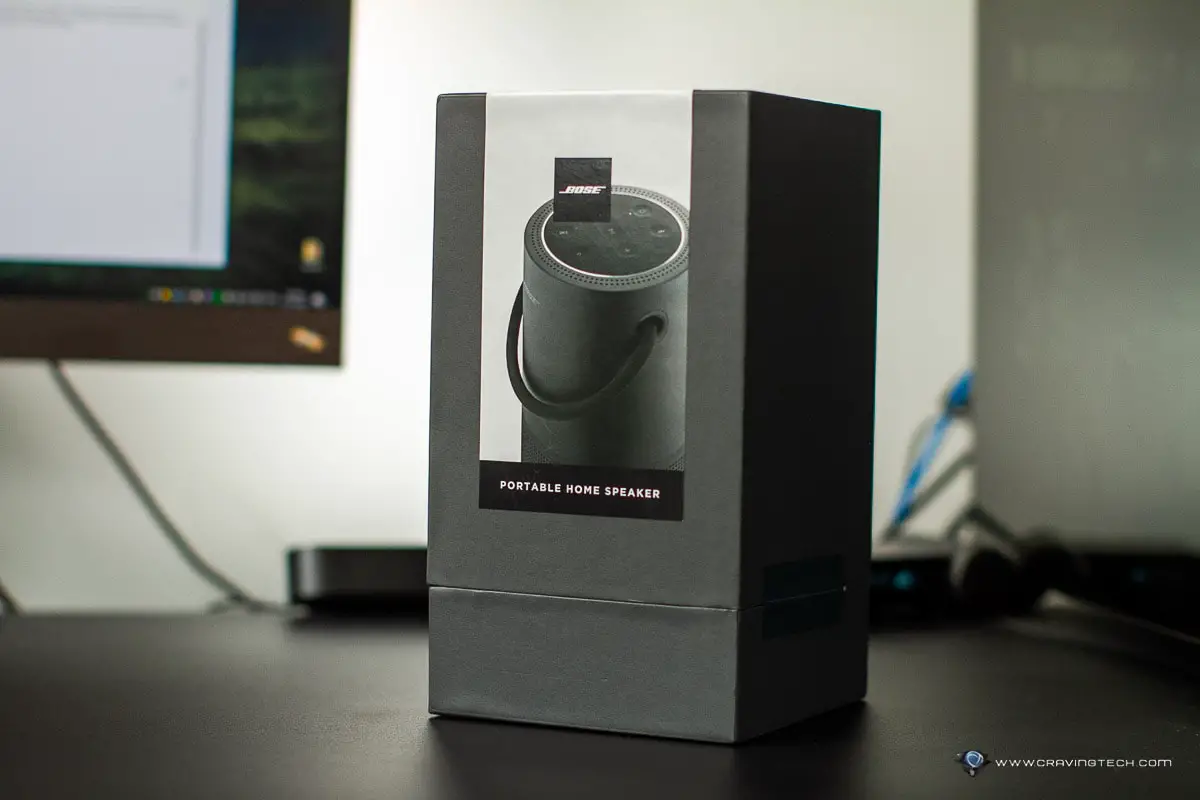 Bose Portable Smart Speaker Review – Design & Features
Bose Portable Smart Speaker has a solid & sturdy design that keeps it minimalist with all controls located on the top. The aluminium grille at the bottom of the speaker let the powerful sound out, and the woven carry handle is softer to the touch but easy to grip.
Weighing at 1.06kg, it's not exactly a light speaker but the carry handle makes it seamless to carry around from one room to another, or if you need to carry it to a party. While testing the speaker out, I've been constantly moving it around from my Study area to the Kitchen while I prepare my dinner. It also doesn't take up much space so you can definitely make room for this on your kitchen bench while you do your meal prepping.
While I already have an Amazon Echo Show 8 at the Kitchen, the difference between that and the Bose Portable Smart Speaker is night and day (in terms of audio power and quality). This little baby sounds really good and can go pretty loud. I honestly wasn't expecting much when I played music through this speaker for the first time. But I was taken by surprise at how clear, boomy, and loud it is. Where are all these power come from?
With Bose Music app, you can tweak the bass if you think that it's too strong and tweak other options.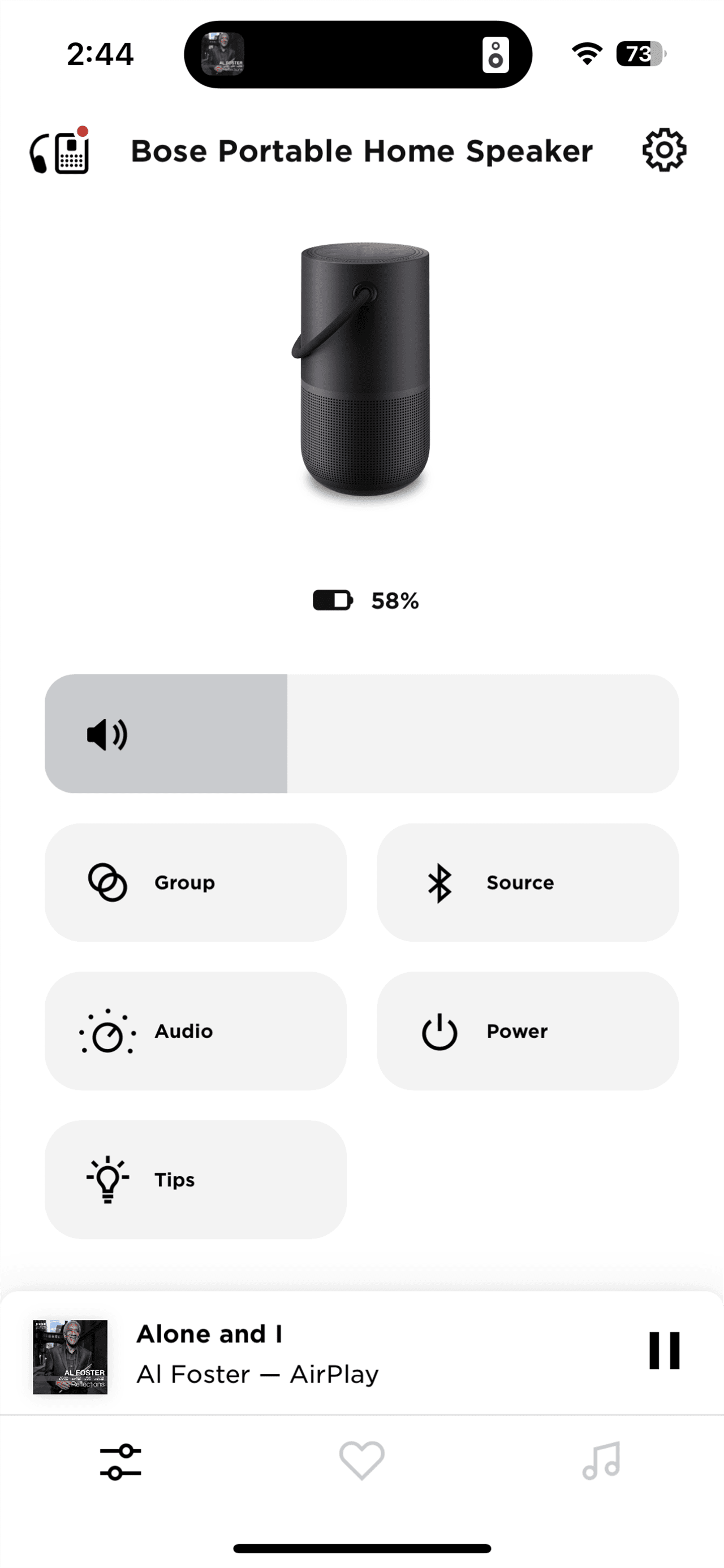 For controls, we have the power button, Bluetooth pairing, media controls, microphone mute/unmute, and Voice Assistant. As you turn the volume up and down, there is a nice circular LED that displays the current volume level.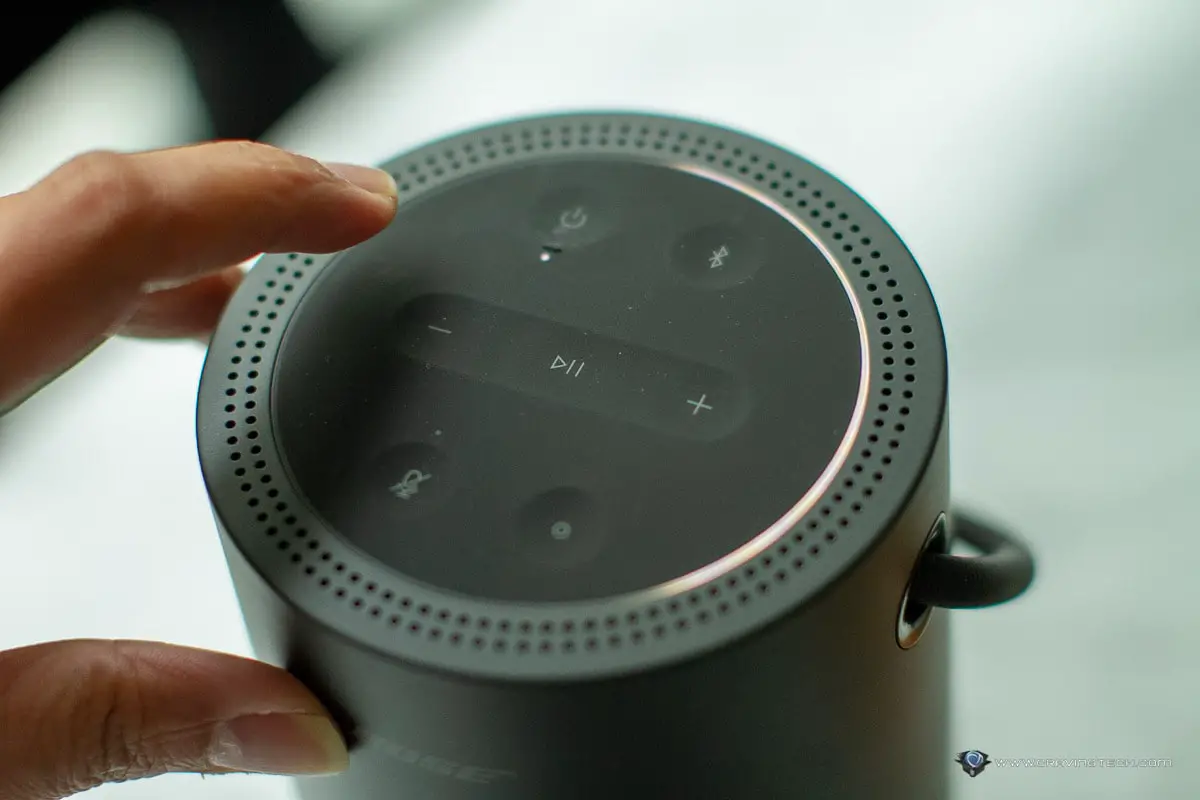 You do not need to press the Voice Assistant button to trigger Alexa or Google Assistant, however. You can simply use your voice, even when the speaker is playing loud tunes. The microphone can somehow always pick my voice up through all the noise. I can control my Hue smart lights through the speaker, ask for weather, and many other cool things – all while I'm listening to my favourite tunes.
A cool feature is to also let the speaker run on "standby" (the Power LED will go dimmer). This sets the speaker to be in low power mode and always listens, ready for voice controls – which is similar to Amazon Echo smart speakers or displays. From my findings however, this feature takes around 1% of battery life every 20 minutes or so. I'd highly suggest to connect the speaker to power if you really want to use this feature continuously (or just get an Amazon Echo speaker to use Amazon Alexa).
According to Bose, you can listen to music up to 12 hours before you have to charge it via USB-C and the included power adapter. I find that I can also charge it with a GaN charger without using the included power adapter.
The speaker is IPX4 rated only so while it can withstand water sprays and splashes, it's probably not the perfect speaker that you want to use next to a pool or on the beach (unless you're sure that it won't get accidentally submerged).
Bose Portable Smart Speaker Review Conclusion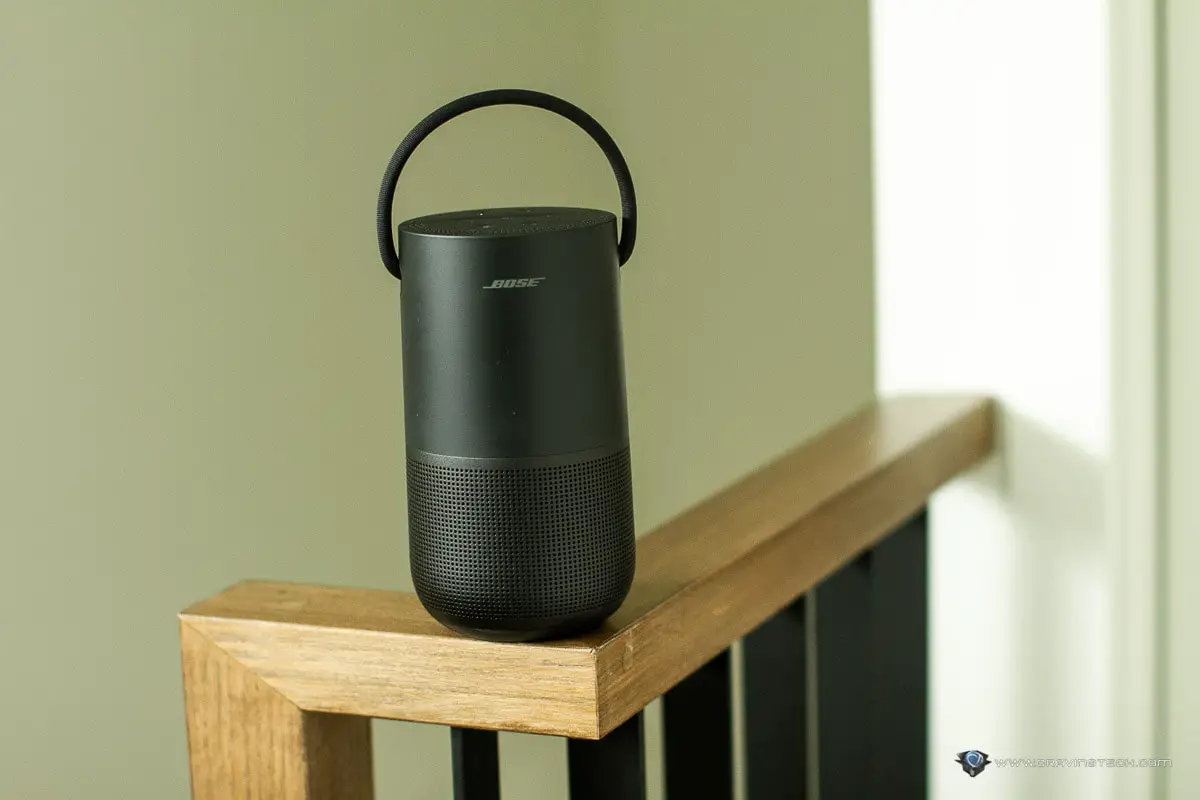 Bose Portable Smart Speaker sounds phenomenal and there are many times where I forget that this is coming from such a small speaker. To be honest, the power, the clarity, and the volume make it as if you are playing music through a bigger, powered, bookshelf speaker. Yes, it's that good and loud that I usually only set the volume to 1/3 or less, even.
The carry handle makes it easy to carry the portable smart speaker around and its many wireless connectivity options offer many ways to listen to your favourite tunes, plus access to Amazon Alexa and Google Assistant.
Bose Portable Smart Speaker sounds really, really good and you do have to pay for the price. At the moment, it retails for A$549.95 and available at retailers around Australia
Disclosure: Bose Portable Smart Speaker review sample was supplied for reviewing
Bose Portable Smart Speaker Review
Summary
Bose's first portable, smart speaker offers phenomenal sound and a few wireless connectivity like Wi-Fi and Apple AirPlay 2.
Pros
Solid build
Handle design makes it easy to carry around
Amazing sound clarity, power, and loudness
Thumping bass (and can be tweaked if you think that it's too strong)
360-degree sound
Microphone can pick up your voice from far away, while music is playing
Support Amazon Alexa and Google Assistant
Cons
No 3.5mm connection
Standby mode takes a good chunk of battery life
Bluetooth 4.2 only
IP4 rating only