Amazon Echo Show 8 (Second Generation, 2021) Review – We've had a closer look at the Echo Show 5 2nd Gen last week, bringing small updates to the original Echo Show 5.
The new Echo Show 8 thankfully, offers more worthy updates which includes a faster 8-core processor (MediaTek MT 8183) compared to the original Echo Show 8's 4-core processor (MediaTek MT 8163). It makes interactions on the device itself snappier, and it comes with quite a huge camera upgrade – both in terms of quality and functionality.
Amazon Echo Show 8 (2nd Gen, 2021) Review – Packaging Contents
Amazon Echo Show 8 (2nd Gen, 2021) Review – Design & Features
In a nutshell, the second generation of Amazon Echo Show 8 has the same resemblance to the first. It comes with an 8″ HD touch screen with 1280×800 resolution, built-in stereo 2.0″ speakers, and controls that include a camera shutter and microphone/camera off button.
The dimensions are even the same and that's not a bad thing. In my experience having the Echo Show 8 1st Gen on our kitchen bench, the Echo Show 8 has the perfect size compared to the smaller Echo Show 5 and even the humongous Echo Show 10 (make sure to check my review out and see it in action).
With the front camera, the second generation of Echo Show 8 gets a huge upgrade from 1MP to 13MP! This brings it on par with the same 13MP Echo Show 10 camera. Plus, the camera can now automatically pan and zoom to automatically fit you in the frame too during a video call.
If you often made video calls on your previous Echo Show device or did drop-ins to the other Echo Show devices, this is one of the most worthy upgrades for sure.
The 2.0″ neodymium speakers with passive bass radiator offers a pretty good music listening experience but if audio is the focus, you should consider grabbing the Amazon Echo Studio instead. For music listening while prepping food and cooking in the kitchen though, the Echo Show 8 is more than perfect.
And that 8″ sharp display is great for watching the latest news, checking the weather, making video calls, checking out the recipes, or watching new movie trailers while I wait for that Philips air fryer to finish.
Not to mention the Echo Show 8 can be used to control your smart home devices like your Hue smart lights, or do a live view on your smart security cameras like Ring Video Doorbell Pro 2. I can say things like "Alexa, show me the front door" to quickly check who's been lingering around. It can also be set to ring if someone presses that doorbell button.
You can access the built-in front camera remotely from your app to check things out inside your home as a security camera. If you don't use this feature, you can also close the camera shutter for privacy and peace of mind.
An interesting feature is also creating a routine to trigger something when the Echo Show 8 detects a Person in the room (e.g when someone walks in the room and the front camera catches it). For example, I can set it to send a notification to my phone but you can also make it work with the other smart home devices you have set-up with Alexa. It's a pretty cool feature.
We barely touch our light switches nowadays as we've updated most of our lightings to smart lights (part of it is all thanks to the review units I've got from Philips Hue, LIFX, Nanoleaf, Yeelight, and Connect SmartHome). Saying "Alexa, bedroom lights 50%" when we enter our master bedroom, "Alexa, nursery lights off" after putting my son to bed, and "Alexa, side gate light on" when taking out the trash are uttered almost daily in our household.
Amazon Echo Show 8 (2nd Gen, 2021) Review Conclusion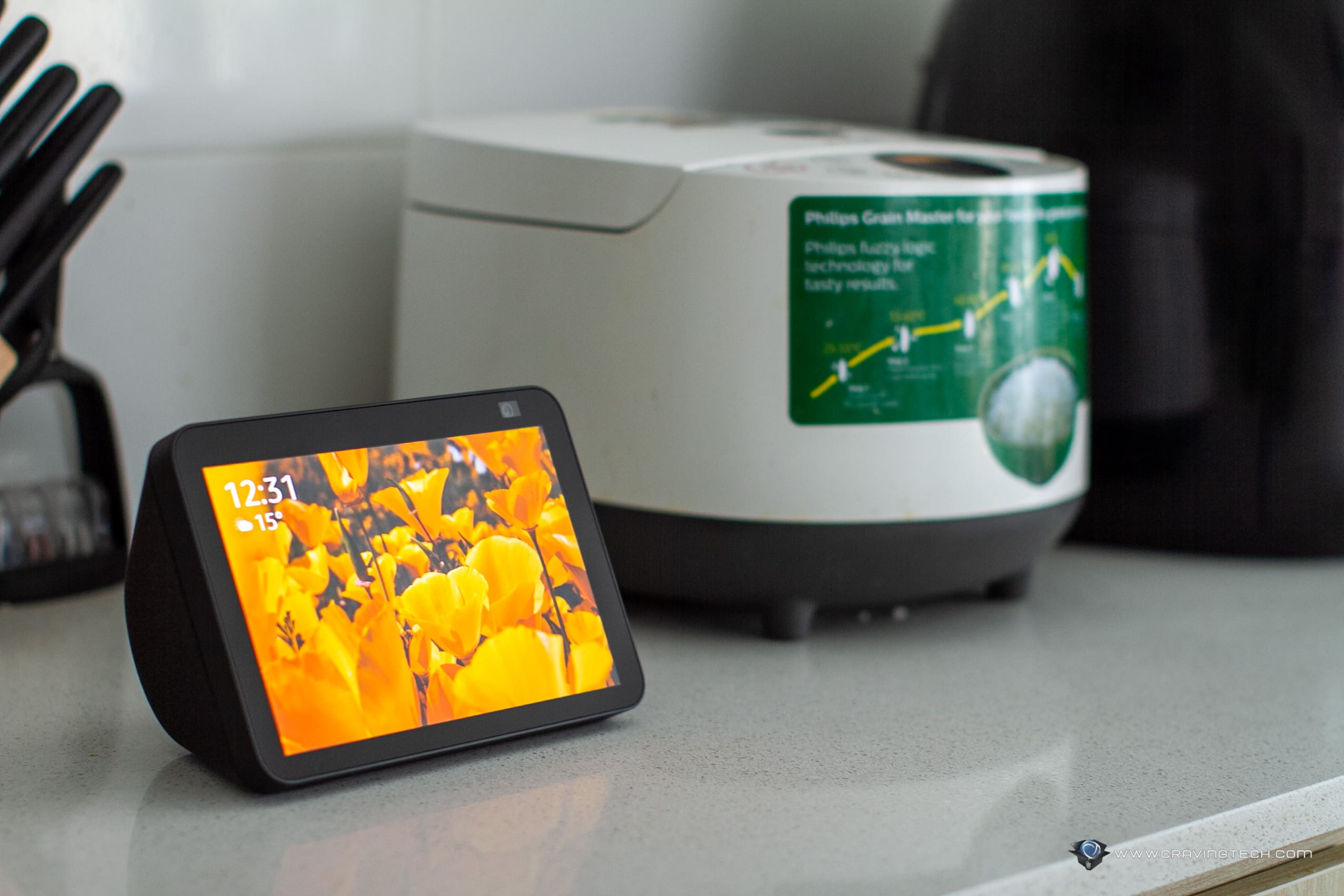 Amazon Echo Show 8 (2nd Gen, 2021) offers a generous update from the previous generation with a faster processor and huge upgrade in the camera department. Sure, they've taken out the 3.5mm port like the Echo Show 5 2nd Gen but most people would probably not going to miss that anyway.
The display is sharp, the dimensions are just perfect for the kitchen bench (any bigger and we'll have no place for more appliances, any smaller and we'll miss that juicy 8″ screen), and the built-in speakers are good enough for listening to some tunes while prepping for dinner.
Amazon Echo Show 8 (2nd Gen, 2021) is available now for purchase at Amazon (AU | US) and retails for A$199.
Disclosure: Amazon Echo Show 8 review sample was supplied for reviewing
Amazon Echo Show 8 (2nd Gen, 2021) Review
Summary
The Echo Show 8 is still the best Echo Show display in terms of size, functionalities, and prize. The second generation adds a faster processor and a huge bump in the camera department
Pros
Perfect size
8″ clear display
Built-in controls for volume and privacy
13MP front camera
Responsive to voice commands for controlling smart home devices
Cons
Same design, same display
Not worth the upgrade if you don't use the camera at all