Amazon Echo Show 5 (2nd Gen, 2021) Review – The original Echo Show 5 has been on our bedside table ever since it was released. We've been using it daily to mainly control our Master Bedroom lights and also turn our TCL TV off. If you have lots of smart devices at home, the Echo Show 5 compact design makes it suitable anywhere with little space to control them with your voice.
But it can do much more – stream music or your favourite shows, set alarm, ask Alexa anything (news, weather), make video calls, make announcements to the entire home, or even as a digital photo frame.
So what's new on the new Echo Show 5 2nd Generation released in 2021?
Amazon Echo Show 5 (2nd Gen, 2021) Review – Packaging Contents
Amazon Echo Show 5 (2nd Gen, 2021) Review Full Specifications
| | |
| --- | --- |
| Size | 148mm x 86mm x 73mm (5.8" x 3.4" x 2.9") |
| Weight | 403 grams. Actual size and weight may vary by manufacturing process |
| Display | 5.5" touchscreen |
| Camera | 2 MP camera with built-in shutter (photo quality / size may vary) |
| WiFi connectivity | Wi-Fi required. Dual-band Wi-Fi supports 802.11a/b/g/n/ac Wi-Fi networks. Does not support connecting to ad-hoc (or peer-to-peer) Wi-Fi networks. |
| Bluetooth connectivity | Advanced Audio Distribution Profile (A2DP) support for audio streaming from your mobile device to Echo Show 5 or from Echo Show 5 to your Bluetooth speaker. Audio/Video Remote Control Profile (AVRCP) for voice control of connected mobile devices. Hands-free voice control is not supported for Mac OS X devices. Bluetooth speakers requiring PIN codes are not supported. |
| Audio | Full range 1.65" built-in speaker. |
| System requirements | Wi-Fi required. Echo Show 5 comes ready to connect to your WiFi. The Alexa app is compatible with Fire OS, Android, and iOS devices and also accessible via your web browser. View our supported operating systems. Certain services are subject to change or withdrawal at any time, may not be available in all areas, and may require separate subscriptions. |
| Setup technology | Amazon Wi-Fi simple setup enables customers to connect smart devices to their Wi-Fi network in a few easy steps. Wi-Fi simple setup is another way Alexa is always getting smarter. Learn more about Wi-Fi simple setup. |
Amazon Echo Show 5 (2nd Gen, 2021) Review – Design & Features
Let's start with the design. The new Echo Show 5 still has the same design as the previous Echo Show 5. Why change if it already works and loved by people, right? I have no complaints as well with this one to be honest. It still has that 5.5″ screen with 960×480 resolution and a built-in 1.7″ speaker.
The controls are located on the top and easily accessible: volume controls, microphone & camera on/off button, and a camera shutter. If you are worried about privacy, you can adjust what to turn on and off here. For example, you might still want Alexa to hear your voice commands but you may not need the camera. This way, simply use the camera shutter to close the front camera.
Thanks to the compact design, we find it more suitable on our small bedside table compared to the Echo Show 8 1st Gen (we're still in the process of reviewing the 2nd Gen too). Plus, it's nice to be able to see some photos of our family (or randomly curated by Amazon) next to our bed compared to the Echo Dot with Clock.
So what's exactly new on the Echo Show 5 Second Generation compared to the first? Basically:
Front Camera quality has been upgraded from 1MP to 2MP
You can do a live view of the camera remotely (act like a security camera)
It comes with different colour options (Charcoal, Deep Sea Blue, and Glacier White)
No more 3.5mm jack to connect to an external speaker (though you can do it via Bluetooth)
Unfortunately, the display doesn't get an upgrade so it still looks the same as before. The display is clear and crisp, don't get me wrong, but obviously getting a better or higher resolution display is cool. There is no internal system upgrade as well (apart from the camera) so it's still powered by the same processor and sounds the same. It's a pity because I'd like a smoother experience when interacting on the screen with my finger and would love an upgrade in the sound department.
However, the new camera upgrade means if you are making video calls often on the device, you'll get a better experience this time. I like to actually do the "Drop In" feature every now and then using my phone or the Echo Show 8 device from another floor. Better video quality? Why not?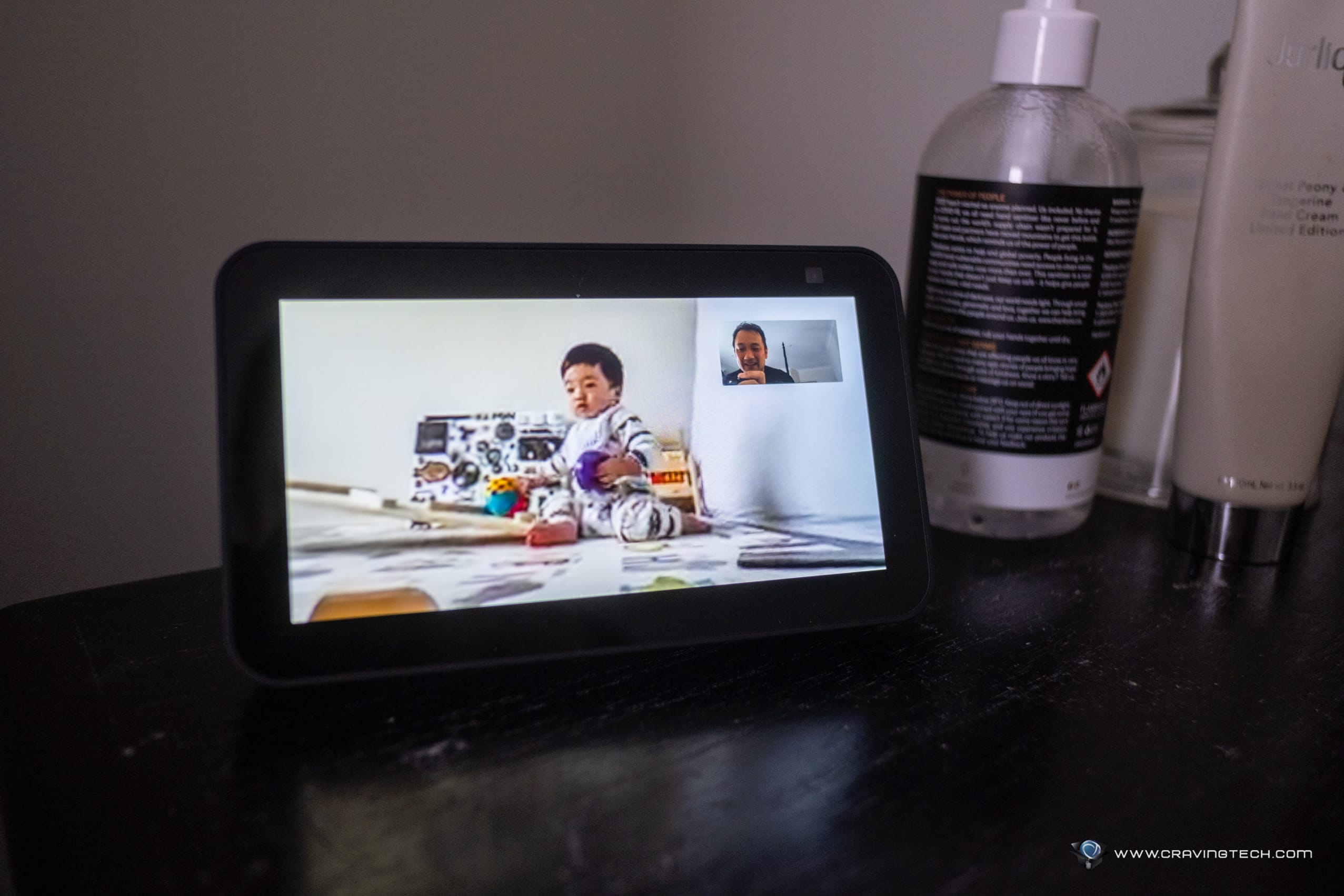 With the Alexa app on the phone, you can also view the Echo Show 5's live feed to see what's happening in your house. This feature was found on the new Echo Show 10 but it has now been made available on the new Echo Show 5.
Amazon Echo Show 5 (2nd Gen, 2021) Review Conclusion
The second generation Amazon Echo Show 5 may not have much upgrades, but it still is a well-rounded Echo Show device.
You can use it to control your smart home devices, use it as an alarm clock, digital photo frame, check for latest news & weather, and also to watch videos – though the 5.5″ might be to small for that. I like how the device suggests the latest news every now and then and I can ask it to play that news video. It's not for watching a full movie for sure, but if you want to catch up with NBA highlights or short news video, it's good for that.
The upgraded front camera from 1MP to 2MP should delight those who like to make video calls with the Echo Show device and you can also use the camera remotely as a security camera to check for your pets, or if anyone is home. Thankfully, you can always turn this off with the mute/camera off button or close the camera shutter.
Amazon Echo Show 5 (2nd Gen, 2021) retails for A$119 and available now at Amazon Australia.
Disclosure: Amazon Echo Show 5 2nd Gen/2021 review sample was supplied for reviewing
Amazon Echo Show 5 (2nd Gen, 2021) Review
Summary
A slight upgrade to the popular Echo Show 5 device
Pros
The power of Alexa in a compact design with 5.5″ display
Touch screen
Bright, clear display
Can view the front camera remotely within the app
2MP front camera upgrade
Built-in speaker
Cons
Not much upgrade from the previous model
Still stutter here and there when interacting with the screen
No more 3.5mm jack (but not sure how many are using this either)