Philips Airfryer XXL Smart Review – Air fryer is probably one of the greatest things here on earth, especially to those who want a healthier lifestyle, or on a diet from deep fried food for health reasons. With an air fryer, you can fulfill your "deep-fried-food cravings" without feeling the guilt, because it uses little or no oil.
Sure, the taste is not exactly 100% the same but in my honest opinion, we've been using Philips Airfyer for months and both my wife and I love it. We've been recommending our friends ever since about air frying.
The one I have to review today is the Philips Airfyer XXL (HD9861/99) with Smart Sensing technology, so let's get down to details.
Packaging
Design & Features
Philips Airfryer XXL HD9861/99 design looks really good and that Rose Gold touch is definitely a keeper, a pure elegance. It has a digital display that tells you continuously on timer, temperature, and other indicators while you are using it to defrost, bake, grill, etc. The main rotary dial button is used to configure and select most of the main functions of the air fryer. There are also a few other "quick shortcut buttons" like the Keep Warm, to warm your food up to 30 minutes.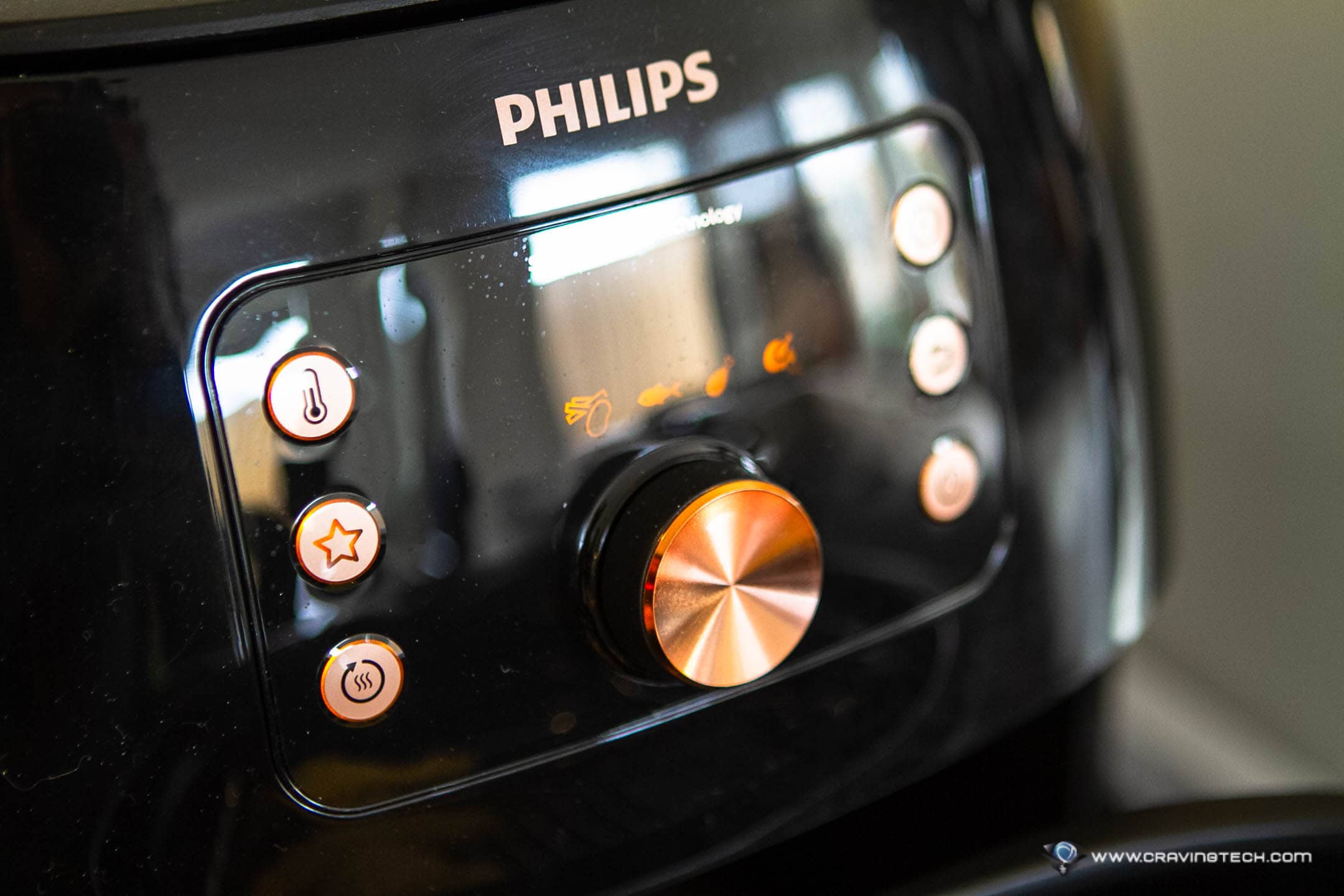 The air fryer itself is quite heavy, so I wouldn't recommend you to put it in the pantry, and take it out to the kitchen bench when needed every single time. This is what we planned to do but we decided to make space on the kitchen bench for it permanently. Thankfully, we haven't regret that decision and we ended up using it more often than not.
Having the preset functions (Fish, a whole chicken, fries, etc) is great for people like me who don't have that "cooking instinct" yet. Rather than having to Google around each time, the smart preset function is as simple as selecting the type of food we are cooking. The sensor inside the air fryer will then figure out the rest, such as the temperature and the time.
But if you are cooking something else, there is also a manual function to set your own desired temperature and time. The packaging includes a handy recipe manual and you can also get the Philips NutriU app for more easy Airfryer recipes and tips! Pretty sure you won't be running out of ideas soon.
The thing I like most about air frying is the simplicity and convenience. Deep frying can leave quite a mess on the stove and having to use the oven would take longer. With Philips Airfryer XXL Smart, it definitely is quicker (thanks to the instant heat and Rapid Airflow technology) and does not leave messy oil residue, and healthier.
Have a large, whole chicken or frozen fries? Yup, chuck them all to the air fryer (separately, of course). Its XXL size can take a whole chicken in for the family, and it also has a defrost function.
To give it a good test, we cooked Salmon fillet, our own-made Pork Wonton, Butter Prawn, Fried Banana, and Chicken Fillet. The results were amazing and we love how crispy things were. The fried Wonton skins were crispy and crunchy, the way they should be when you deep fry them. The Salmon fillet was also well-cooked (we used the smart sensing) and we couldn't be happier. The air fryer also cooks evenly and it will indicate when you need to take the basket out and shake it a little bit.
Sure, I wish there are more preset functions but I recon it would be quite annoying having to scroll through to find the one you want. Perhaps we might see a Bluetooth-enabled Philips Air Fryer in the future so you can pick it using an app? That would be really awesome. For now, there are recipes thankfully so you can set the temperature and time manually – plus you can save the setting as a Favourite for next time.
The basket and other removable parts are easy to take out and they are also dishwasher safe. Washing by hands is a bit challenging as there are a few parts to wash, but you can chuck them all in to a dishwasher.
Philips Airfryer XXL Smart Review Conclusion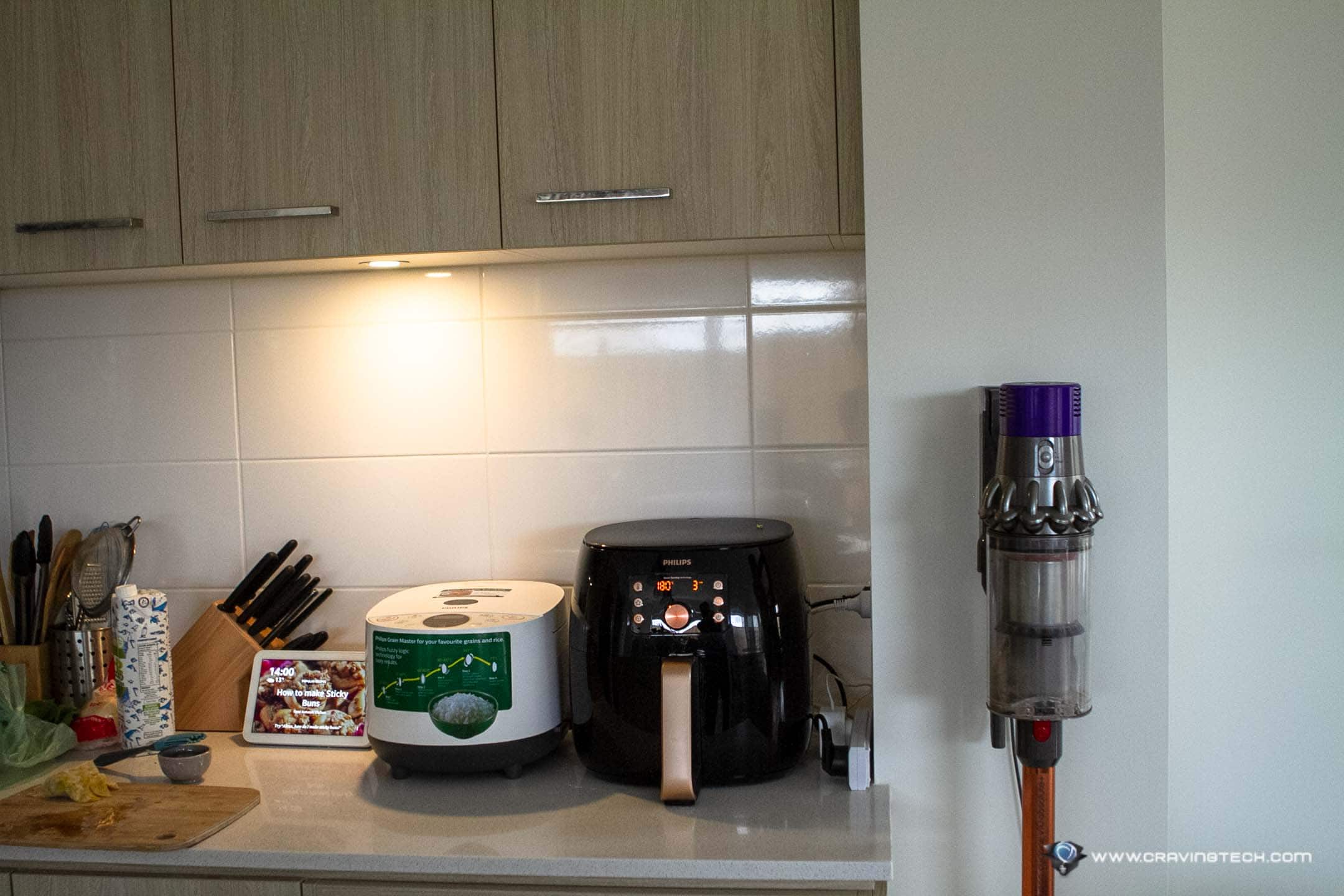 Philips Airfryer XXL HD9861/99 with Smart Sensing deserves a permanent place on your kitchen bench as much as it has on ours (next to the Philips Grain Master Rice Cooker – also deserves the throne, make sure to check on that our review as well). Its versatility means you can defrost your frozen fries, bake a cake, "deep fry" your wontons to crispiness, and cook a nice, whole chicken with ease.
Its preset functions, combined with the smart sensor that will automatically detect and set the temperature and timer will be loved by many, especially those who are not proficient in cooking yet. It makes cooking (and cleaning) plain easy. There are also plenty of recipes to explore to be used with the Airfyer, thanks to Philips, so you'll never run out of ideas and new horizons to explore.
Philips Airfryer XXL Smart is available now at many retailers around Australia like Harvey Norman for AU$599.
Disclosure: Philips Airfryer XXL HD9861/99 review sample was supplied for reviewing but all opinions are mine and not paid
Philips Airfryer XXL Smart Review
Summary
A great airfrying experience – big capacity, versatile, fast performance, and most importantly, make crispy and crunchy food with little or no oil!
Pros
Elegant design for the kitchen
Large capacity to cook for the whole family
Preset functions & Smart Sensing to make cooking easy
Many recipes are available from Philips and growing
Parts are dishwasher safe
Fat removal technology
Versatility: bake, grill, keep warm, defrost, airfry, etc
Cons
Large size (maybe not a cons in a way, you wanted it)
Only a few quick presets available
Price