There are different network routers available with different needs and features. Expert users in IT would want a more powerful router with better performance and manual settings. Others, general consumers, would just want a simple router that works without the need to understand what a Network SSID is or why WPA2 provides a better security than WEP (not to mention when you say "Huh? What's WPA2 and WEP?").
Belkin Play Max N600 HD Wireless N Dual-Band Router falls into the second category. It's definitely geared more towards general consumers or for those who just want a wireless router that works as soon as you open the package.
The Belkin N600 HD packaging comes with the router itself, a power supply, a network cable (RJ45), and a setup CD with user manual. All the cables are clearly labeled so if you really don't understand where things should go, just follow the labels.
The labels are numbered so you know the sequence that you need to do to get your home wireless network up and running. The setup CD helps to ensure that you've got the right settings and also installs a monitoring tool, quick shortcuts to specific commands, and other included applications (more on this later).
I customized my network a little bit before I reviewed the Belkin N600 HD (I was using another router) and it seems that the setup was having a problem trying to configure my network:
There was a friendly note with Belkin's support number that you can call should something bad happens. In the end, since I knew my way around networking, I decided not to call and configure the router manually. I plugged my MacBook directly with a network cable to the router (the manual says to connect to 192.168.2.1) and started my configuration through the web browser interface.
Within minutes, my wireless network was up and running. If you haven't had any wireless network connection before (or had some customised configurations), you should be fine.
Belkin N600 HD comes pre-configured – having an IP address of 192.168.2.1, a network SSID, and a random network password (printed on a label) in WPA2. So if you don't know much about networking, simply connect to the pre-configured network name and password. Don't worry, you can change everything through the browser interface later.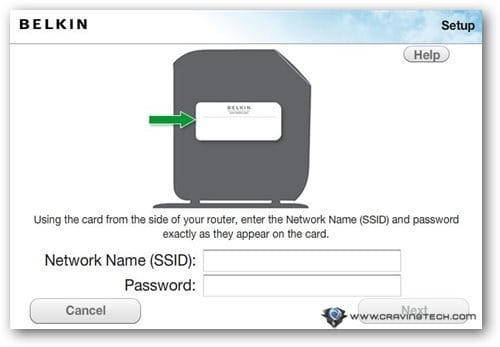 The router supports dual-band networking – 2.4 GHz and 5 GHz so you can connect some of your devices to the 5 GHz range which is a less crowded frequency. The range is shorter than the usual 2.4 GHz band though so you'll probably get a weaker signal if it has to go through walls at home.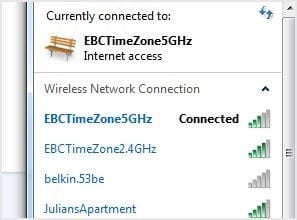 The router itself stands in vertical position and equipped with 4 Gigabit Ethernet ports and 2 USB slots.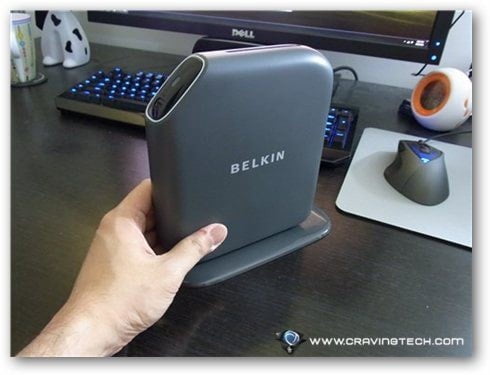 Belkin N600 HD requires you to have a modem to connect to the internet as it is not a modem router. It comes with one WAN port (painted yellow) where you need to connect the included yellow cable (RJ45) to your modem (often marked as "Internet" port on your modem) and 4 Gigabit LAN ports.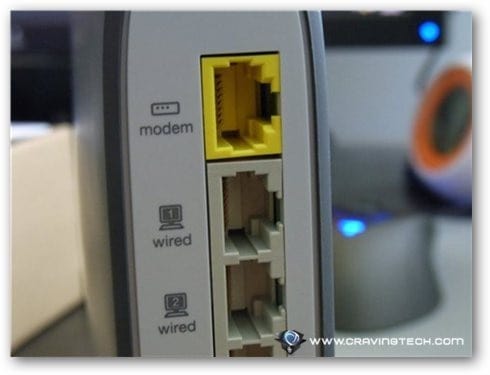 The idea of having 2 USB slots on the router is that you can plug your printer, USB flash drives, or external hard drives to it so you can share them easily on your network. There really is no manual set-up needed unlike my old router, assuming you install the software on the CD. Only computers having the software installed can access these storage devices on the Belkin N600.

I simply plugged a USB flash drive into one of the USB slots and a new drive came up in my Windows Explorer soon after as a new drive. It's that simple.
This way, you can store your music collections or other documents into the drive where every family member in the house can easily have access to. Simply install the software into a new computer and you're set!
The software in the CD includes Easy Start, Preset Security, Video Max HD, Self Healing, Print Genie, Memory Safe, Daily DJ, Music Mover, Music Labeler, Bit Boost, Torrent Genie. I will not discuss them one by one but with Self Healing, you can schedule the router to auto-restart at specific time and day (to eliminate any problems that often happen to a router and require a restart) and the Torrent Genie helps you to download a torrent into the external flash drive straight from the net. This means you don't need to leave your computer on as the router will do the downloading and saving the files into the external flash drive.
The Belkin Router Manager monitoring software also displays notifications when the internet gets disconnected or when something happens to the router.
The LED light on the router gives indication whether everything goes well (internet connection is up) with different colors such as green or amber.
Belkin Play Max N600 HD Wireless N Dual-Band Router review – Conclusion
The Belkin Play Max N600 HD Wireless N Dual-Band Router is a router that is suitable for those who don't want to get their hands dirty on manual configurations or don't know much about networking. You simply open the package, follow the instruction labels, and your home wireless network can be up and running in minutes. The 5 GHz signal is not that great but it has 1 signal bar more than my old router (which often got me disconnected from my online games).
The software included helps to solve all the pesky problems that we normally have with routers: having to restart it manually every now and then when internet connection gets bad or even being able to share an external USB device with ease. I truly recommend this router if you want a router that is easy to set-up and just works. RRP: AUD 279.95.
Note: Sample provided for the review
Belkin Play Max N600 HD Pros
+ Vertical positioning, save space
+ Clearly labeled, anyone can set this up
+ Comes pre-configured, be online in minutes
+ 2 USB slots to share printers and external devices
+ Included software makes everything easier
+ Can be manually re-configured if you want to
Belkin Play Max N600 HD Cons
– Can't share the USB devices unless the software is installed in each computer
– Can't manage or download a torrent straight from the router