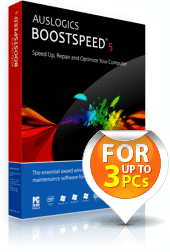 Now that you've read (hopefully?) my review on Auslogics BoostSpeed 5, here is the exciting part: I'm giving 2 Auslogics BoostSpeed 5 licenses (valued at $49.95 each) away! These licenses do not expire, unlike the ones you purchase from the store so don't miss this golden chance! (If you buy it online, you'll be nagged with a pop-up screen when your license has expired. The 2 licenses I'm giving away will never expire so you can always keep using Auslogics BoostSpeed 5 without any annoying pop-ups)!
Auslogics BoostSpeed 5 is a great tool if you have a Windows system as it can scan, fix, and even optimize your Windows with ease.
How to win an Auslogics BoostSpeed 5 license
Share this giveaway to your friends
Post on the comment section below where you share it to
Two random winners will be chosen on the 1st of May 2011.
Easy enough, right? Don't miss this chance especially if you are on Windows. I bet that whenever you run a registry cleaner every week or so, it will find registry errors and other things that you need to clean up or fix. Auslogics BoostSpeed 5 does not just fix your registry but it also contain other useful tools such as a startup manager, a disk defragmenter, an internet optimizer, and much more.