Arlo Essential Indoor Camera Review – The Arlo Essential products are geared towards those who are looking for a more affordable Arlo security camera, with just the essential features. For example, most probably don't need that juicy 4K resolution on the Arlo Ultra or a spotlight if the camera already comes with a night vision.
After releasing the Arlo Essential Spotlight and Arlo Essential Video Doorbell, it is now the turn for Arlo indoor cameras. Arlo Essential Indoor Camera features all we love about Arlo for smart home integration, superior security camera features, but there is an extra, new interesting feature: automated privacy shield.
Arlo Essential Indoor Camera Packaging Contents
Arlo Essential Indoor Camera Review – Design & Features
Arlo Essential Indoor Camera works over Wi-Fi (without the need of the Arlo Hub) and can record in 1080p video resolution with 130° viewing angle. It also has a two-way audio, night vision, and a built-in siren.
You can receive alerts to your phone when motions are detected (which can take a few seconds to trigger) and you can do a quick peek from the notification to see a frame grab of the event – which is useful as a decision point whether you should open the app and see the live view (which will take longer).
The video resolution is pretty good and while it is not in 4K (Arlo Ultra) or even 2K (Arlo Pro 3 & Arlo Pro 4), 1080p is good enough for both security and insurance purposes. And while it doesn't have a cooler, coloured night vision, you can still see clearly in complete darkness what's happening.
Arlo Essential Indoor Security Camera design is very simple and comes with a desk stand so you can just place it on a bench and use it right away. There is a quick setup to do but it's very simple and straightforward. The head (where the camera is) is tiltable and the unit overall has a good weight to keep it in place on a surface. However, you can also mount it on a wall.
Inside the Arlo app, there are some settings you can change like video settings, what kinds of motion alerts you want to be notified about (requires subscription), and also setting up motion zones (i.e which area you want the camera to monitor for motions).
The "star" of the show is definitely the built-in privacy shield/cover here – which is fully automated. You can open and close it using the Arlo app. And if you set the mode to "Armed" or "Disarmed" within the Arlo app, the privacy cover will follow automatically (i.e Armed = opens cover, Disarmed = closes cover).
The indoor camera works with Google Assistant and Amazon Alexa, so if you have a Google Nest Hub or Amazon Echo Show 10, you can quickly display the live feed using just your voice.
Arlo Essential Indoor Camera Review Conclusion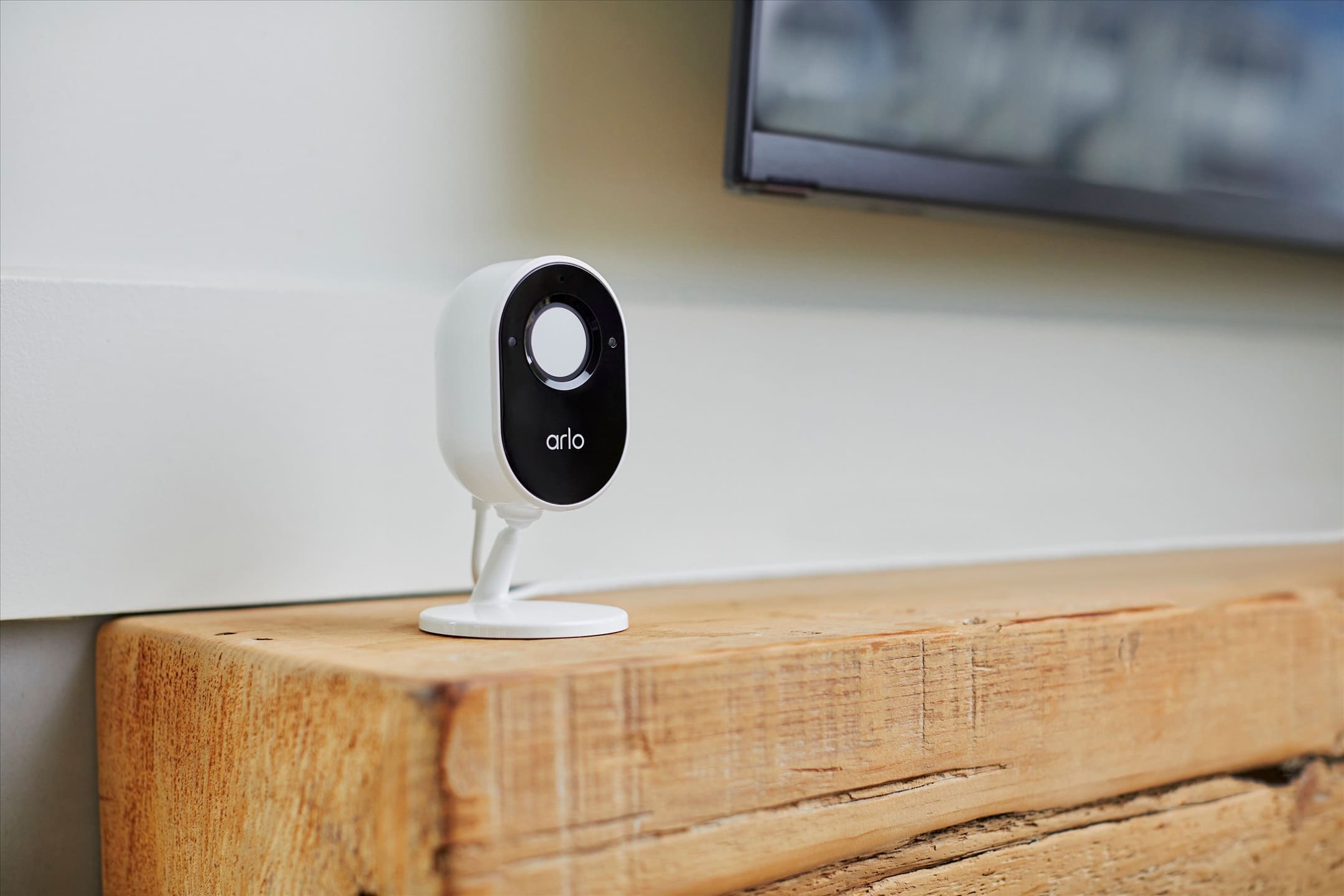 Arlo Essential Indoor Camera is an easy-to-use, easy-to-setup indoor camera with all the essential package to keep your home secure, but also respect your privacy.
The built-in Privacy Shield is fully automated which will auto-close itself in Disarm mode but you can also open and close it manually within the app. It's the most needed feature on any indoor cameras but so far, I've only stumbled upon this on the Arlo Essential Indoor Camera.
Arlo Essential Indoor Camera retails for AU$159 RRP which is a really good price for an indoor security camera with all the features within. There is however, an optional monthly subscription needed for certain features so make sure to check them out before purchasing.
Disclosure: Arlo Essential Indoor Camera review sample was supplied for reviewing
Arlo Essential Indoor Security Camera Review
Summary
All the essentials at affordable package. Comes with an exciting privacy feature: Automated Privacy Shield
Pros
Easy to set up
Easy to use
Compact & minimalist design
Can be used without purchasing an Arlo Hub
All the essentials: 1080p video, two-way talk, siren, night vision
Support Google Assistant, Amazon Alexa, and IFTTT 
Cons
Some features require subscription
No spotlight
No local storage recording option