Canon EOS M50 Review – I finally get a chance to review the Canon EOS M50 since the last preview article I wrote in March.
With lots of new cameras introduced in 2018 by various camera manufacturers, especially in the mirrorless camera line, no doubt that camera consumers and fans are looking forward to Canon for a surprise.
Canon EOS M50 is targeted for beginners who are interested in a smaller footprint camera but still offers interchangeable lens, or to step up their photography skill from snapping with smartphones.
What I like about the Canon EOS M50?
Looking at Canon EOS M50 at a glance, the camera size is indeed small. A quick comparison, the camera is smaller than my Samsung Galaxy Note 2 and only thicker due to the interchangeable lens which won't be pocketable.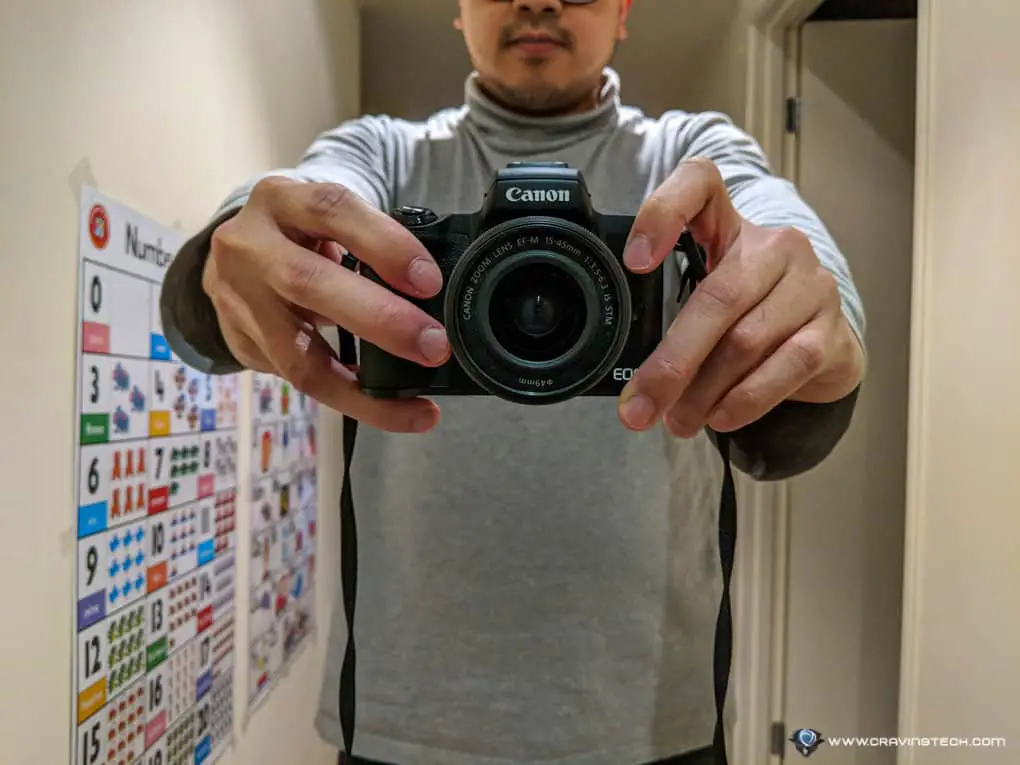 Holding Canon EOS M50 is comfortable, thanks to the camera grip. I can actually hold the camera for quite a long period of time. The included camera strap is also slimmer than the strap included from  most DSLRs and is a complement with the lightweight Canon EOS M50 (around 520 grams including battery, 387 grams excluding the 15-45mm lens kit). Overall, the whole gear is really comfortable to carry on my shoulder.
Another thing that I like is control. Canon EOS M50 allows me to customise eight customisable buttons on the camera, though to be honest, I still prefer the button layout on the bigger brother Canon EOS M5.
A standard camera mode wheel to select shooting modes can be found on the right hand side of the camera, alongside with the camera's power slider. Three customisable buttons are initially set as a dedicated video record button, an ISO setting button (M-Fn button), and a shutter button which you can customise during half-press alongside with a non-customisable wheel to adjust the exposure settings on semi automatic mode (P, M, Av, Tv).
On the back of the camera, five more customisable buttons initially set as an AF/MF button (to switch between autofocus or manual focus mode), a trash can button to delete images, a flash button to turn flash on/off, an exposure compensation adjustment, and an exposure lock button. These customisation options are perfect from beginner photographers to the more advanced ones.
Canon EOS M50 comes with a built-in flash that is handy for that extra fill light when required.
Canon EOS M50 electronic viewfinder or EVF is bright and quite sharp with 2.36 million dots OLED. I love viewfinders in mirrorless cameras because the picture you see in the viewfinder is what you get when you press that camera shutter. The viewfinder is also handy both for shooting and reviewing images taken under a harsh, bright sunny day. Something that you can't do normally in a DSLR.
I believe most of consumer will appreciate to see that Canon EOS M50 comes with a vari-angle or a flip touch screen that gives you ultimate control to do various applications such as selfie, vlogging, and shooting on odd angles. Canon EOS M50 is the first mirrorless camera that features this flip screen. That's right! The big brothers: Canon EOS M5 and M6 are missing out on the vari-angle touchscreen.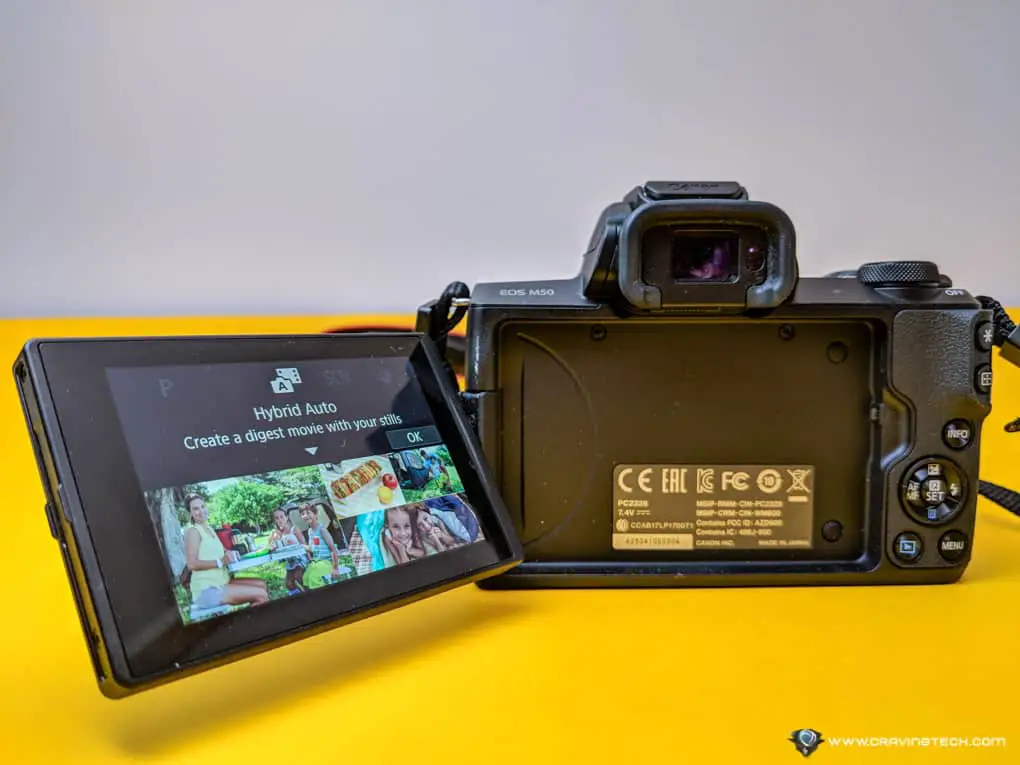 The next big selling point of the Canon EOS M50 is that it's the first canon consumer camera capable of recording 4K and super slow motion videos at 720p. However, 4K recording is only limited to 24 frames per second. The camera can also record in 1080p FullHD at 60 frames per second and 720p at up to 120 frames per second. A Digital Image Stabilizer (IS) feature for smoother video recording while using it handheld is also present in Canon EOS M50.
Now, the nerdy stuff. Canon EOS M50 has a new DIGIC 8 image processor which expands the number and area of Autofocus to up to 143 autofocus points. The newer processor also brings more responsive camera operation, tracks moving subjects better and has new eye autofocus.
The image sensor comes with 24.1 megapixel which is more than enough for beginners. Most importantly, the image taken has beautiful colour reproduction and skin tones thanks to Canon's colour science. Low light performance is much better compared to today's smartphones too and not to mention the superior auto focus performance, thanks to Canon's Dual Pixel technology.
Canon introduces new CR3 RAW and Compressed RAW (C-RAW) file formats which offer saving of up to 30-40% file size. With C-RAW format, I can take more pictures in the same SD card and get the flexibility on RAW file for post processing. These new file formats are supported in recent Adobe products but if you are using other photo editing software like Luminar, you'll have to double check. Thankfully, the free Adobe DNG converter allows you to convert these RAW files to DNG which is more photo-editing friendly.
Canon EOS M50 is equipped with Bluetooth, Wi-Fi and NFC that communicate directly via the Canon Camera Connect app. You can then send pictures from the camera straight to your smartphone for a quick social media share. There is also the remote shutter function that is beneficial for long exposure shooting or when you need to adjust exposure settings.
Being an entry level camera, what are the downsides?
4K recording is the big feature in Canon EOS M50, yet it comes with limitations – for example, the recording doesn't read data from the whole sensor. This means you'll get a different frame when recording on 1080p vs 4K. I actually needed to reframe my shot for 4K recording because of this.
The available frame rate for 4K is limited to only 24 frames per second and I'm also losing the benefit of Dual Pixel technology which is beneficial for smooth focus transitioning and tracking. These are the things you should keep in mind when making a purchase decision, especially if you are planning to record videos in 4K.
Canon might purposely limit 4K capabilities in Canon EOS M50 to avoid overheating (which happens on other camera brands) or simply because it's being sold as an entry level camera. The camera also comes with 30 minutes video recording limit.
Canon Digital IS or Combination Image Stabilisation (IS) should not be confused with In Body Image Stabilisation (IBIS) that has gained popularity from the other mirrorless camera brands. In my opinion, Canon's Combination IS crops the frame to reduce the effect of image shakes and works only in video recording with the help of a compatible lens with built-in Image Stabiliser. This is less superior than IBIS which works during still-photo shoots and on lens with or without a built-in Image Stabiliser.
EF-M lenses have been around for awhile, yet it lacks of premium lenses selections. Thankfully, there is a solution to this, i.e with the mount adapter EF-EOS M that allows me to use my existing EF and EF-S lenses on the Canon EOS M50. EF lenses are generally big and easy to throw this camera out of balance though.
Battery doesn't last the whole day so make sure you invest on some extra batteries. There are options to save battery life at the cost of EVF smooth performance and LCD brightness.
Due to the compactness of the EOS M50 body, the battery compartment is positioned too close to the tripod mounting point. This causes an issue where I can't swap the battery or SD card in and out while the camera is mounted on a tripod. It may cause inconvenience to those who use a tripod a lot.
Canon EOS M50 Review Conclusion – Is this for you?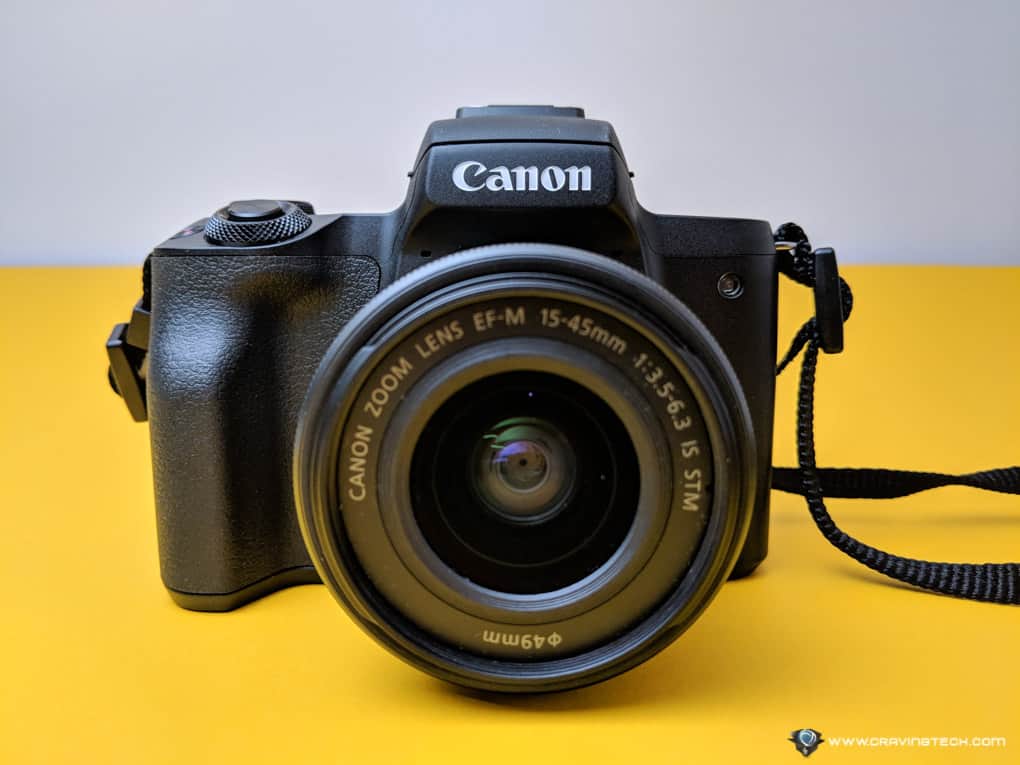 With a price tag of AU$949 at JB HI-FI, Canon EOS M50 comes with the body and 15-45mm lens kit, and is an attractive mirrorless camera from Canon.
It has a superb autofocus performance and bigger image sensor (better in low light) compared to Panasonic and Olympus with the same price range. With a small body size and lightweight, the EOS M50 is perfect for travellers or those who want to carry the camera daily.
The camera would be a nice gift for the upcoming Father's Day too (check out our this year's Father's Day gift guide), especially if your dad already uses an older Canon camera and has a few EF lenses lying around.