Blue Sadie Review – I've reviewed many headphones, earphones, and headsets on this blog – both gaming and non-gaming ones. While I don't consider myself as an audiophile (in fact, far from it), I know a really good headphones when I listen to one.
But the Sadie from Blue, is a totally on a whole new level compared to any headphones that I've had and reviewed before, even when they were labelled with "audiophile grade" (such as the SteelSeries Acrtis Pro with DAC).
I never know ear pampering is real and the Sadie offers that generously, transforming every music that I loved before to a virtually "remastered edition". You'll even hear all the little details in the songs that you've never heard before.
Blue Sadie Review – Packaging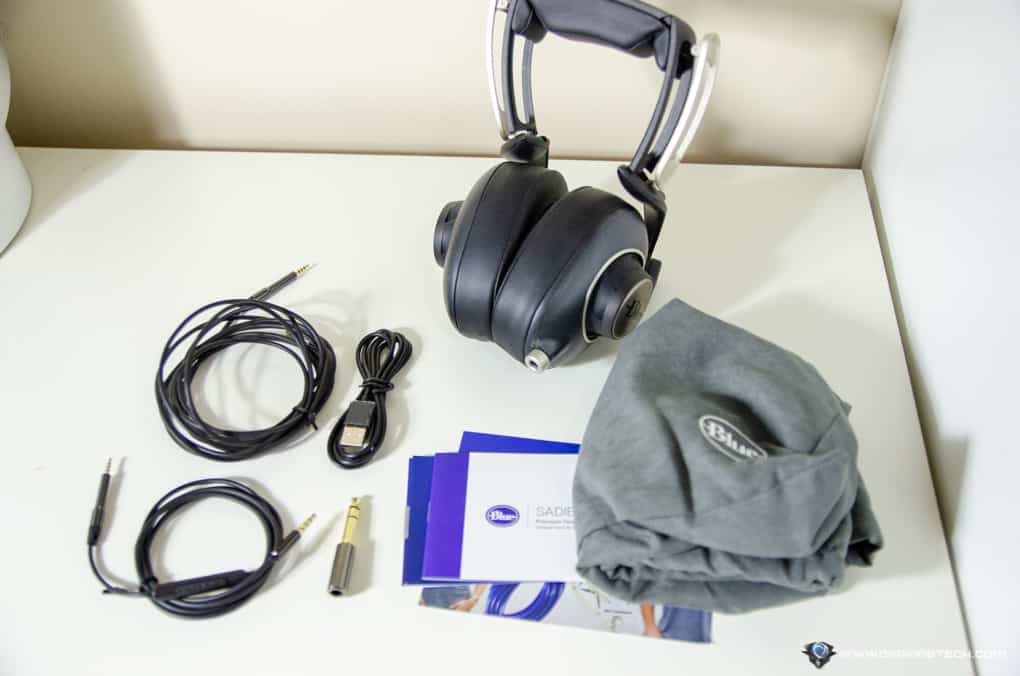 Unboxing the Sadie had been most satisfying due to the simplicity of packaging yet somehow revealing the Sadie as if you were looking at a display case. It includes a three meters long 3.5mm cable that can go all the way to the back of my PC on the floor, a 1.2 meter audio cable with controls for the iPhone/iPad + built-in microphone (you need a Lightning adapter though for newer Apple devices), and also a 3.5mm to 1/4″ adapter for those working in a studio or sound production.
Blue includes a nice soft case. It's not a hard case unfortunately but with the size of Sadie, I don't think it's viable.
Blue Sadie Review – Design & Features
Blue Sadie is a premium headphones with built-in audiophile amp (and this is for real, this time around). While many headphones claim they are made for the audiophiles because they've included an audiophile amp or DAC, the Sadie delivers everything that you'd expect to get, and more.
With the built-in audiophile amp and custom-matched 50mm dynamic drivers, Sadie will transform any audio input to a hi-fi system. Whether you connect Sadie to your laptop, mobile phone, or even to my more-than 5-years-old PC with a crappy onboard sound card, your music will get a huge upgrade in terms of clarity, purity, and quality.
Blue Sadie is definitely a premium headphones. You can see it, you can feel it. Made by metal frames with stellar design, the Blue Sadie is no way light. It weighs almost half a kilo and no way can be called compact. BUT! Once you wear Sadie, all these negative feelings fade away instantly.
The Sadie is surprisingly comfortable to wear (even though it's 444 grams in weight), most likely thanks to the ample amount of padding on the headband and on the ear cups. I've tried listening to music for a few hours and Sadie never felt like it's pressing hard against my ears or head. I also tested wearing glasses from EXYRA, and Sadie is still comfortable.
Sure, it's almost night and day between wearing something light like my Bose QC35 – which weighs almost half of Sadie. But after listening to what Sadie has to offer (literally), every doubt goes away.
Sadie can be used as it is (without the amp turned on), but I don't see the point switching the amp off unless of course when it runs out of battery. Yes, the built-in amp requires power and according to Blue, the amp will last for around 12 hours and can be fully charged in 3-4 hours. Sadie auto turns the amp off when you are not listening to anything (i.e no sound is playing) to save battery, which is good.
Thankfully, you can recharge while listening to your music with the amp on if you really need to.
There is also the "On+" mode which will do a Bass boost but it's unlike any headphone's "Bass boost" mode I've ever tried. It doesn't make the whole music feel bassy like others would have done, but it is as if someone with a mixer turns the Bass and drum kick channels up. As a result, you'll feel the Bass get thumpier and stronger yet without making the whole song muddier. I'm a Bass player and I love thumping Bass, but with Sadie, I'm almost always on the "On" mode due to how perfectly balanced everything is.
Blue Sadie Review – Listening Experience
I've never heard headphones that sound this good. I'm definitely not an audiophile so I've never been venturing into the super high-end, audiophiles-grade headphones before and can't compare Sadie with the other ones.
But listening to music with Sadie is addictive. This is probably the first time where I just want to listen to music all day. The built-in amplifier and drivers definitely pamper my ears with audio clarity and fidelity that I've never experienced before.
But to think that there are actually better audiophile-grade headphones out there like the Blue Ella with planar magnetic drivers (costs almost twice as Sadie), is scary. I really can't imagine how sound can even be better than this.
Music really comes to life and there were moments where I could get goosebumps from listening to some of my favourite vocalists. With Sadie, there is this urge to listen to all my favourite songs all over again just to experience them in a different way and to find the little details I might miss.
Listening to music with Sadie never gets tiring (the feel that you often get when listening with average headphones after a period of time) and you can even start identifying when a recording is not of good quality.
There is no active noise cancelling in Sadie, but it has a really good passive noise isolation. So good that I could not hear anything else once I turned the music on (even when people are talking to me). And this is the dilemma.
With Sadie, I want to listen to music all day but with such excellent passive noise isolation and audio quality, I know I can't wear it all day while at work and I'm too scared to wear it while commuting to/from work. Sadie is both a blessing and a curse.
You can use Sadie on the plane and you definitely don't need active noise cancelling headphones.
Blue Sadie Review – Conclusion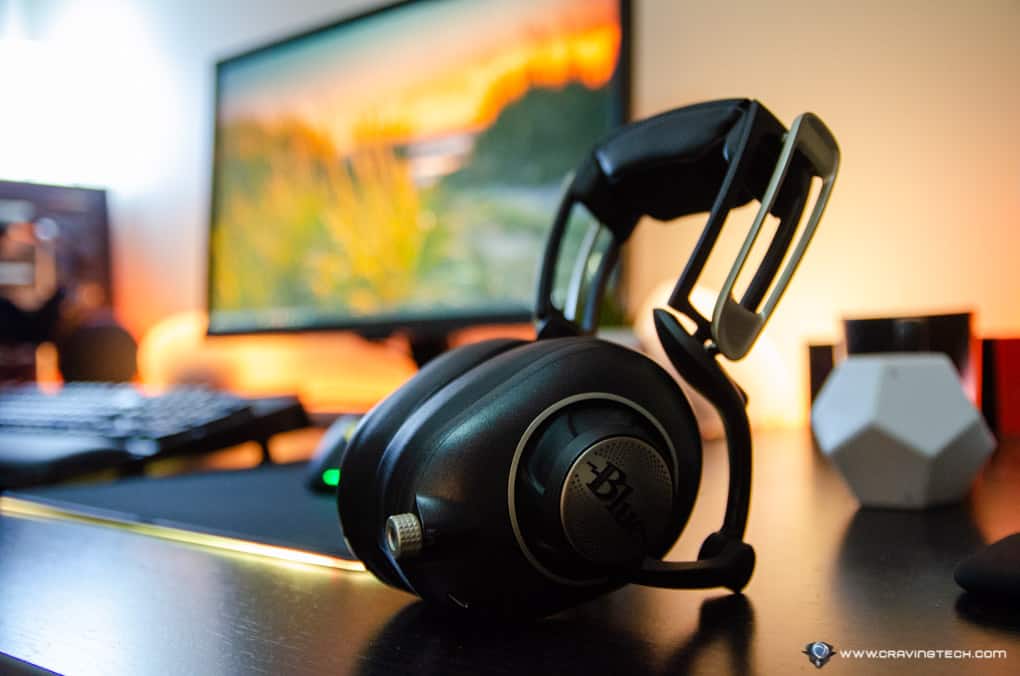 Blue Sadie has definitely converted me into an audiophile. And I have to apologise to say this word very lightly, because I'm far from it. I know I won't be getting a vinyl with audiophile-grade bookshelf speakers, or debating between different audiophile-grade DACs and Amps, but I can certainly appreciate now what these audio enthusiasts are talking about and why people would want to spend thousands of dollars to get the best sound.
I let Sadie to a group of people from different backgrounds and here were their responses. One literally had a jaw-dropping moment when he pressed the Play button, one nodded his head repeatedly in affirmation, one was contemplating to upgrade from his Bowers & Wilkins headphones to Sadie for a few days, and another posted to her Instagram story about Sadie instantly.
Blue Sadie is nowhere cheap and not for an average Joe. At around A$700 RRP, it's definitely tailored to those who are serious in getting an upgrade to their music listening experience or who values premium sound quality.
Even if you are not an audiophile or nowhere near, you will be taken to a whole new level of ears pampering by Sadie due to the high fidelity and all the details you can experience in all songs of all genre.

I don't care that Sadie is heavier than the other headphones I have. I don't care that Sadie is bulky to carry. I don't care that Sadie has to be recharged every now and then. With music sounds this good, nothing else matters.
Sadie is highly addictive. It makes me want to listen to music all day but I know I can't. It'd shut me and take me to another world while listening to my music and I can't do that while at work or while commuting.
The only problem is, with music sounds this good, it will now be a challenge to listen to other, more inferior headphones. And to realise that there are still better audiophile-grade headphones out there like the Blue Ella, scares me deeply (even scarier than watching horror movies – okay this is an exaggeration).
Oh, Sadie.. you are both a blessing and a curse. Would I recommend getting the Sadie if you have the money? Well, haven't you been reading my review?
Disclosure: Blue Sadie review sample was supplied for reviewing but all opinions are mine and not paid