Like to frantically wipe your iPhone, iPad, or iPod Touch screen with your fingers? If you are a fan of Veggie Samurai, Fruit Samurai, and all other finger-slashes games, you are up for a treat with Zombie Samurai from Alawar Entertainment, Inc.
This is a fresh breeze from their similarly alike games like the Hotel Mogul and Vacation Mogul, bringing a new style of games into their iOS games collections.
In Zombie Samurai, you will be playing as a young bearded Samurai who swears to defend his dojo til his last breath from these waves of endless zombies.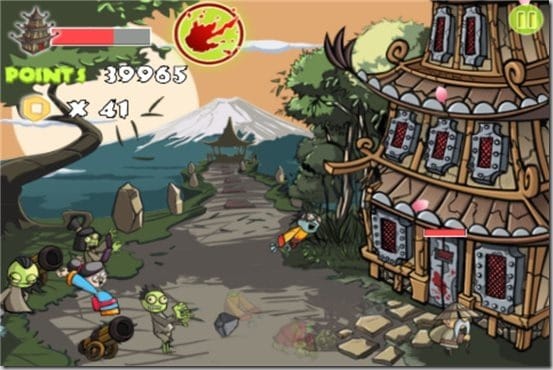 The graphics are really nice and artistic, adding some unique personalities and touches with different looking zombies who will attack you from everywhere, even by air! The environment stays the same though it was being made quite beautifully here. On my iPad 2's bigger screen, it looks even better, thanks to Zombie Samurai HD version for the iPad.
You kill the zombies by slashing them with your fingers on your iOS device's screen. Zombies get beheaded and chopped, depending on how you slash them. Of course, if you chop their legs, they would still crawl into your dojo mindlessly. So chopping them with a few slashes is always recommended.
Beware though, as there are survivors as well among the horde so you have to be careful not to accidentally kill these poor fellas!
Chopping the zombies a few times continuously and letting the survivors into your dojo earn you coins. These coins can then be used to upgrade your dojo, such as adding barricades and a few other fancy defenses like the moat here:
These extra defenses are pretty expensive and when I played the game, I could barely manage between repairing my dojo and getting the upgrades. You can always buy more coins with extra real money in-game, but I don't really see a point of doing one unless you are really desperate. There is no multiplayer element or anything here, either, to justify such an expense.
The defenses also have their limit of use so in no time, you'll have to rely on your, um…samurai-finger style you learnt from your master.
Zombies are varied from ordinary walking zombies into ones riding motorcycles and even hot air balloons. The one carrying the dynamite is the one that keeps you on toes because if you slash him wrongly, everything on the screen blows and it gives your dojo an extra chunk of damage.
In the end, playing Zombie Samurai is fun, especially on the bigger iPad screen. It's a clever design to combine finger slashing with a little bit of role playing. Unfortunately, there is no story element and you don't really see much progression apart from getting new type of zombies. It would probably make it more fun to have cheaper and more variety of defenses too to keep the game away from boring finger-slashing all the time.
However, at $0.99 price, it's a little bit unfair to try to squeeze more out of this fun game after all!
Zombie Sam HD – Eye Interactive, Inc.
Note: Zombie Samurai review license was provided for this review
Zombie Samurai Review – Pros
+ Fun, though gets more frustrating towards the end :)
+ Unique game style
+ Beautiful graphics
+ Up to 15 different zombies in the game
+ Hard challenge as you can't just slash every moving thing in this game
Zombie Samurai Review – Cons
– No storyline
– Not enough of role playing elements to keep it exciting
– Hard to earn coins unless if you buy it in game