Work. Together. Anywhere. That's a new service by Adobe at Acrobat.com, still in Beta (what's with this "Beta" tag everywhere, these days?)
The new online Acrobat currently has 5 different services:
Adobe Buzzword
Adobe ConnectNow
Create PDF
Share
My Files
Sign up is required (name, email, and password only) and also Flash Player 9 to be installed on your system (browser). No fuzz here.
Acrobat.com is heavily developed in Flash (or Flex?), so the interface is intuitive and seamless. Some may hate it but personally (since I've been a Flash Actionscript developer for several years), I like it a lot. Interface may not be everything, but honestly, a good intuitive interface will affect the way you see and use an application.
Each service in Acrobat.com is related to one another. So if you create some documents on Adobe Buzzword, you can use the "Create PDF" service to convert all of them at once to PDF files. If you go to Share, you can then select multiple files that you've just created (or from your own computer) and then share the permissions to some of your friends or co-workers using a drag-and-drop Flash-style.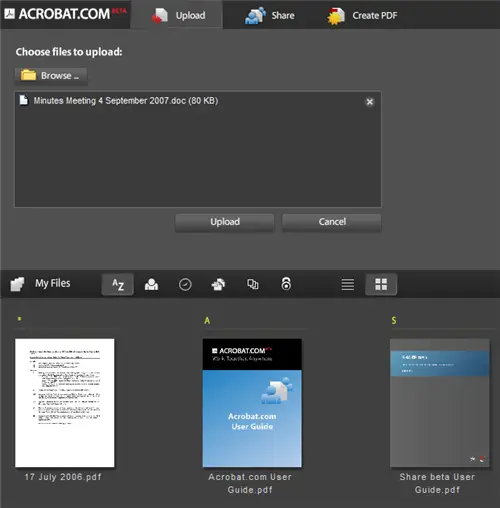 The interface is kept the same throughout each service, which is good. However at times, you'll have trouble finding how to exit from a service to go to the other ones. Sometimes you just have to re-type acrobat.com again on your browser's URL to exit from a service. A universal "Close" or "Exit" button is a welcome change.
Acrobat.com is worth having a look because:
Allows you to convert your files to PDF free online
Allows you to embed your document straight to your website! (not the link but the actual document in which your readers can interact with it!)
Share your documents and files (although we've got a lot of this service already out there)
Design your document wherever you are, without using OpenOffice or Microsoft Word
Make changes to your document, together, live! (using the Adobe ConnectNow). It's a nice Microsoft NetMeeting alternative!
That's it for now. In order to make my posts as concise as possible, I'll try to take a look at these services one by one and post my personal review/impression on separate posts. I've already had a look briefly on each service and man, they are awesome!!
Work. Together. Online. They've got it right at Acrobat.com!
Are you interested to see me post an impression of each service one by one in the future, though?