Withings Body Cardio Review – Withings Body Cardio is a smart scale that doesn't just measure your body weight, but also your heart health with its heart rate and vascular age check up.
The product was developed with cardiologists and got several validation studies conducted at renowned hospitals in the EU and the U.S so this is definitely a real deal.
Withings Body Cardio Packaging Contents
Simple packaging contents here, which is nice. A microUSB charging cable is included (yup, no more replacing batteries).
Withings Body Cardio Review – Setup
Setup is very simple as it will connect to your home Wi-Fi with the help of Withings Health Mate app. It was able to pick up my profiles that I set up on the app before too.
You can also choose what to show on the scale's screen.
Withings Body Cardio Review – Design & Features
The new Body Cardio has a similar design to the previous generation, Withings Body+ smart scale. However, this time, the body scale is rechargeable compared to using four AAA batteries. I definitely prefer this new design approach as I never like having to purchase batteries and keep replacing them in the long run.
The Body Cardio has a full glass looks with advanced sensors located underneath the surface. A small LCD display will let you know of your measurements and the display is nice and bright, easy to see. To save battery, the display automatically goes to sleep after each measurement and wakes up almost instantly the moment you step your feet on it.
The new feet design on the Body Cardio and its weight (it's much heavier than the previous model) somehow makes it very useable on our house's carpet with around ±0.1kg accuracy. Previous Body+ scale model couldn't properly work on our thick carpet even when using the included carpet feet. Really happy here.
With automatic user recognition, the unit can detect up to 8 different family members. In my experience, it works great assuming you don't share a very similar weight to another family member. Unknown measurements can thankfully be reassigned to a user profile later within the Health Mate app.
Based on your age and through Pulse Wave Velocity (PWV) and measurements on the Body Cardio, you can check and monitor your current vascular age. PWV measures the time it takes blood to go from your heart to your feet and this way, Withings Body Cardio can take a measurement and compare it to your age (assuming you've set it correctly from the app).
So if you've been living an unhealthy life and habits, this is a great tool to motivate you to change but also to monitor your progress.
To keep things simple, The Body Scale only shows the summary (e.g "Normal") on the scale's display but there's a score rating and more info that you can access from the app. Heart rate is also measured and displayed beforehand. I do find that occasionally, the scale couldn't somewhat get my heartrate reading (and therefore, the cardiovascular age) so I had to step off and on again.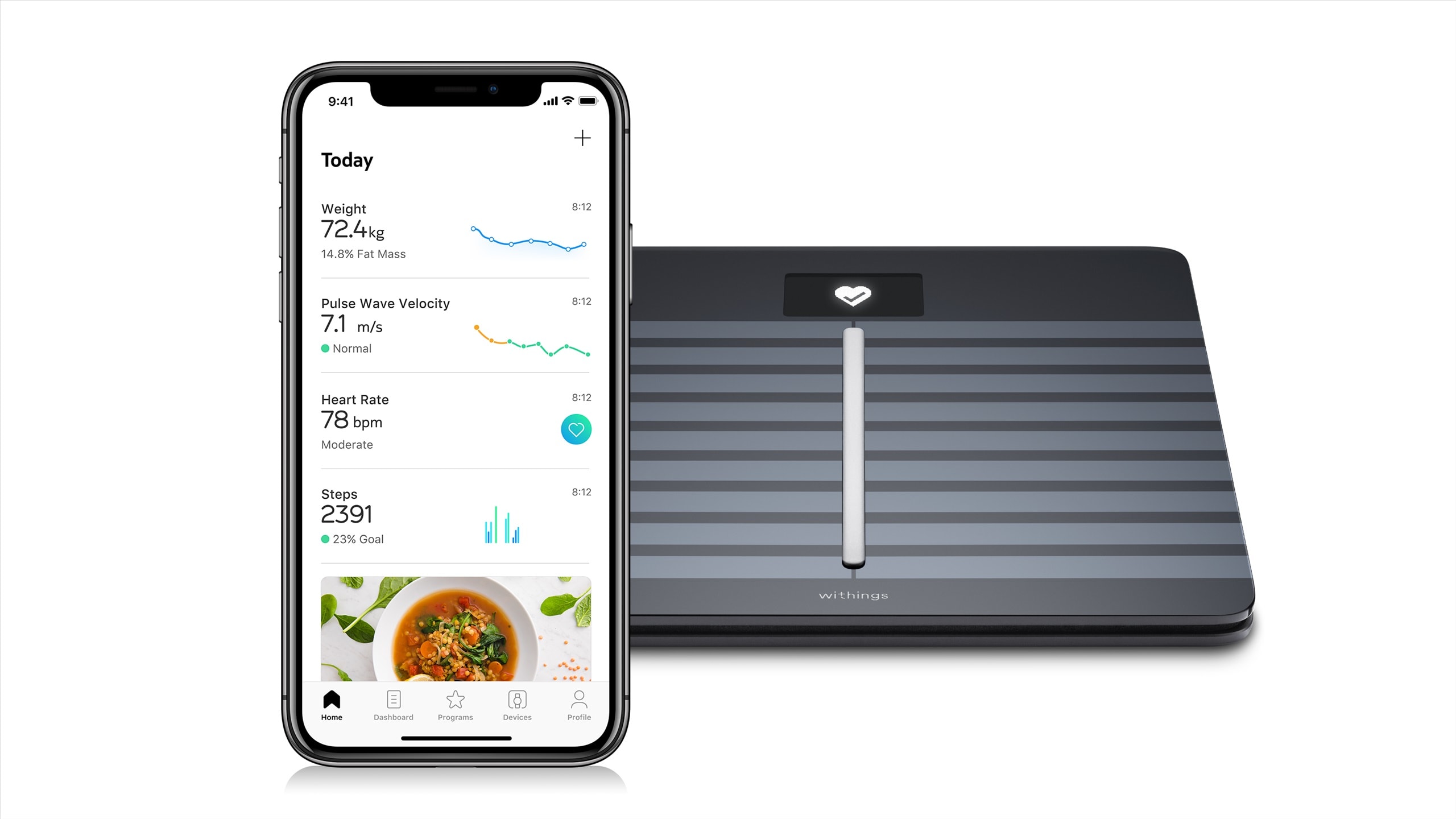 Apart from these new features, Withings Body Cardio has similar features to the previous model with full body composition analysis, storing your weight trends and goal progress, and more. It can also be connected to more than 100 other apps, including Fitbit. There is also a weather forecast if you like to weigh yourself first thing in the morning and check the weather simultaneously.
I also always like their "Baby mode" where I can use the scale to weigh our newborn (he's 1 year old now) and check his progress throughout the year. I normally step on the scale first, step down, and then step back again with my son. The Body Cardio automatically detects and saves the weight to my son's profile instead of mine.
According to Withings, the scale has around 1 year battery life, which of course depends on how often you use it. But it's easily rechargeable, so no complains here at all.
Withings Body Cardio Review Conclusion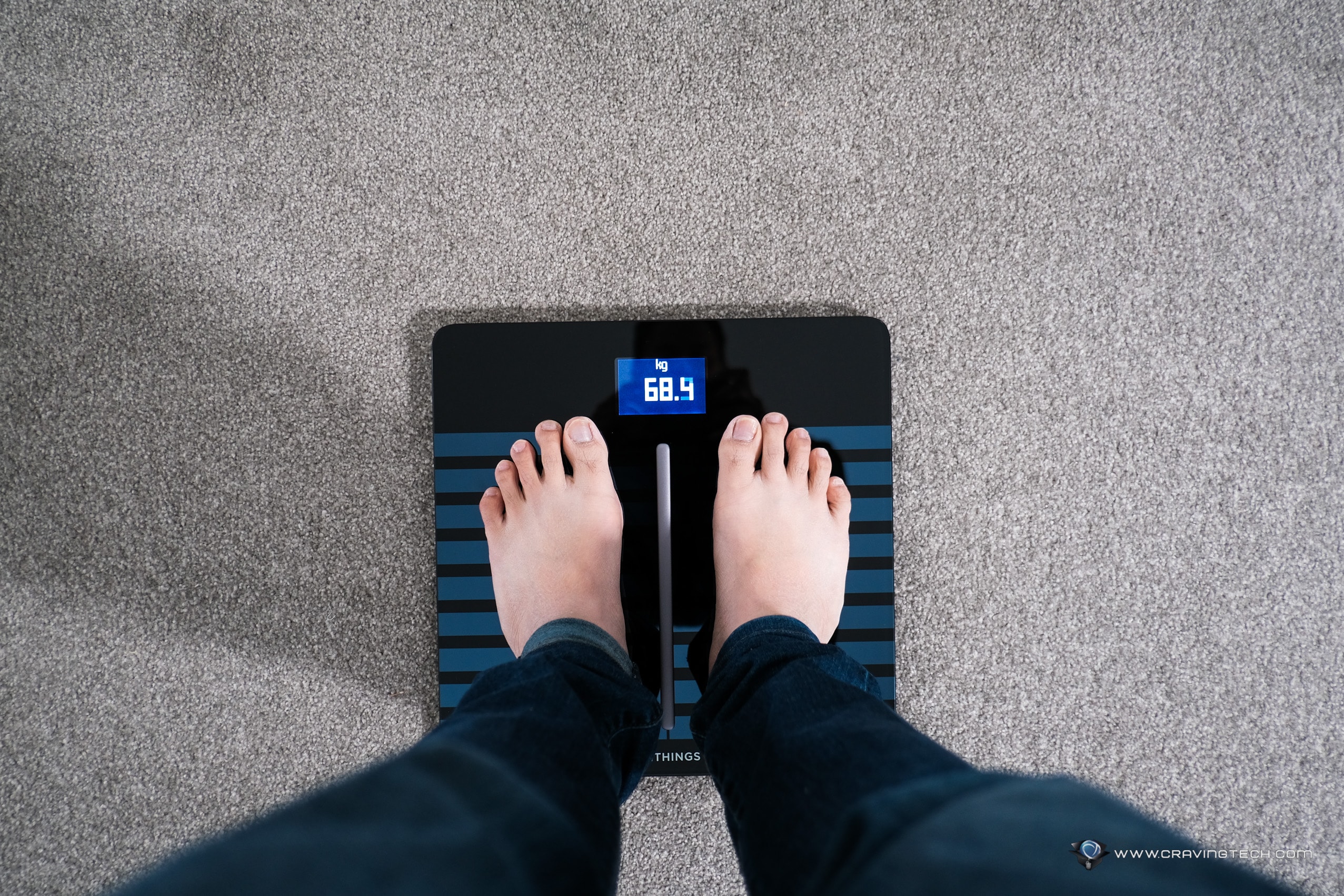 Withings Body Cardio is a premium scale that doesn't just measure your weight, but also your body composition and more importantly, your vascular age. All these are monitored and synced on the Health Mate app from Withings, so you can always check your progress throughout the weeks, months, and years.
And if you have other Withings products like the Withings ScanWatch, Steel HR Sport, or BPM Connect (Smart Blood Pressure Monitor), you will be able to see all your health stats and healthy habits making progress on the app dashboard at the same time. Really nifty integration from Withings here.
At A$249 (JB Hi-Fi), this is not a cheap body weight scale so if you don't really care about the cardiovascular check or need to monitor your progress, there are obviously many other cheaper body scales out there. But if you are serious about monitoring your health and what Withings offers interest you, definitely check this one out.
Disclosure: Withings Body Scale review sample was supplied for reviewing
Withings Body Scale Review
Summary
Smart scale from Withings that can now do a cardiovascular check
Pros
Sturdy design, now works on thick carpets
Rechargeable with up to 1 year battery life
Measures full body composition, heart rate, and vascular age
Great integration with other Withings products and third party apps
Cons
Heart rate and cardiovascular check sometimes can't get a good reading and you have to re-do
microUSB charging
An expensive scale if you don't care about monitoring and other goodies it has to offer