Withings Body+ Review – If you think a body scale is, well, just an object to step on to measure your current weight at any given time, then you are still living in dark ages. Because hey, built-in intelligence (AI), wireless connectivity, and apps are the trends now, right?
What can a smart body scale do though? Apparently, quite plenty if you are really serious in keeping track of your body fitness and want to measure more than just your weight. Withings Body+ can measure & calculate your bone mass, fat mass, muscle mass, and even your body water level.
Packaging
Design & Features
Thanks to these readings, you can take further goals to improve your health or even to be fitter by gaining more muscles. On every weigh in, the Body+ will save your current readings so that you can compare it with your past readings. This allows you to see your progress through the Withings Health Mate app.
Registering an account is worth the hassle because you can check all your health stats in a single app, rather than having to take notes or put it in a separate fitness & health app manually.
You can also share the scale with your family and the Body+ is smart enough to guess who is it on the scale and then assigns it to the user profile automatically. This is assuming you don't have someone in your household with a similar weight though, as the Body+ can get confused between the two.
I shared mine with my wife (we are a few kilograms apart) and so far the scale has always been good in knowing who it is on the scale. Up to 8 users can be recognised automatically and have their own data synced and tracked. There is also manual signing if the scale gets it wrong and you can assign the current reading to the correct user, so no big deal there.
There is even Baby mode, which is great for us with our 2-months-old newborn son as we have to keep track of his weight progress throughout the month. You can also display today's weather while it displays your measurement but eh, who cares.
While it's cool to be able to see all these readings and body data, many would probably not know what to do with these. Am I healthy? What do these readings mean for me? Thankfully, Withings help pages (and within the app) will tell you what these readings actually mean for you.
These readings are not just out of the blue, though. Withings Body+ uses Bioelectrical impedance analysis (BIA) method by sending a tiny current to measure your impedance which then be calculated to estimate the total body water (TBW), which can then be used to estimate your lean body mass. It's definitely better than recording every little thing you do manually, like drinking a glass of water.
I find that the weight readings are inaccurate when the scale is placed on our carpets, despite using the carpet feet included in the packaging. I suspect that it's because our carpets are thick and quite fluffy, but once we place the scale on the bathroom tiles, all is well.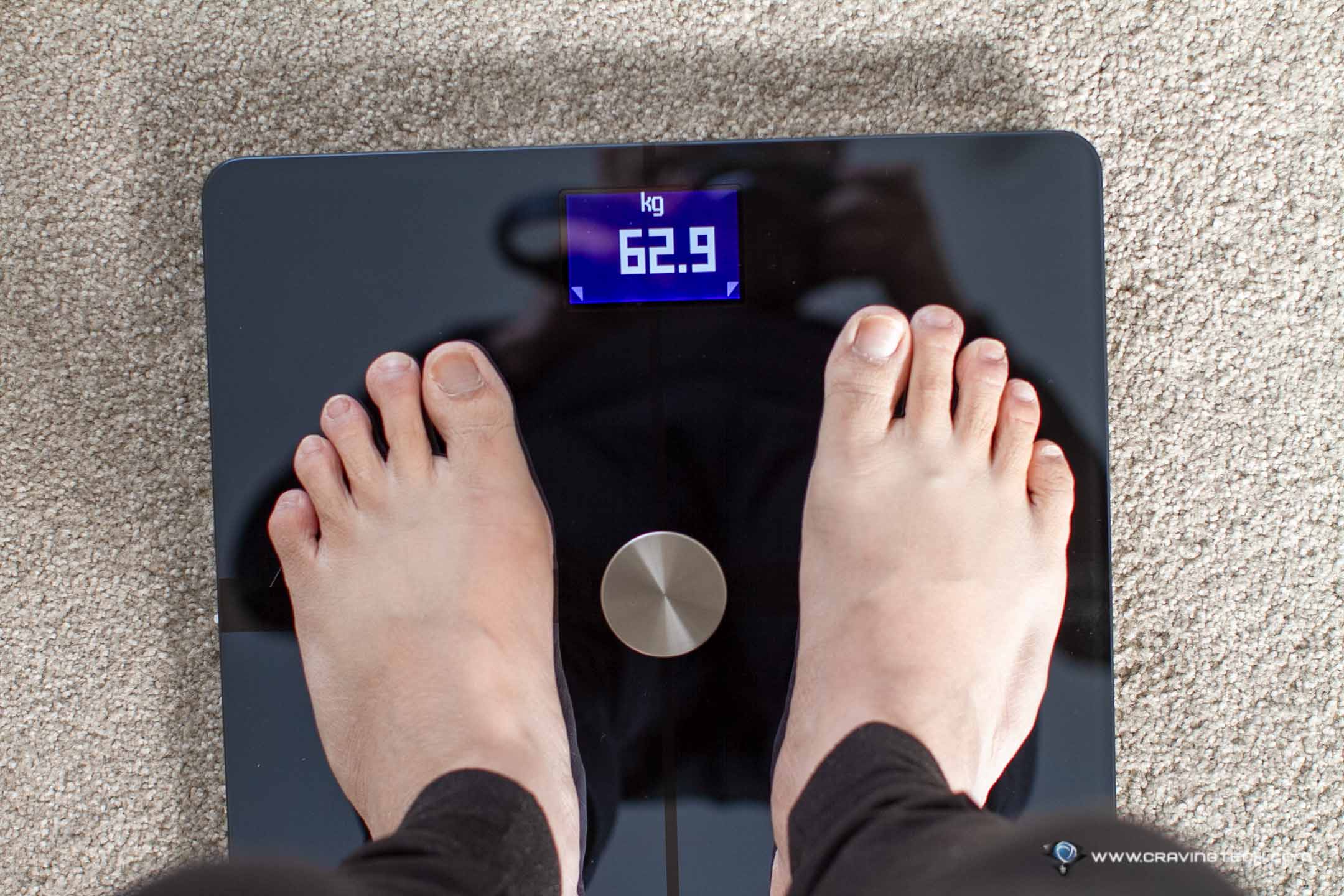 Withings Body+ Review Conclusion
Withings Body+ doesn't just measure weight, but also your body composition which includes fat mass, muscle mass, bone mass, and your body's water level. You can also set weekly goals which is great for someone like my wife who wants to set a weight goal after giving birth.
All the readings can be seen directly on the Body+ scale screen but also recorded automatically to the Health Mate app. You can easily track your progress and see all of your health data in the app. Plus, if you have other Withings devices like the Steel HR Sport watch and BPM Connect (Blood Pressure Monitor), you can see everything under a single app and dashboard as the whole package.
Withings Body+ smart scale has a nice and modern, glass design too. Its display is bright, and the automated wireless syncing and multiple user detection make it an easy-to-use scale. It's powered by four AAA batteries which can last around 18 months, according to Withings.
Retailing at A$179 (JB Hi-Fi & Harvey Norman), it's definitely not a cheap, body weight scale. But if you want a smart scale that doesn't just show your current body weight, Withings Body+ will give you all the stats you need to keep fit and motivation to fulfill your goals.
Disclosure: Withings Body+ review sample was supplied for reviewing but all opinions are mine and not paid
Withings Body+ Review
Pros
Sleek glass, modern design
Easy to use
Support multiple user profiles and auto-user detection
Precise weight measurement
Monitors many things, not just weight
Great integration with the app with stats, progress, etc
Seamless auto wireless syncing
Cons
Doesn't work on all types of carpets
Not worth getting if you just want to measure your weight