Tt eSPORTS Level 10 M Gaming Headset Review – The Level 10 M family (includes the Level 10 M gaming mouse I reviewed in the past), is a high-end result of a collaboration between Thermaltake Tt eSPORTS and BMW (yes, the car manufacturer) DesignworksUSA.
Hardcore gamers care about the looks of their toys (not just its core functions) so the Level 10 M promises beautiful craftsmanship and design, without compromising any other core qualities.
Does the Tt eSPORTS Level 10 M gaming headset perform well as much as it looks? Let's have a closer look.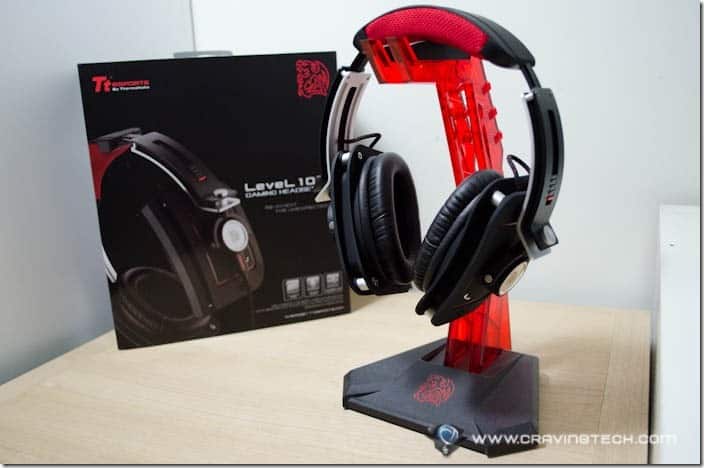 Tt eSPORTS Level 10 M Gaming Headset Unboxing Video
Tt eSPORTS Level 10 M Gaming Headset Review – Packaging
It comes with 2 separate cable connectors; one to plug the headset into your PC and the other to any device with the standard 3.5mm audio jack. A solid, luxurious look-and-feel silver volume controller and mic mute/unmute switch lies in one of the cable connector.
Tt eSPORTS Level 10 M Gaming Headset Review – Design
When I first saw the press release and pictures of the Level 10 M headset, I wasn't sure how the product looks in general. I found the square-y design (or more like a "D", actually) on the ear cups a bit weird and that it might look funny when you wear it. In real life, however, the headset actually looks so much better and sleek in every angle. It moves away from the traditional, old, boring, design of traditional headsets.
Mixed with an excellent color combination of red, black, and silver, the Level 10 M Diamond Black version is as good as it can be. There is also the Iron White version, but I personally prefer the contrast look in the Diamond Black.
It's clear how much effort the team has put into designing the headset. Every material, every piece, and every color on every inch is well thought out. Again, the contrast of the black, red, and silver are striking and appearing on the right spots. The exposed, braided, wire also adds a nice touch into the mix.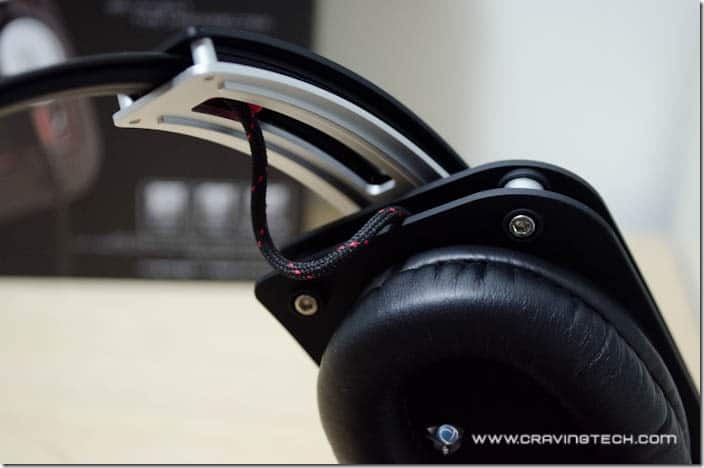 A unique twist has been placed into the peripheral and that is the ability to plug the connector cable (yes, it's detachable) into the right or left ear cup. Why does this matter? Well, everyone has a different desktop set-up and preference. In my case, I have my machine on my right, lying under the table. Some may have it on the left. By having the option to switch the cable around, you'll never experience the annoyance of having a dangling cable making a friction with your chin. It's a simple design decision that makes a difference.
The Omni-directional microphone design is made as if it is part of the ear cup's shape, which I like, because it blends really well. It is also flexible.
The headband has a soft padding on the top and can be adjusted + locked once you've found the perfect fit for your head. The leather-covered ear cups also give a good noise isolation and comfort.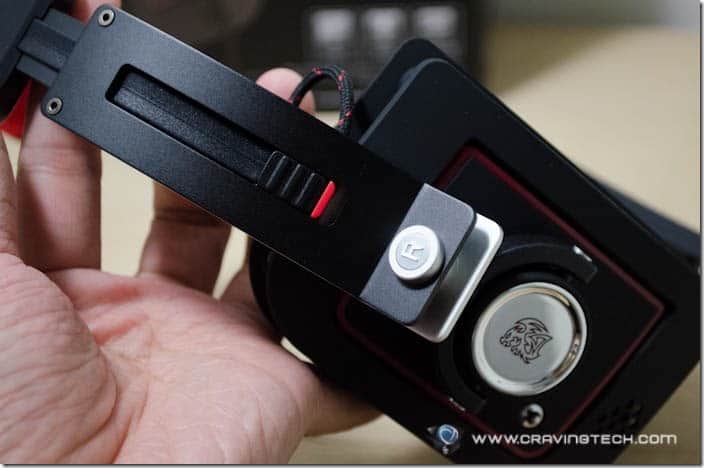 Overall, the Level 10 M Diamond Black has a top-notch design and is worthy to be praised in every angle!
Tt eSPORTS Level 10 M Gaming Headset Review – Features
But what good is a gaming headset if it's only for the looks? Thankfully, the sound department of the headset is not disappointing either – for both music listening and gaming experience. I find that the headset sounds great and has a really good sound separation. I can hear every instruments being played and the sound is crystal clear.
The Level 10 M headset is flat and balanced, meaning you will appreciate the natural sound at the expense of having a strong bass. Though it can still be heard, you may be disappointed if what you are after is a headset with a bass boost from the manufacturer.
The headset can also be used in a non-PC setup. A separate 3.5mm cable is provided to use the headset for mobile gaming or listening to music on-the-go. This way, you actually get a double value for buying this headset. I was quite surprised how big of a difference it makes to play Clash of Clans and Battlefield 4 Commander on my iPad Air with the headset on. The music, especially, really feels like it has been recorded in a studio.
Gaming Experience
Without the lack of that deep, bass, the sound of a tank explodes next to you in Battlefield 4 is a bit disappointing. However, thanks to the flat and balanced frequency response, you will be able to hear more sound without being overwhelmed by the lower frequency.
In fact, after wearing the Level 10 M headset, I have a better awareness of what's happening around me – such as the footsteps around me when I'm, ahem, camping with my sniper rifle and a sneaky dude tries to knife me from behind. Alarm cars and certain environmental sound also make a difference now to pinpoint where your enemies are without looking at your radar.
I personally prefer boomy explosions and bassy sound when I empty my clip out, but I guess it's a matter of personal preference.
Music listening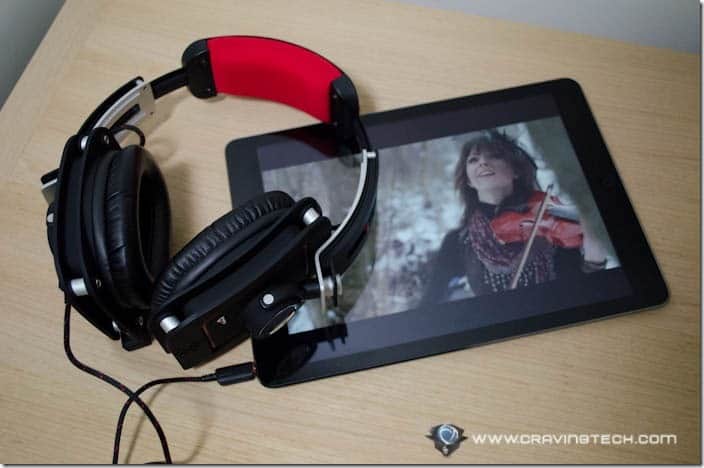 The Level 10 M headset shines for music listening, thanks to the balanced frequency response. Every vocal and musical instrument feels like they are complementing each other and not fighting for one another. Probably not the best headset if you want a heavy and strong bass presence, but you'll immerse yourself in the music you are listening to.
Tt eSPORTS Level 10 M Gaming Headset Review Conclusion
The Level 10 M Gaming Headset is one of the best, well-designed, headphones out there. Every inch, every angle, has been well thought out; its color, material, and also small design decisions that make a difference. The headset is made of sturdy, lightweight, aluminium material and comfortable to wear for hours.
It is not made for those who want boomy bass for their music listening and gaming experience, but you will appreciate the flat, balanced, frequency response as instruments come to live and you can hear every single sound from your games or songs in natural manner.
If you already have the Level 10 M gaming mouse, then this will also make a perfect pair and should not be missed! I really hope that a Level 10 M mechanical keyboard is next.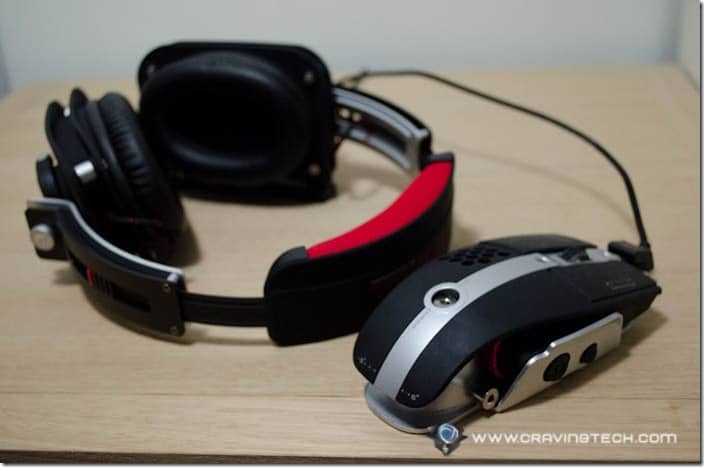 [AMAZONPRODUCTS asin="B00FR8DQD8″]
Disclosure: Tt eSPORTS Level 10 M gaming headset was sponsored for the review