Redkey F10 Review – While there are already many cordless vacuum cleaners in the market at the moment, the Redkey F10 has a unique feature that most others don't have: foldable design. It's definitely designed for ergonomics, especially to clean harder-to-reach areas like below the couch or your bed.
But before we get into that, let's take a closer look on the design and what else it can do.
Redkey F10 Review – Unboxing & Packaging Contents
The packaging includes a wall-mounted charging option which is nice, but you can also detach the battery from the unit and charge it with a cable. You'll also get a couple more attachments within the box.
Redkey F10 Review – Design & Features
Redkey F10 comes in Black colour theme with modern look and feel. All parts are easy to disassemble and assemble, great for easy cleaning and when you need to switch attachments quickly. The roller brush is easily removed should you need to clean it from tangled hair and such as well.
The 2,500mAh battery can be changed easily with just a button click and you can purchase an extra battery if you like so you can "extend" the battery life of the vacuum cleaner (by swapping batteries out during a cleaning session). According to Redkey, the charging time is around 5 hours and battery can last up to 60 minutes of continuous use in standard mode, or 8 minutes in high-performance mode.
There are 5 different cleaning stages or modes and the machine can smartly adjust the suction gear depending on how much dust are on the floor. This makes it a breeze to clean and with automatic adjustment, the machine can efficiently save battery as needed.
The dust cup is 0.6 litre which is alright for small houses and apartments but for bigger houses, you may have to do the round trip to your bigger bin to throw the dust and dirt out.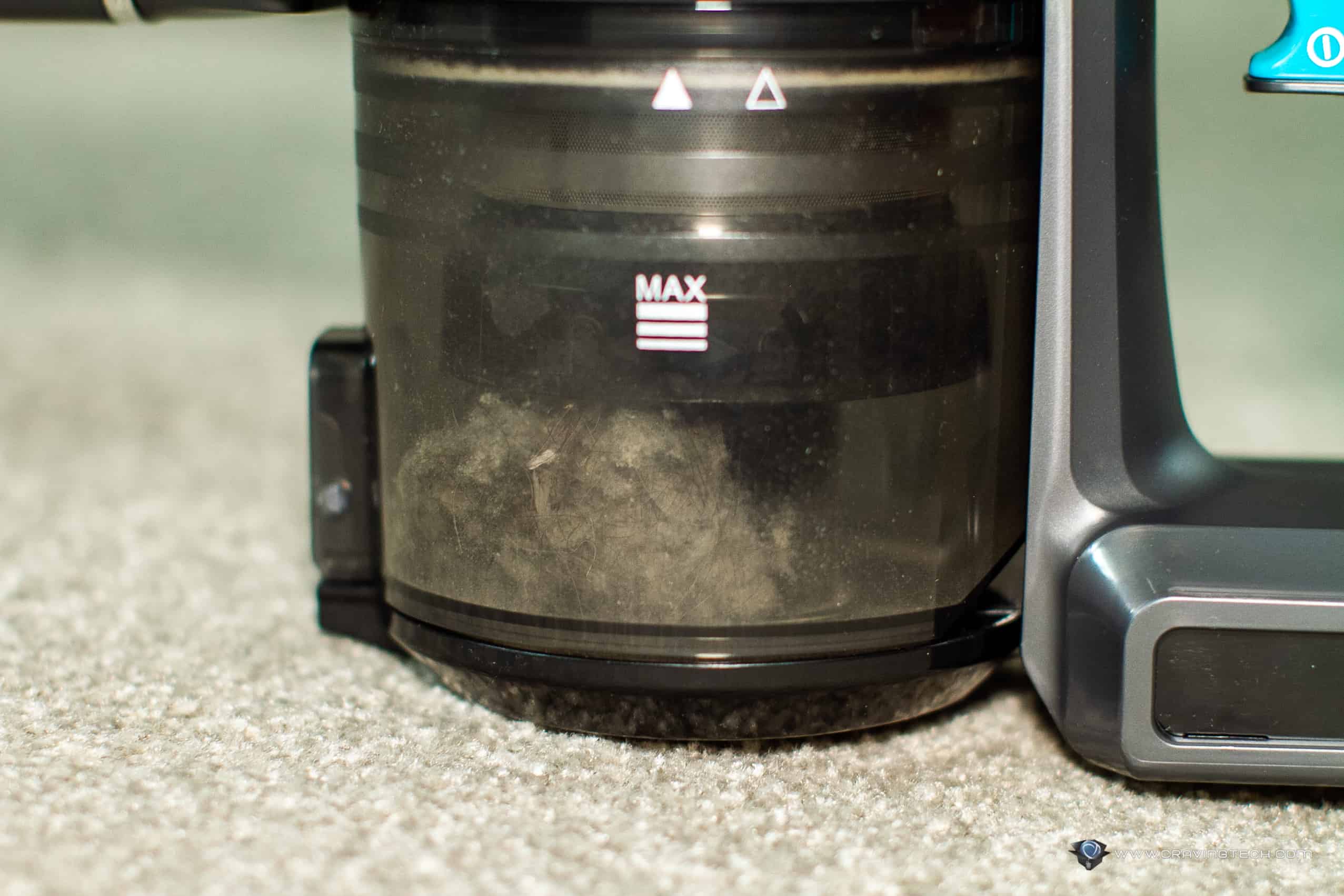 Redkey F10 Review – Vacuuming Experience
As mentioned on the early paragraph, Redkey F10 has a unique, foldable wand so you don't need to bend down when you are vacuuming harder-to-reach areas like under the sofa or bed. With just a press of a button, the wand is made flexible (you can see the exposed hose) and you can start wiggling your way around the area to vacuum.
Afterwards, just straighten the wand back and it will clasp like before, which is a great design and mechanism. While the wand is flexible, steering the machine requires some finesse as you can feel the weight dragging you down but I'm surprised to find how useful and handy the foldable/flexible wand is.
Overall, the machine feels lightweight and highly manoeuvrable. I find the little wheels on the brush head actually help with the operation and I wish many other cordless vacuum cleaners have them as well!
The buttons to adjust the speed are reachable at all times, including the Auto button. I do wish the Auto mode is the default mode (or can be set as the default) because I have to press that each time I start my vacuuming session. Though I realise that the Auto mode feels less aggressive (probably to save battery life) so whenever I vacuum the carpeted area (the first floor of our house), I manually adjust the suction power to high.
There is a low battery indicator both on the screen and on the battery LED itself.
The dust refracting lamp is quite useful when you are vacuuming in low lit places but unlike the ROIDMI X30 Pro, the light is on all the time (i.e it doesn't have a light sensor to turn it on only when needed).
Redkey F10 Review Conclusion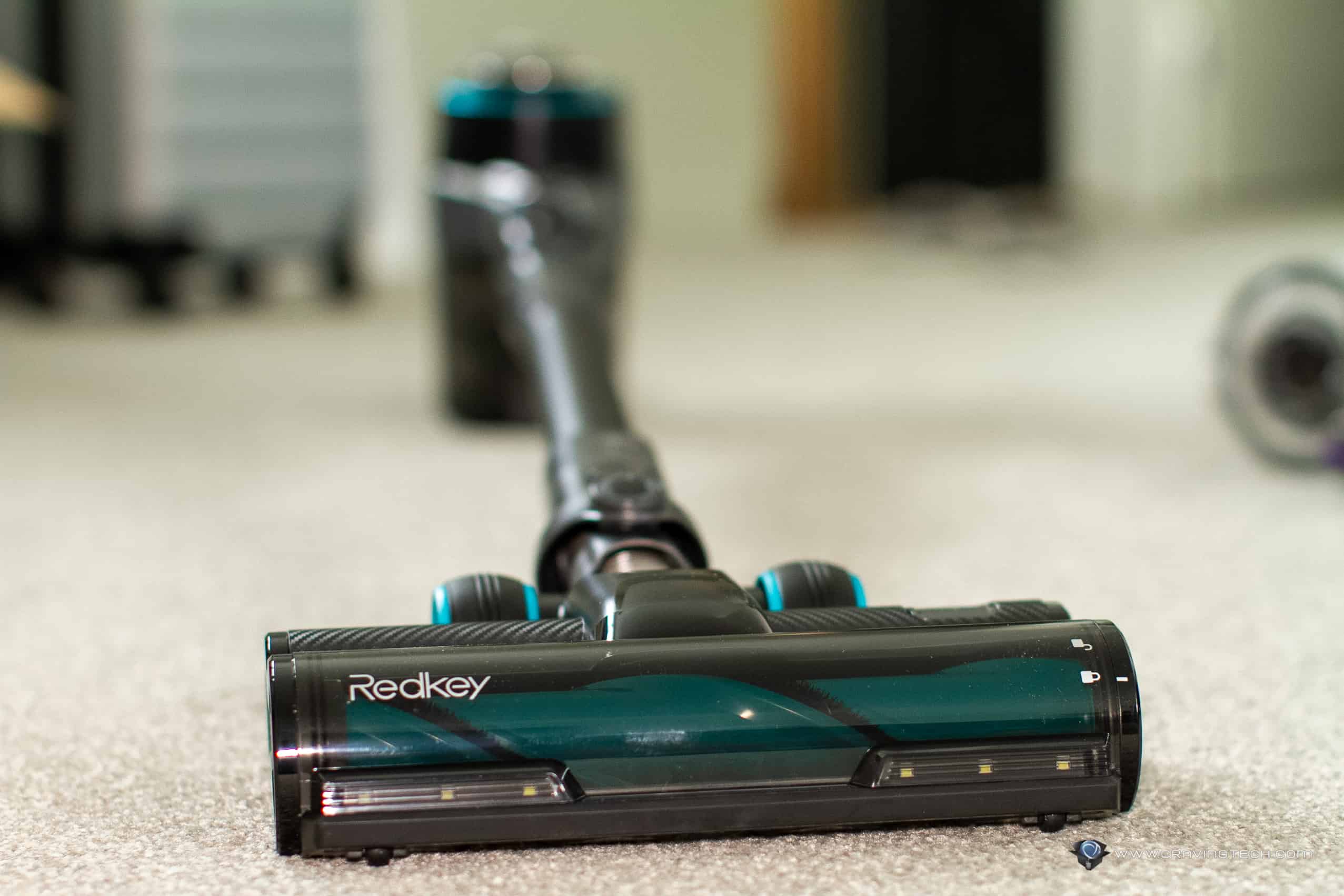 Redkey F10 is a unique cordless vacuum cleaner with foldable/flexible wand design that allows you to clean underneath your sofa, bed, or places where you normally have to bend down or squat to clean. With just the press of a button, the normally-stiff wand becomes flexible so you can just wiggle it around to clean those hard-to-reach places. It's great for those who suffer lower back pain or injuries.
The machine is manoeuvrable and feels more lightweight compared to the Dyson V15. There are also buttons all around the machine that you can press to easily detach and attach things like the battery or the included attachments. Unlike Dyson machines, you don't need to press and hold the trigger continuously while vacuuming. This makes it so much easier to operate the machine.
It doesn't have fancy touch-screen LEDs, particles count, other smart features or comes with plenty of attachments, but Redkey F10 is a formidable cordless vacuum cleaner to have at home. Redkey F10 retails for $189.99 and available at Amazon.
Disclosure: Redkey F10 review unit was supplied for reviewing
Redkey F10 Review
Summary
A unique, cordless vacuum cleaner with foldable design and easy to manoeuvre
Pros
Unique, foldable/flexible wand, great for those with lower back pain or if you don't want to squat to clean below the sofa and bed
Easy to manoeuvre
Easy to release buttons for attachments, battery, and bin
Capture dirt, dust, and hair nicely
Detachable battery
Cons
Bin size is a bit small for bigger house
Battery life is not that great if you use higher suction power
Only have two extra attachments in the packaging
Auto mode needs to be more aggressive on carpet to suck more dirt and dust
Brush head light is always on