Thinkware F800PRO Dash Cam Review – Accidents are bound to happen, whether you like it or not. Driving safely does not guarantee you to be "accident-free" because at times, it can be the other driver's fault. When arguments happen and it's your word against his/her, it can be hard to prove who's at fault.
Here's how a Dash Cam like the Thinkware F800PRO comes into play. It offers real evidence your insurance company needs to evaluate who's at fault and hopefully the odds are in your favour.
Thinkware F800PRO Review – Packaging
Thinkware F800PRO Review – Design & Features
Thinkware F800PRO dash cam has a flat design which sticks well on your car's windshield and does not attract attention due to its compactness. Compared to a Navman's dashcam, for example, it does not have a see-through LCD that you can look at while you're driving but to be honest, it's not necessary to have one. The F800PRO is also slimmer than the Thinkware F770 that I used and reviewed in the past.
It does not use a windshield mount solution which I actually prefer for an easier installation. But the reason Thinkware uses adhesive solution is for safety reasons when accident happens (i.e a mounted device on the windscreen can fall off or worst, hits you in your face).
Some features, like manual recording, can be accessed directly on the device's main buttons. The manual recording button is my favourite because once pressed, it allows you to store a recording from what happened 10 seconds prior, plus another 50 seconds of what would happen after. For example, when you see an accident happening or a beautiful scenery, you can quickly press that button to record the moment.
Or, you can alternatively browse the continuous event recording clips stored in the memory card and use them instead, if you remember the time it all happened.
Thinkware DashCam F800PRO records in 1080p resolution which makes it clear to see what's happening in a scene.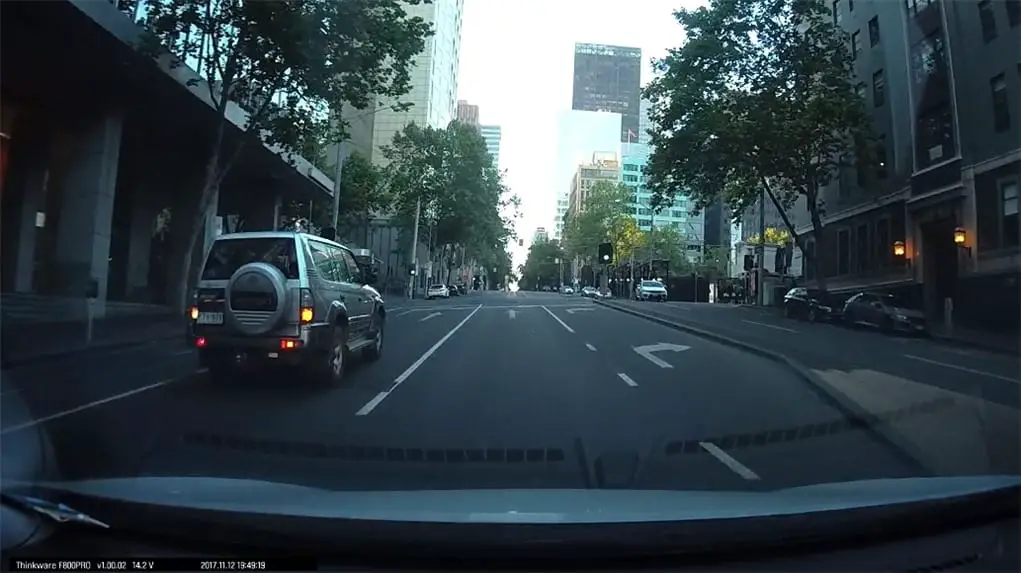 It features the Sony Exmor R STARVIS Image Sensor lens and Thinkware's Super Night Vision 2.0 technology which was previously only available in Parking Surveillance mode. The Super Night Vision 2.0 makes the scene brighter without much noise, even when you are driving in complete darkness. I'd say this is one of the best things that Thinkware F800PRO offers, especially if you do a lot of night driving or lives in rural areas where street lights are scarce.
Here are some clip samples from the F800PRO attached on my car's windshield:
Also saved a clip when someone cut my lane abruptly, thankfully I saw it coming and released my pedal gas early:
Cutting my lane like a pro ? pic.twitter.com/9V3hHAsJ6y

— Michael Aulia (@michaelaulia) May 1, 2018
Parking surveillance is also available once the car engine is turned off, but requires hard wiring (The accessory kit is sold separately). You can choose between Motion Detection and Time Lapse with Energy Saving either turned on or off.
I have a bump on my passenger's door and I didn't know who was responsible for it. It would cost me a lot of money to repair (or to replace the door panel). Sadly, these things happen quite often – cars doing reverse parking, hitting your car, and running away after. With F800PRO's parking surveillance mode, you'll definitely know who the culprit is and even get his or her registration number.
Thinkware F800PRO's new app looks more modern (with flat-design UI if that matters to you) but not available as an update to the older dashcam models. You can change the dash cam settings and download recorded videos through Wi-Fi – which makes social media sharing or clips download easy as you do not need to ever take the microSD memory card out.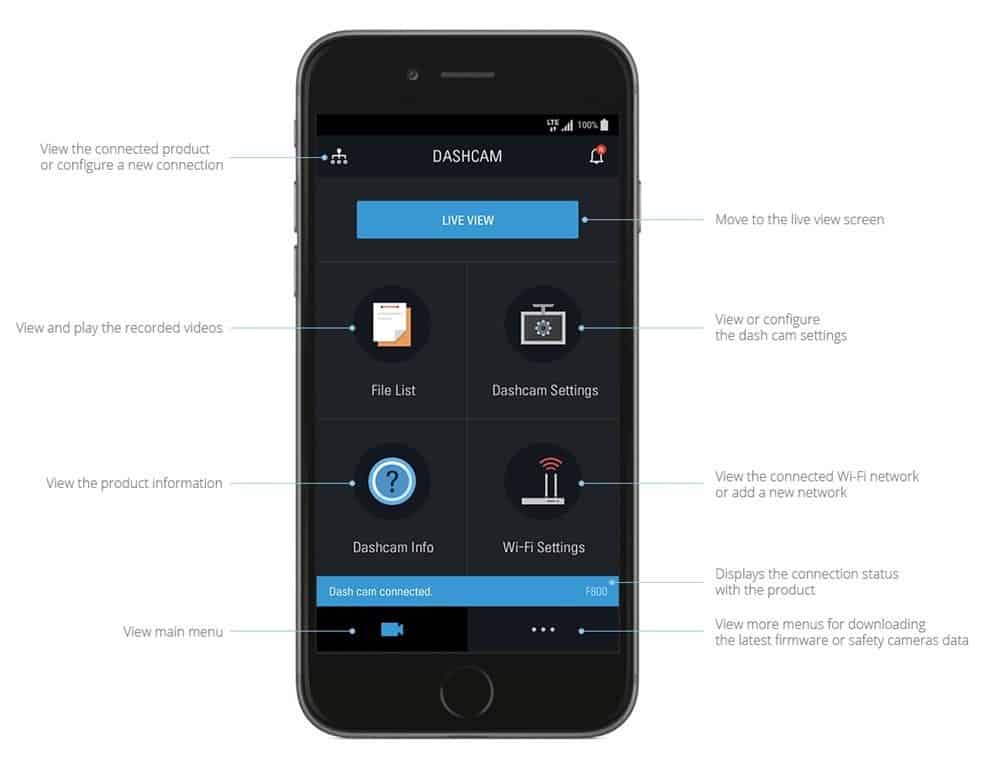 The clips are stored in a 1-minute segment and dated with YYYY_MM_DD_HH_MM_SS_[Front or Rear dashcam] format. You can watch the clips directly, or download them to your phone (I tested the app on Samsung Galaxy Note8 and iPhone X).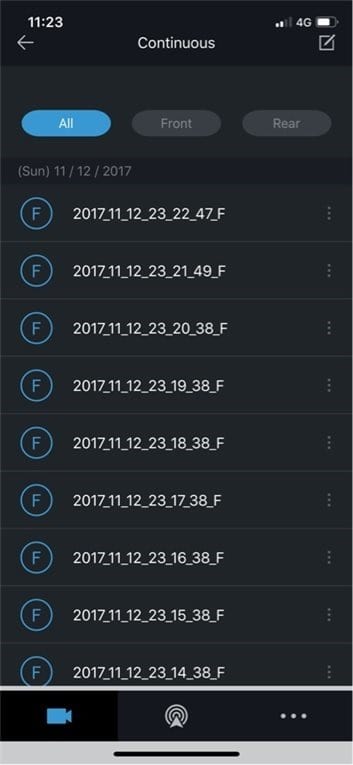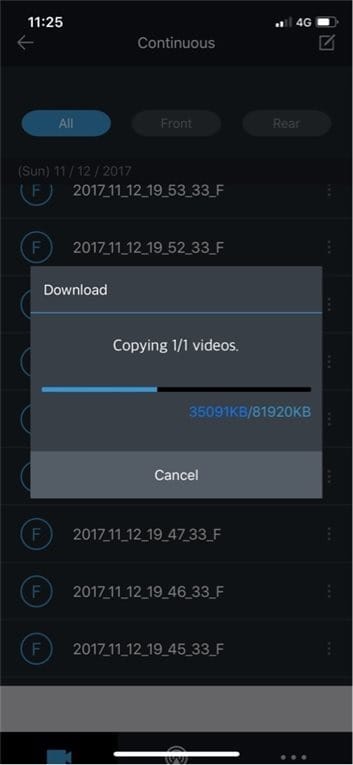 You can also upgrade the firmware within the app (using your mobile data) and there will be a Cloud feature coming next year which will support live view, push notifications, Geofencing and more.
The F800PRO includes Safety Camera Alerts and Road Safety Alerts features that take advantage of the built-in GPS and internal sensors. With Safety Camera Alerts, you'll get audible alerts on Red Light Cameras, Fixed Speed Cameras, Both Red Light and Fixed Speed Cameras, Average Speed Camera Zone, and Mobile Speed Camera Zone.
Road Safety Alerts offer front collision warning (if you are driving at high speed and get too close to the car in front), front vehicle departure warning (when you stop at a red light and the car in front has started to move), and lane departure warning (if you are steering off the lane on a freeway). The audible short beep is pleasant to hear, yet gives enough attention for you to act. The front vehicle departure warning works most of the time and pretty useful if your eyes like to wander off while waiting for the green light.
I like that the F800PRO does not require you to manually format the memory card every now and then. On the F770, I'd get a constant reminder (repeated 3 times) if I don't regularly format my memory card which was quite an annoyance.
The Thinkware start up audio/voice alert when you start your car engine to connect the device to Wi-Fi is very annoying, but thankfully you can make it go away if you connect the device to a Hotspot once (thanks to this forum post).
Thinkware F800PRO Review Conclusion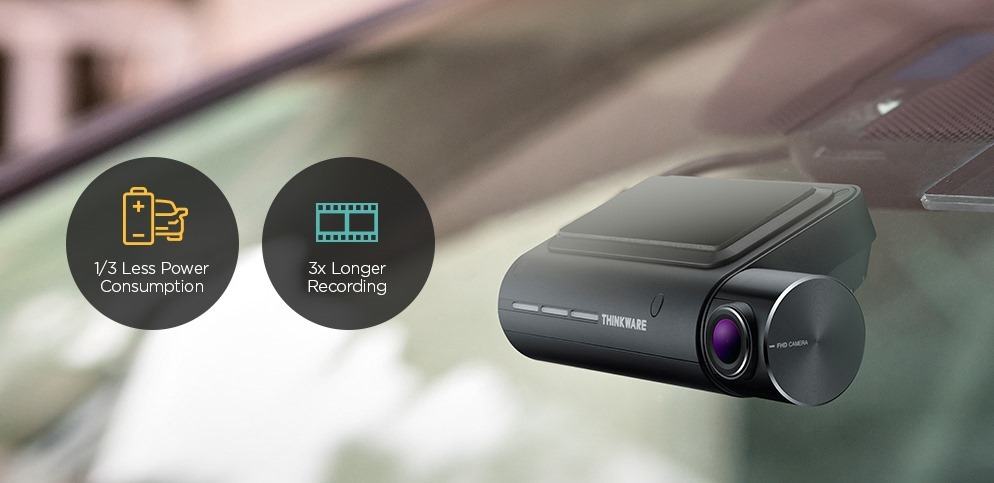 Thinkware F800PRO Dash Cam is a formidable dash cam that offers high quality 1080p video recording with wide angle coverage and bright, sharp clips even at night. You, the authorities, or your insurance company should have no difficulties in identifying what happened during an accident and the easiness of accessing the clips with just a mobile app through Wi-Fi is superb.
If you already own an F770, it might be worth upgrading if you want the Camera Alerts and the Super Night Vision 2.0 for night driving. However, the F770 itself is already a good dash cam with 1080p resolution so you may want to look at the complete feature lists on the F800PRO and evaluate the needs yourself. Road Safety Alerts are good to have, for example, but a good driver does not really need them.
Thinkware F800PRO can be purchased at most major automotive retailers and authorised independent car audio specialists (check out the dealers list) with a few storage options: 16GB card (F800P16), 32GB card (F800P32), 64GB card (F800P64), and 128GB card (F800P128).
It's also available for purchase at Amazon.
Disclosure: Thinkware F800PRO review sample was supplied by TDJ Australia for the review but all opinions are mine and not paid.