Recently, Alawar Games released the Treasures of Montezuma HD for the iPad. If you haven't played the Treasures of Montezuma for the iPhone (or the released iPad version), then you are missing one of the most addictive games on the iOS!
The Treasures of Montezuma is a match 3 puzzle games, where you basically have to match 3 or more tiles in a row by moving one tile with another. If you've been playing Bejeweled before, then this concept is nothing new to you. However, don't treat the Treasures of Montezuma as just another Bejeweled clone game. It is much more addictive as it has a bit of RPG elements (levelling up & getting better abilities), superb sound and animation effects, crisp graphics, and infuses that "just one more round and I'll stop" mentality to you.
I wasn't really a big fan of match 3 puzzle games before like Bejeweled, simply because I didn't see any point in playing the game. It is relaxing but I can't see what's so great about matching 3 or more rows of tiles repeatedly. I wasn't really excited to try this game at first but after just playing 1 round of the Treasures of Montezuma, I was hooked – completely.
I couldn't imagine that playing a match 3 puzzle game can be this fun and addictive! I can't believe that just by looking at the animation, graphics, and effects when tiles get matched and blown to pieces is enough to make me excited. To win each level, you need to make the gem tiles disappear by matching its colour with other tiles of the same colour or through other means (I'll explain later).
There are about 6 different gem colours: red, yellow, green, orange, white/grey, and purple. I'm not too sure whether the colours are colour-blind friendly though as I knew some of my friends were having trouble playing games like this in the past. To make the game more interesting, the team has made some "attachment" (bonus) to the tiles when you match 4 tiles of the same colour or more. This special attachment helps you tremendously in finishing up the level because you need to complete it before the timer runs out. For example, there is a bomb/dynamite bonus which will make the attached tile and its surrounding tiles explode or a simpler bonus tile where you get an extra 30 seconds to the timer. There are a few others that make the Treasures of Montezuma game more interesting and fun.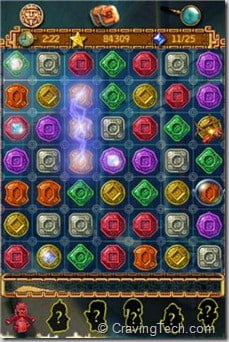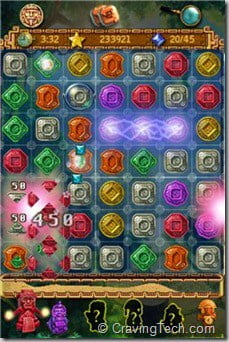 If that isn't enough, the development team has also added a concept of Power Totems. These totems do different things to help you if you can make 2 consecutive matches of 3 or more tiles of the same colour (so Red Power Totem will be activated if you match the red tiles 2 times in a row, and so on). Not only you have to think about when to grab the bonuses but also to think whether you can make 2 consecutive matches of the same colour before you do a tile match.
These bonuses and Power Totems do not just fall from the sky. You earn a Gold star every time you finish a level (and also by a couple of other means) and between the levels, you need to assign the Gold star to level up the bonuses and the Power Totems, RPG (Role Playing Game) style. Do not worry though, you will be able to re-assign the Gold star from a bonus/Power Totem and add it to others as often as you like. This way, when a level gets tough, you can re-arrange your strategy in trying to complete the level and to change the style of playing.
The music is repetitive but since it's very well composed and suit the mood really well, I do not mind at all. The sound effects are superb too and this game loses a bit of touch if you play it muted.
There is no storyline but I do not care. This game is totally addictive even without a storyline or whatsoever. I'm sure when you start playing the Treasures of Montezuma especially on its first few levels, you cannot stop. Towards the middle until the end of the game, the level takes longer to finish (up to 20 minutes or more) but it never feels tiring to play that long simply because the game sucks you in – which is kinda bad if you are having exams soon. Thankfully the game supports iOS 4 so anytime you want to stop playing, just close the game and you'll continue where it's left off.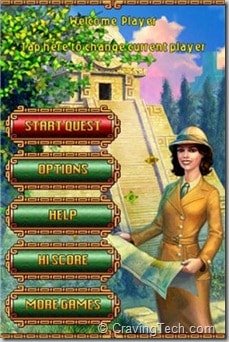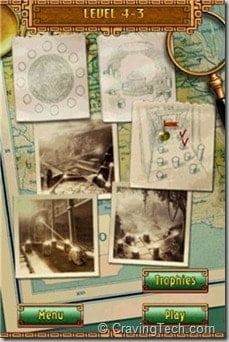 The iPad version has the same gameplay but of course, graphics are updated to support iPad's resolution. When I made a transition to play on the iPad from the iPhone, I was stoked. The colours and the animations are bigger yet still have the same quality, if not better. Everything is clearer and therefore, the excitement is doubled :)
Stay tuned because very soon, I'll distribute promo codes for both the iPhone and the iPad version. I hope you've "liked" CravingTech on Facebook because promo code giveaways here do not last long!
Still doesn't believe how good this game is? Why don't you download The Treasures of Montezuma – Alawar Entertainment, Inc for iPhone or The Treasures of Montezuma HD – Alawar Entertainment, Inc for iPad.
Note: Promo code provided for the review