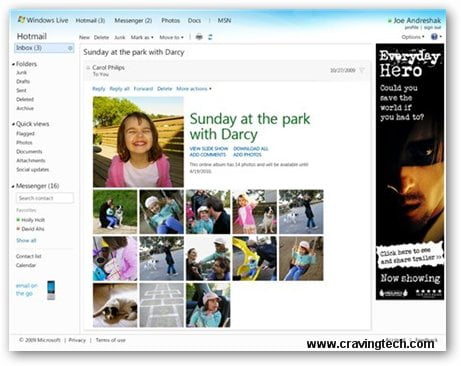 ninemsn today reveals the next generation of Hotmail, set to launch in Australia later this year with new innovative features and Microsoft product integrations. The latest Hotmail, including to the press release, will include access to Office web applications. This means that you will be able to view, edit, and share Word, PowerPoint, and Excel documents DIRECTLY within your Hotmail! So if you don't even have Microsoft Office installed, you have access to this feature as long as you have an internet browser. It's a great news indeed as not everyone can afford the Microsoft Office suite.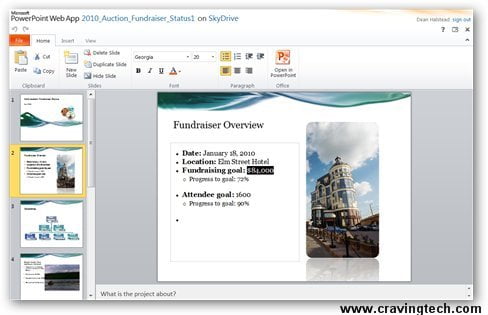 Other Hotmail features include smart tools to eliminate inbox clutter and simplify daily tasks such as:
Social email highlights: Hotmail identifies and categorises emails from social networks in your inbox, making it easier to sort through your emails.
One click filters: Filter your entire inbox to only show messages from specific contacts or companies.
Sweep functionality: A virtual broom that allows people to easily remove or file emails from a specific sender in their inbox into folders. Auto-sweep can archive any future emails from that sender so they do not appear as clutter in the inbox.
Optional conversation view: Hotmail gives people the option to view messages by threaded conversation to view an entire conversation series in one go.
Advanced search and automated search suggestions. Hotmail has added an advanced search pane and made advanced search easy with inbox search auto-complete.  People can type a single letter into the search box and Hotmail automatically suggests a number of searches to help people find the email they are looking for.
There is also the Hotmail ActiveView, which enables you to view specific content directly within the email body such as YouTube videos, Flickr photo albums, and LinkedIN notifications.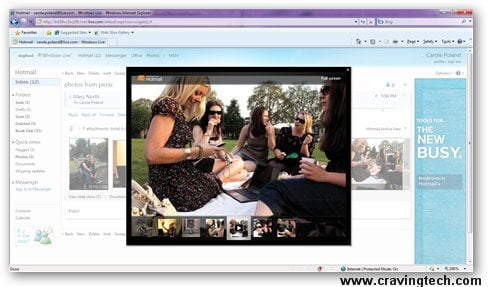 Alex Parsons, Director of Marketing and MSN Products at ninemsn said: We are really excited about the innovative changes coming to Hotmail and delivering an experience that will help Australians manage their inbox, work on Office Docs via the cloud, watch videos and share photos. With an increasing percentage of personal emails resulting from social networking updates, 50% of people miss important messages in their inbox because of clutter. Helping people manage their inboxes was really important in this release of Hotmail, and we have included a series of features like the Sweep functionality, one click filters and social highlights to address this.
Not to mention that Hotmail lets people send up to 10 GB of attachments in a single message via SkyDrive (200 attachments – each up to 50 MB in size – in a single message). It's not perfect but at least you can send more attachments by splitting them up in smaller sizes.
Other features coming to Hotmail include:
Web messenger: Use instant messenger with contacts directly through Hotmail.
Single contact list. Enables people to bring all their online contacts into one address book stored in Hotmail, including contacts from Facebook, LinkedIn and other email providers.
Rich mobile browse. With the new Hotmail, the mobile experience is optimised for rich browsers and touch, so that the experience feels seamless on the latest phones. The inbox supports filters, in-line message previews, HTML messages, offline e-mail viewing, conversation threading, the ability to flag messages, the option to turn header details on or off, and more.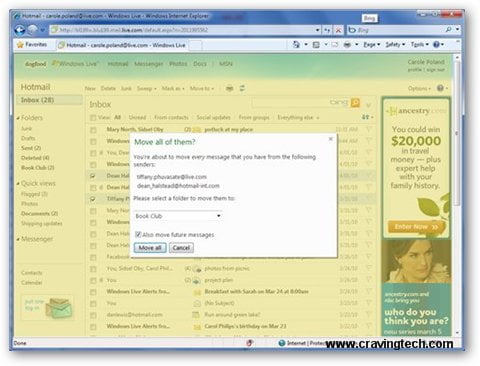 The new Hotmail will roll-out in Australia in the coming months. To learn more about today's preview visit www.windowslive.com.au. Stay tuned for coverage on the upcoming Windows Live Messenger as well!