CoPilot Live 8 is the latest mobile navigation software from ALK Technologies with a turn by turn navigational system, including a built-in TTS (Text to Speech) engine. My review copy is for Windows Mobile but I was given an option to get the Android one or the iPhone's (unfortunately I neither have an Android phone nor an iPhone to test it on, so I picked the Windows Mobile version).
Let's check CoPilot Live 8 out!
CoPilot Live 8 Review – Installation
Installation is very easy and once you put all the installation files on the Storage Card, the application automatically installs by itself during the start-up (if you haven't installed it yet). You will not be confused with options or configurations upon installation, so it is a quick and easy installation experience. Mine came with the Australian map and multiple voices from different languages.
Updating CoPilot is also very easy. It didn't come with the Text to Speech voices at first but it's downloadable through the application's menu. I simply had to select a specific voice for the TTS (it will be marked) and CoPilot Live 8 then downloaded the voice through my home Wi-Fi. Once you download a voice or a map, it will stay on your Storage Card so you don't have to redownload it again upon your next reinstallation. You can even backup or restore your settings or the whole application with the CoPilot Central software.
There is a bit of annoyance though when you reinstall and reactivate. Once you reactivate the software, it will automatically send you an email to your inbox. So if you like to re-flash your ROM every week or so like I do, you'll be constantly nagged by an email after every reactivation. But it's not really a big deal though, because you can simply delete the email from your inbox straight after. I also love how you can reactivate using your email and a password rather than having to enter long license keys in.
CoPilot Live 8 Review – Interface Design
CoPilot Live 8 has a colorful and casual interface. Its design is more towards simple-and-fun rather than a formal-and-professional approach, in my opinion.
The buttons are big, making them more finger-friendly so you don't need to take out your stylus ever when you are using CoPilot Live 8. This is important too when you need to input the address on CoPilot Live 8. The on-screen keyboard provided by the application is good enough and the system will automatically give suggestions as you type along.
Sometimes I can get a bit confused though between the "Minimize" (the down arrow) and the "Close" (the X) as you can see from the screenshot on the left. At times you need to press one button or the other to return to the previous menu or to close the sub-menu that you are in now. It takes a bit of time to get used to which button to press in which part of the application. It's also not consistent as I can't seem to find the Minimize or the Close button when I'm on the "Plan or Edit Trip" option, for example.
Overall, I love the design – the way the icons look, the way the live map is presented, and also how easy it is to navigate and make an input with just my finger.
CoPilot Live 8 Review – Overall experience with the navigational system
I've used TomTom, NavNGo iGo 8 MyWay, and my sister's car built-in GPS before (not sure what GPS system it is). I think CoPilot Live 8 does a wonderful job in getting you to your destination easily. However, I found that it is not "talkative" enough in a sense that it doesn't nag you enough with information. Although some people might get annoyed with a "talkative" GPS system, I find it otherwise. I'd like to be told after I turn where should I turn next, especially if I have to turn right straight after a left turn. I also would love to be told every 400, 300, 200, and 100 metres before the turn (in my experience it only told me of 2 km, 1 km, and 500 metres before the turn). Note that these can be seen easily on the screen. It's just that I want an audible information too as I don't want to be constantly looking at my phone while I'm driving.
I'm also not a fancy of the "Just ahead – turn left" voice before the turn (prefer it to be something like "Incoming turn" or something else) but this is just a matter of a personal taste and shouldn't be judged as a bad point in this review :)
I totally love the Detour feature because you can specify an alternate route and even roads to avoid during your trip. This way if you know that a certain road on your route is prone to a traffic jam at a certain hour, you can use the Detour feature to avoid the road altogether.
The trip/route system is also quite flexible, so you can add stops in between which is handy if you are travelling far and want to make certain stops before you reach your destination without having to re-enter the destination again after.
In CoPilot Live 8, you can easily access your bookmarks (or favorites), history of destination that you have entered previously, and even contact addresses on your phone book.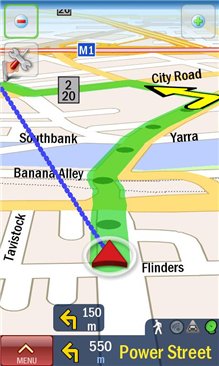 The POIs (Points of Interests) also work very well as you can search the nearest POIs (such as restaurants or hospitals in case of an emergency) as well as specific POIs on certain areas/suburbs. I could even narrow my search to "Thailand restaurants" as a filter if I want to, in case I'm up to some spicy food to grab.
Other features include the Text-To-Speech, Weather information on your destination, Speed limit alerts, Traffic information, and even Fuel prices (some of the mentioned features require an internet connection).
CoPilot Live 8 Review Conclusion
All in all, CoPilot Live 8 is a great navigation software to have on your Windows mobile (also available on Android and iPhone). Its interface is really easy in the eye and very finger friendly. The application is also packed with features and contains really everything that you need from a GPS software: Text to Speech (speaking the street names to turn to), POIs, clear instruction as to where you are and where/when to turn, Detour, and many others. Despite of the lack of audible information that I wish it can have more, CoPilot Live 8 will get you to where you need to go, easily, anywhere.