Astro A50 Wireless Gaming Headset Review – Wireless headsets for gaming are the one of the most convenient gaming peripherals ever created for games. The fact that you can game without any cable restrictions is godsend, not to mention the fact that you can walk around for a toilet break without the need to lift your headsets, ever.
But the fun usually comes to an end when you have to plug a cable in to charge the headsets every now and then.
The Astro A50 comes with an Astro Base Station that recharges the wireless headset after you finish your gaming session, so it will be fully charged again for your next session. I might be mistaken but this is the only gaming headset I've ever encountered that offers such luxury.  SteelSeries Arctis Pro Wireless has a hot-swappable battery system, but there are still some seconds of downtime while you switch the batteries.
Astro A50 Wireless Gaming Headset Review – Packaging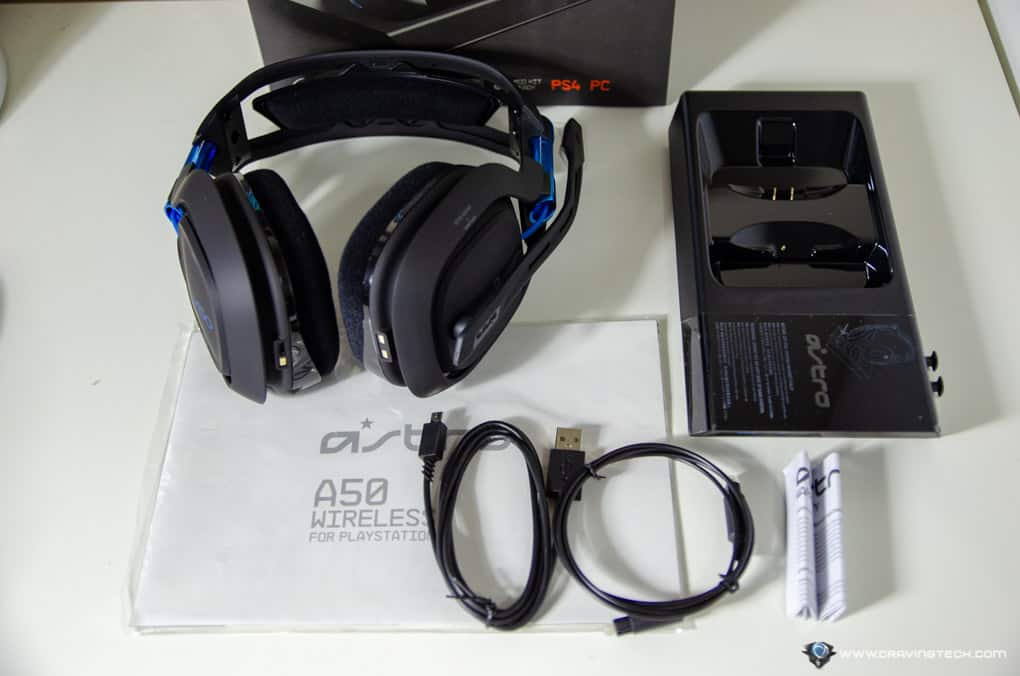 The review unit I have here seems to be the most recent A50 model, which is the third Generation (Gen 3). It comes with an Optical cable to hook to your PS4 and a USB cable to hook to your PC. I wish the USB cable is longer though as I find it a bit restrictive (my PC is on the floor).
Astro A50 Wireless Gaming Headset Review – Design & Features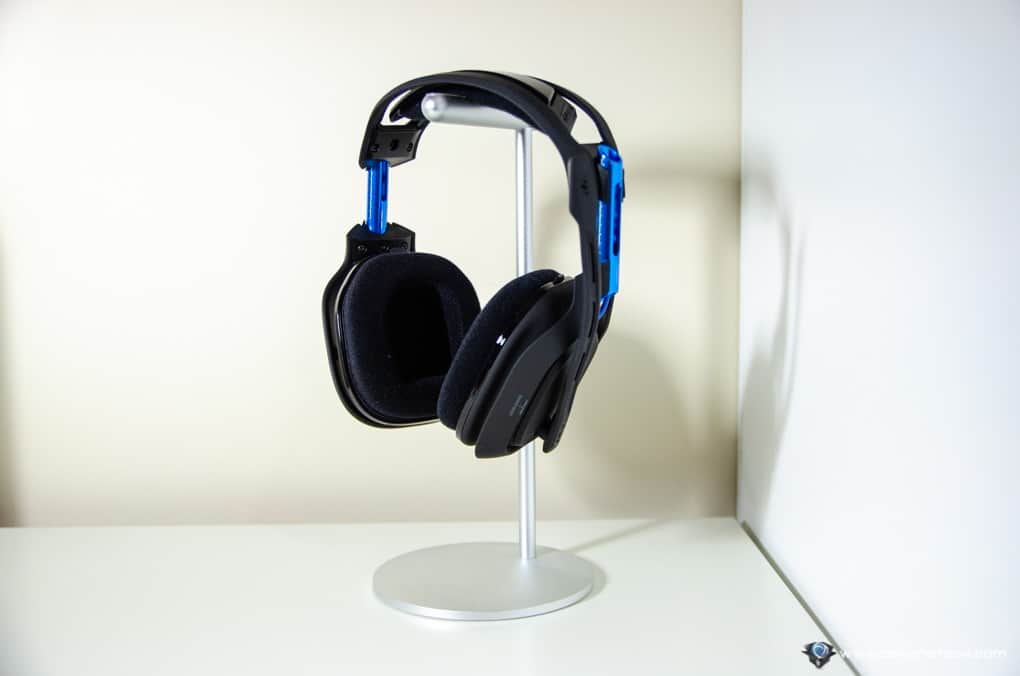 The Astro A50 Wireless Gaming Headset unit that I have here works for PC, Mac, and also PS4. There's also the PC, Mac, and XBOX One version if you game on XBOX One instead of PS4.
Its looks don't really scream luxury or prestigious, due to the plastic material and a bright Blue colour on the metal-ish material that doesn't really resonate too well with me. However, if you are okay with it, you'll be happy to know that the headset thankfully shines in everything else!
5 GHz Wireless
Unlike most wireless headsets, the Astro A50 runs on the 5 GHz wireless channel (than the standard 2.4 GHz) which means lower latency because most wireless electronics are running on the 2.4 GHz. While I've never really encountered problems when running my wireless devices on the 2.4 GHz, this will depend on how busy the network is in your area.
I find that I can still head off to the kitchen and toilet, without getting any audio cut-off, so the range is pretty good.
Base Station / Charging Cradle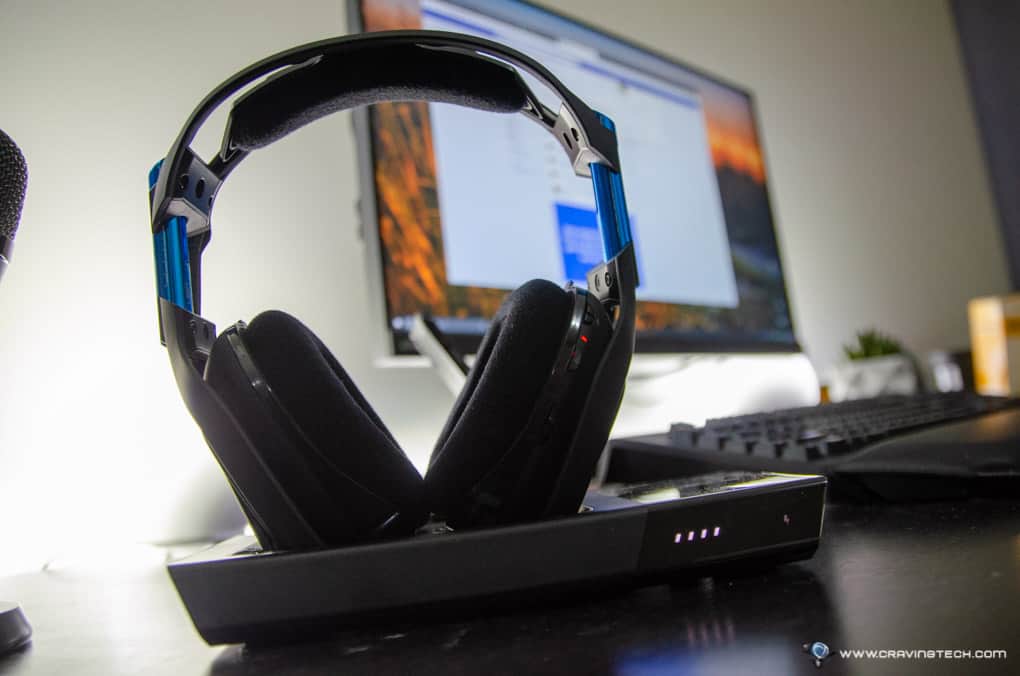 The star of the show is definitely the Astro Base Station which conveniently acts as a holding place to your A50 headset but at the same time also charges it while it's sitting there. It has an indicator when it's charging the headset, plus a few LEDs (one to four) to show how much battery does the headset have left.
A handy toggle on the side allows you to switch between playing on the PC or PS4. While hooking up your PS4 to your Hi-Fi entertainment system is good, there are times when you are playing late and don't want to wake the whole house up.
Astro has also included an extra USB pass-through slot in case you ever need to use the Astro wired. Astro A50 can run up to 15 hours and surely, no one games more than 15 hours straight? But if the battery somehow is running low, there's always a quick, good place to plug a cable in close by so you'll never run out of juice. A great design choice here (but the provided cable is pretty short, so you'd want to invest into a longer microUSB if you use this "feature" often).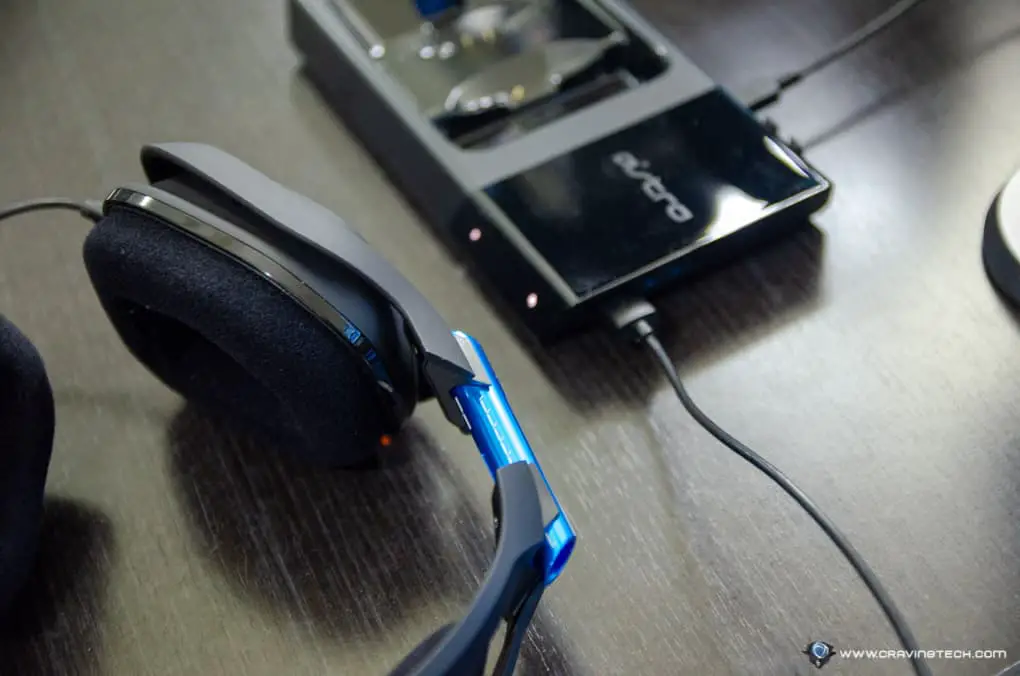 Since the headset is continuously being charged on the cradle, I'm not sure about the longevity of the battery treated this way. I'll leave this discussion or debate on another day, and focus more on the convenience factor.
Comfort
Astro A50 is comfortable to wear. The headset does not feel heavy at all and while the cushions are not thick and plushy like padded leathers, the cloth cushions provide plenty of breathing spaces for those hot days. These clothing pads also make the headset lighter.
Sound Experience
I find that the Astro A50 has a really good audio positioning as I tested it with Overwatch every night for about a week (it's the perfect online, fps, competitive game to test audio positioning in game). I could clearly hear enemies trying to make a flank such as enemy's Pharah hovering slowly above my team, or when an enemy Reaper made a few subtle steps after teleporting near my team. An enemy even made a remark about how I could even hear him coming, which means the headset is solid indeed.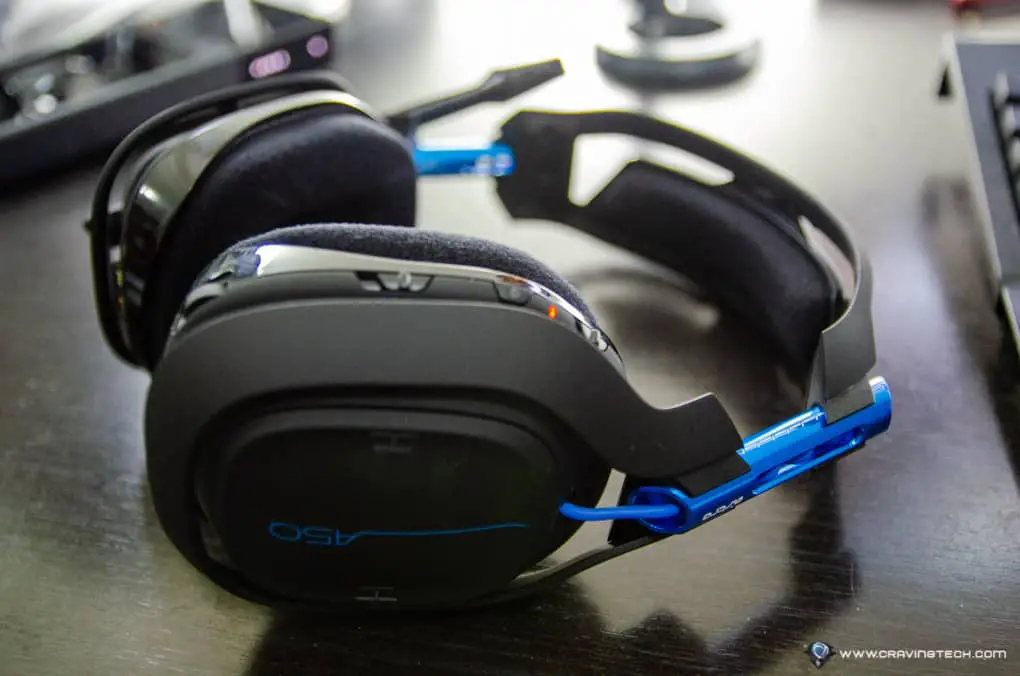 The headset is also great for music listening and movie watching and there's a handy toggle to switch to 3 different presets for different needs (i.e more Bass for movie watching, etc).
Other Features
Other features worth mentioning is that it's fully wireless on the PS4 (i.e you don't have to plug a chat cable to your controller) and supports Dolby® Headphone 7.1 Surround. The microphone also auto mutes itself when the boom is raised, and turned on when lowered. You can customise your own equalisers and presets through the software.
To save battery smartly through a built-in accelerometer, the headset auto turns itself off when not worn for about 15-20 seconds and wakes up instantly once you pick the headset up. This is a pretty subtle but awesome feature that I have not found in any gaming headsets I reviewed before.
Astro A50 Review Conclusion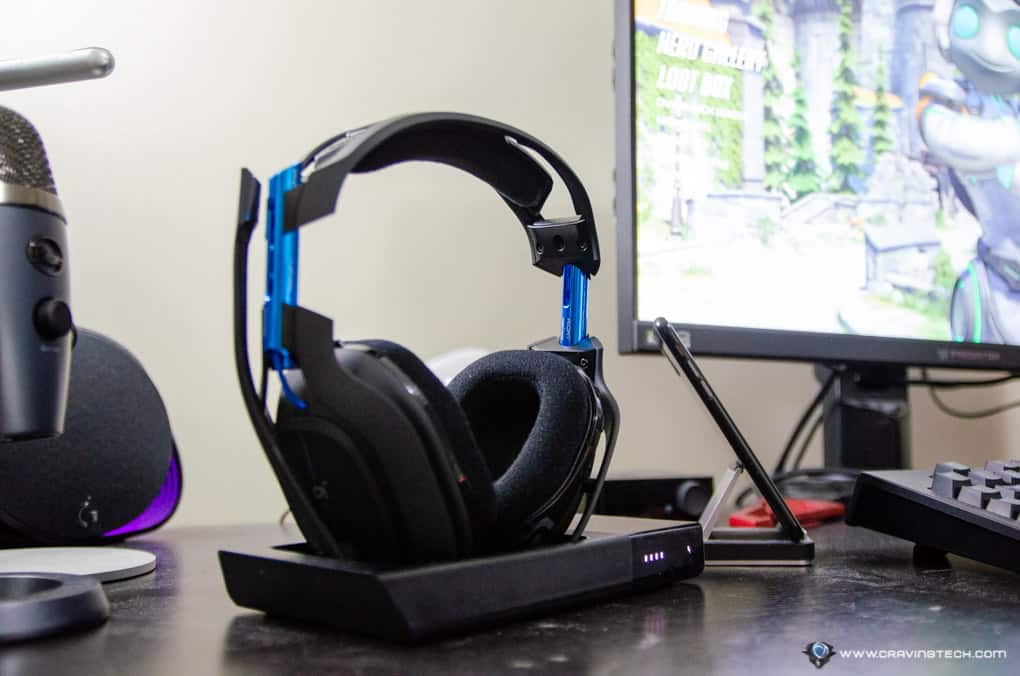 Astro A50 Wireless Gaming Headset for PC & PS4 is definitely one of the top choices in the premium, wireless gaming headsets list. It has great audio positioning and quality for gaming, light and comfortable to wear, and includes a premium charging cradle to charge your headset while not in use.

Other brands may fall shy for not including a charging cradle (definitely to keep the cost down), but Astro dares to take the plunge and well, the price has definitely gone up because of it. At A$478 (Harvey Norman, or A$425 at Amazon AU), you can definitely get better sound quality headphones but the convenience factor is worth the price. But if you have the money and hate other wireless headset charging solutions, especially having to plug a cable in to charge (Yuck!), go and grab the A50.
Disclosure: Astro A50 Wireless Gaming Headset for PC & PS4 Review sample was supplied for reviewing but all opinions are mine and not paid