SteelSeries Rival 600 Review – I was a big fan of the original SteelSeries Sensei due to its perfect size and weight on my small hands, and for the sensor performance it delivered at that time.
I didn't have a chance to review the newer Sensei 310 and the Rival 700 was good but it was quite heavy, due to its Tactile Alerts feature.
And now, the Rival series gets a major boost in mouse tracking with the new Rival 600.
Equipped with a new dual sensor system that promises to deliver true 1 to 1 tracking and lift off distance detection, SteelSeries latest mouse definitely doesn't disappoint and delivers every promise it makes.
SteelSeries Rival 600 Review – Packaging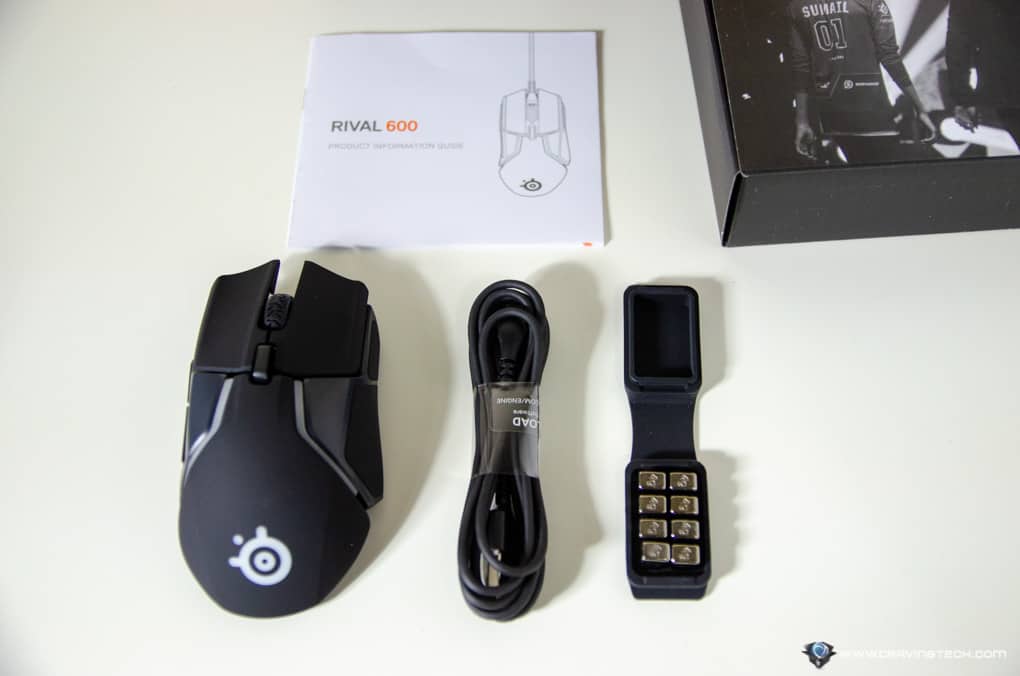 SteelSeries Rival 600 Review – Design & Features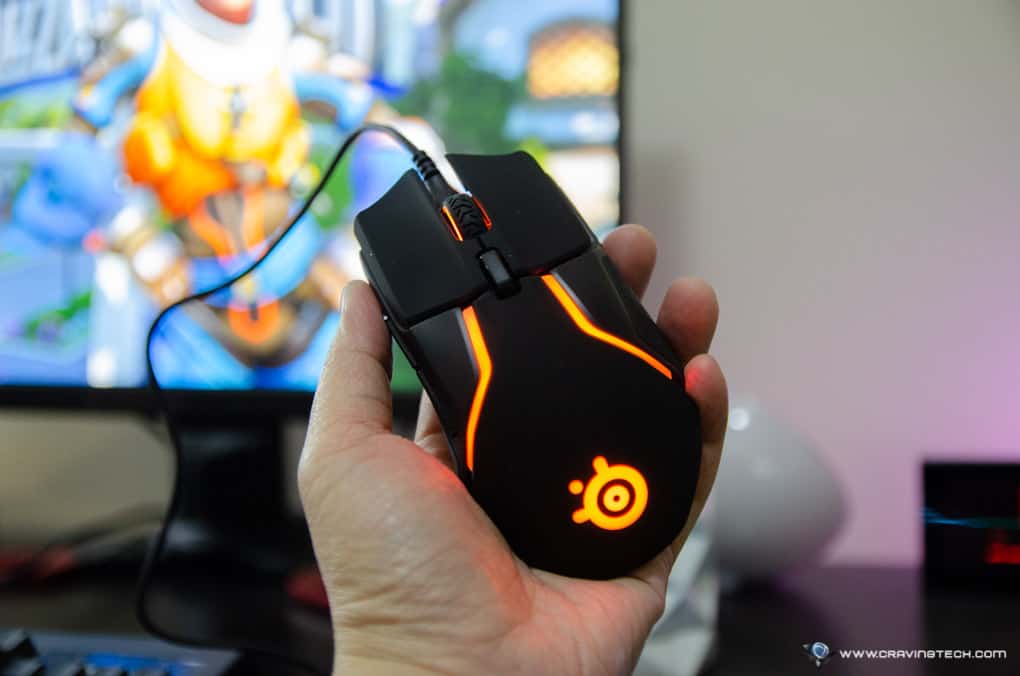 I have to admit that I had my doubts when I first looked at the Rival 600 on the product page. It does not have this one seamless body (unibody) compared to the other Rival models and I was wondering how awkward it must be to grip this mouse.
Thankfully, after testing and using the mouse inside out, all these doubts go away somewhat. It may not have a single, smooth, large surface but it won't affect the performance. I do wish that the Silicone Side Grips can be improved in the future because after reviewing the Razer Hyperflux, I've found that Rival 600 side grips are slippier. Now I understand what those fins are for on the Razer rubber grips. Sensei 310 looks to be better in the grip department too, judging from the design.
SteelSeries Rival 600 is beautifully designed with curves and illuminated lines, and offers customisations that most gamers would love. It includes moveable weights for weights customisations so you can create that perfect mouse feel.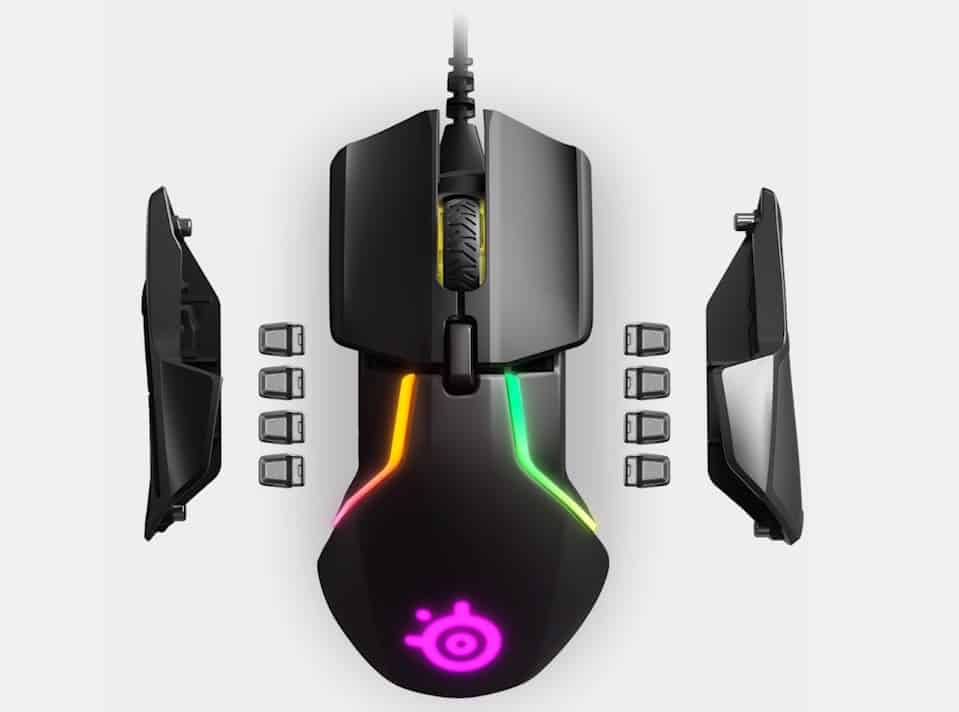 SteelSeries Rival 600 weighs 96 grams without cable (perfect for those who only swear to use a below-100-grams-gaming-mouse), but with the included 8 pieces of 4 grams weight system, you can customise the weight balance of the mouse as you prefer. For example, palm grip gamers may want a heavier mouse to give it a sturdy glide on the pad, but fingertip/claw gamers with low CPI sensitivity would want to make it really light. Choice is yours. I love my mouse to be as light as possible, so I'm not using any of these weights. And this design creates detachable parts on the sides of the mouse which makes it feel not as smooth as a unibody frame mouse (which I prefer).
Don't let these lights and weights customisation distract you from what SteelSeries Rival 600 is best at, though: tracking. With the new TrueMove3+, the Rival 600 comes with one TrueMove3 primary optical sensor (350 IPS) and an extra optical sensor that exclusively tracks lift-off distance.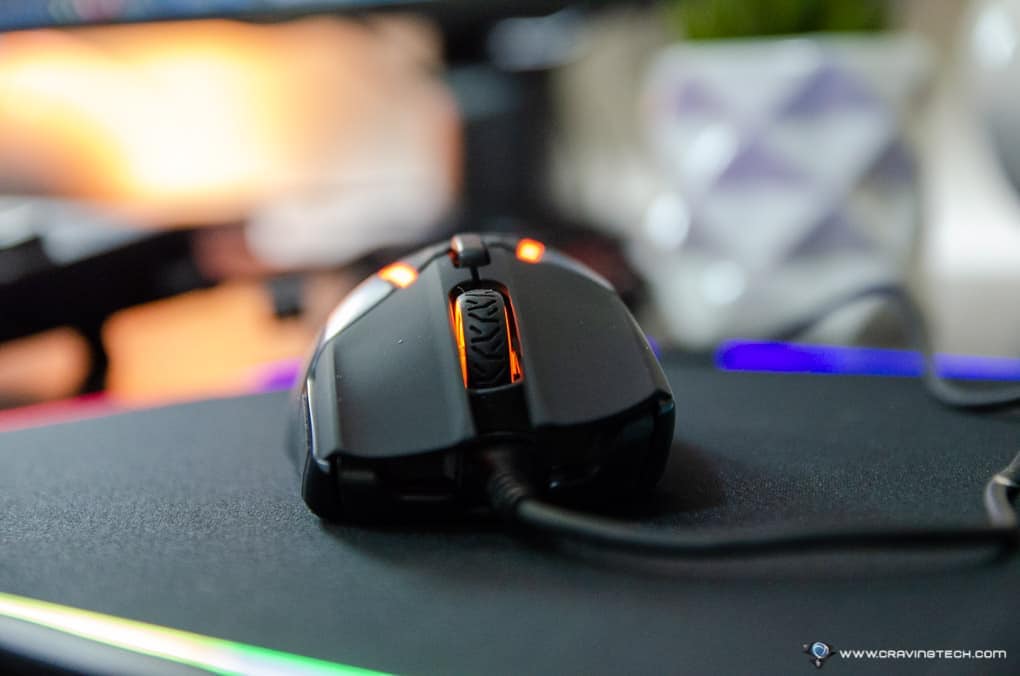 If you are gaming with low CPI sensitivity like I do, you'd pick up and put down your mouse frequently on the pad. With TrueMove3+, you can customise when the sensor stops and starts tracking, which eliminates unwanted cursor movement and further increase the accuracy of your gameplay + cursor tracking. Normally you'd have a tiny, jittery cursor movement when you lift the mouse up your pad, which means you'll have to re-adjust your aiming a little bit after. Now, this happens really fast so you probably won't make a fuzz of it, but every minor adjustment you have to make is a factor you want to eliminate in competitive gaming, especially if you are an eSport player.
SteelSeries Rival 600 also has the one of the best clicks and tactile feedback so far, thanks to the mechanical switches that can last up to 60-million clicks. There's also a CPI switch button below the middle mouse which I use very often to switch between my desktop's 800 CPI to in-game's CPI.
SteelSeries Rival 600 Review – SteelSeries QcK Prism
I'm using the mouse on the SteelSeries QcK Prism mouse mat. The mat comes with dual-textured surface that can be swapped to your preference (Speed vs Control) and has a full range of RGB lighting across 12 independent zones. When the QcK Prism was out, it's clearly the better version compared to Razer Firefly – especially because SteelSeries designed it better by having that cable placement on the side, rather than at the top of the mat. It also had more features.
While I've been gaming on the original QcK mouse pad for a number of years, the QcK Prism brings more aesthetics into the room and it also has GameSense and Prism Sync on supported games. Tracking has been great so far with the Rival 600 and it has certainly helped me to aim where I want my cursor to be.
Now, back to the Rival 600. How does it fare in games?
SteelSeries Rival 600 Review – Gaming Experience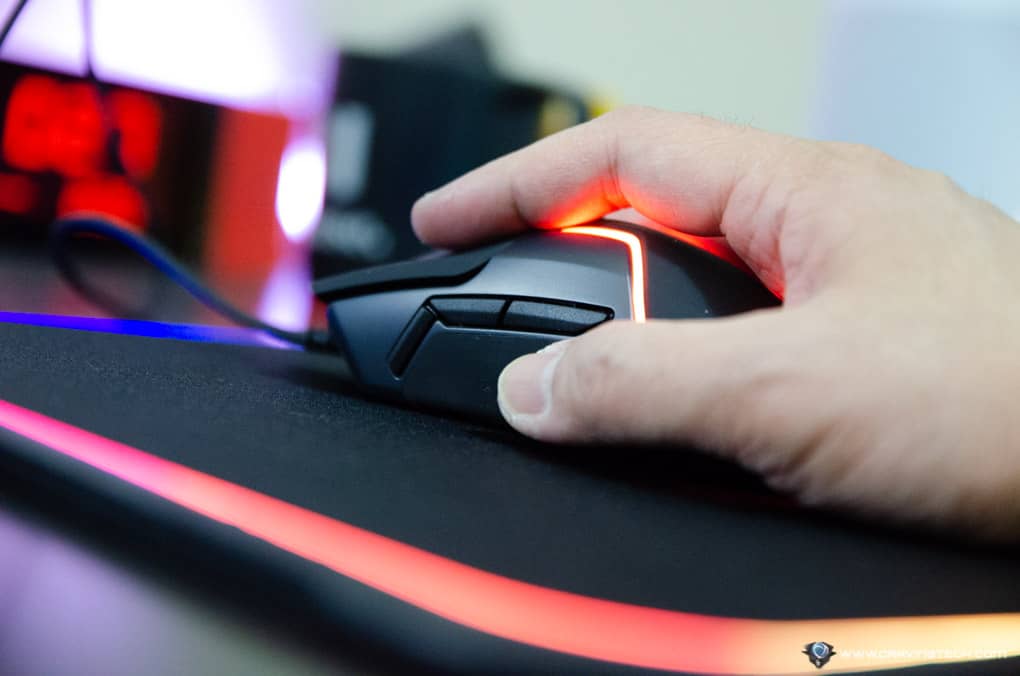 I play Overwatch every night and I can tell that the Rival 600 has a very accurate sensor. I'm used to do tracking aim (i.e tracking the enemies' movements and predicting) but for some reason, I got very confident with the Rival 600 sensor that I ended up doing more flick shots with my reflexes. As a result, I could be more dynamic in securing kills with heroes that require precision aiming.
Another friend is using the SteelSeries Rival 600 too (he's ranked Master in Overwatch, I was in Diamond) and his aim is also insane. I'm not telling that you'll rank high if you are using the Rival 600, but it will complement your skill and improve your aim consistency further to help you win.
But of course I can brag for the whole day and no one would believe me. So here is my current Overbuff screenshot (if you are using that to measure your skills) and some Overwatch Play Of The Game & Highlight videos for your perusal.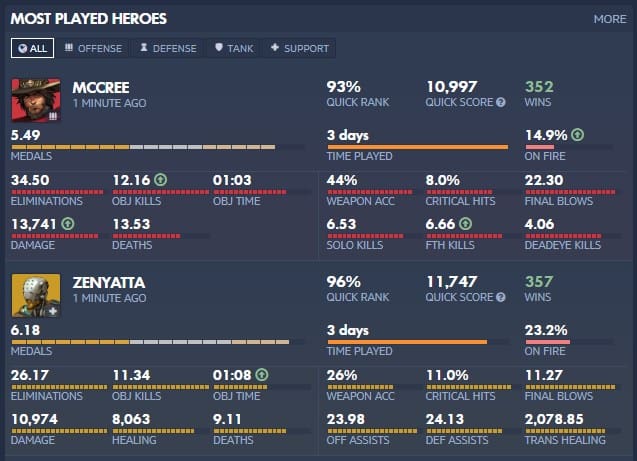 Overwatch POTGs & Highlights with SteelSeries Rival 600
SteelSeries Rival 600 Review – Conclusion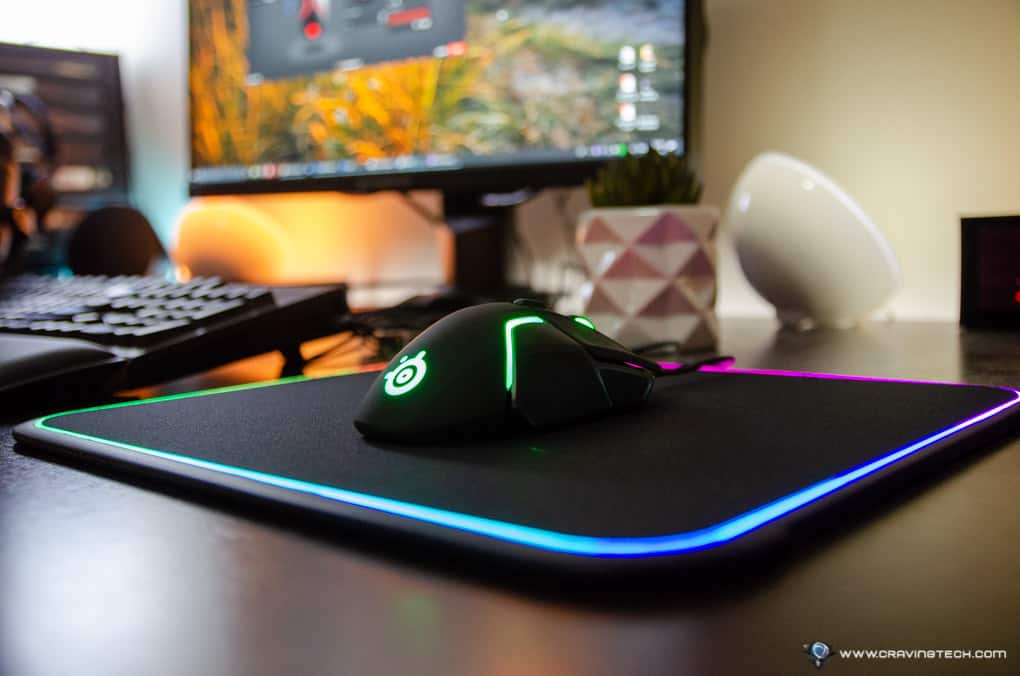 SteelSeries Rival 600 is as good as they say. It's light to glide and offers the most accurate tracking possible, thanks to the new Dual Sensor system which adds an additional Optical sensor to handle lift-off distances. No more wobbly cursor or having to re-adjust your aim slightly whenever you lift your mouse up from the mouse pad. Competitive gamers with low CPI sensitivity will be the happiest on the planet with this new feature.
The mouse is also ergonomic for the right handed and offers a satisfying click when pressed. Adjustable weight system means the Rival 600 will suit to anyone's preferences, and to any grip style.
SteelSeries Rival 600 is definitely the best gaming mouse SteelSeries has to date, with the most accurate tracking sensors.

Disclosure: SteelSeries Rival 600 & QcK Prism review samples were supplied for reviewing but all opinions are mine and not paid